September Giveaway - NUPROL Live Stream Special
After our chat with the guys over at NUPROL, they have decided they like you guys so much that they have offered to sponsor our latest giveaway! Aren't you lucky? Make sure you are battle-ready for the winter months ahead and be in with the chance to win one of three top quality NUPROL prize packs! The September Giveaway is on!
Looking to get your hands on some free NUPROL Airsoft Kit? Well now is your chance!
Simply place an order of any value with us between the 13th September and 19th of September 2021, and your name will be entered to win one of Three fantastic NUPROL Giveaway packs! No minimum/maximum spend is required!
We'll be announcing the winners live on our YouTube Live Stream, Social Media channels and will also be contacting winners on the 20th of September, best of luck everyone! If you have already placed an order, don't worry, you will be automatically added to the prize pool.
Remember, no matter how big or small your order is.. each order = 1 Entry!

---
What we're giving away...
NUPROL Giveaway pack
Our friends at NUPROL have provided a complete package of Airsoft kit including everything you will need to skirmish, just have a look through the list below and be amazed at the all-encompassing pile of gear you could win! What's more...we have a total of 3 of these epic packages to give away!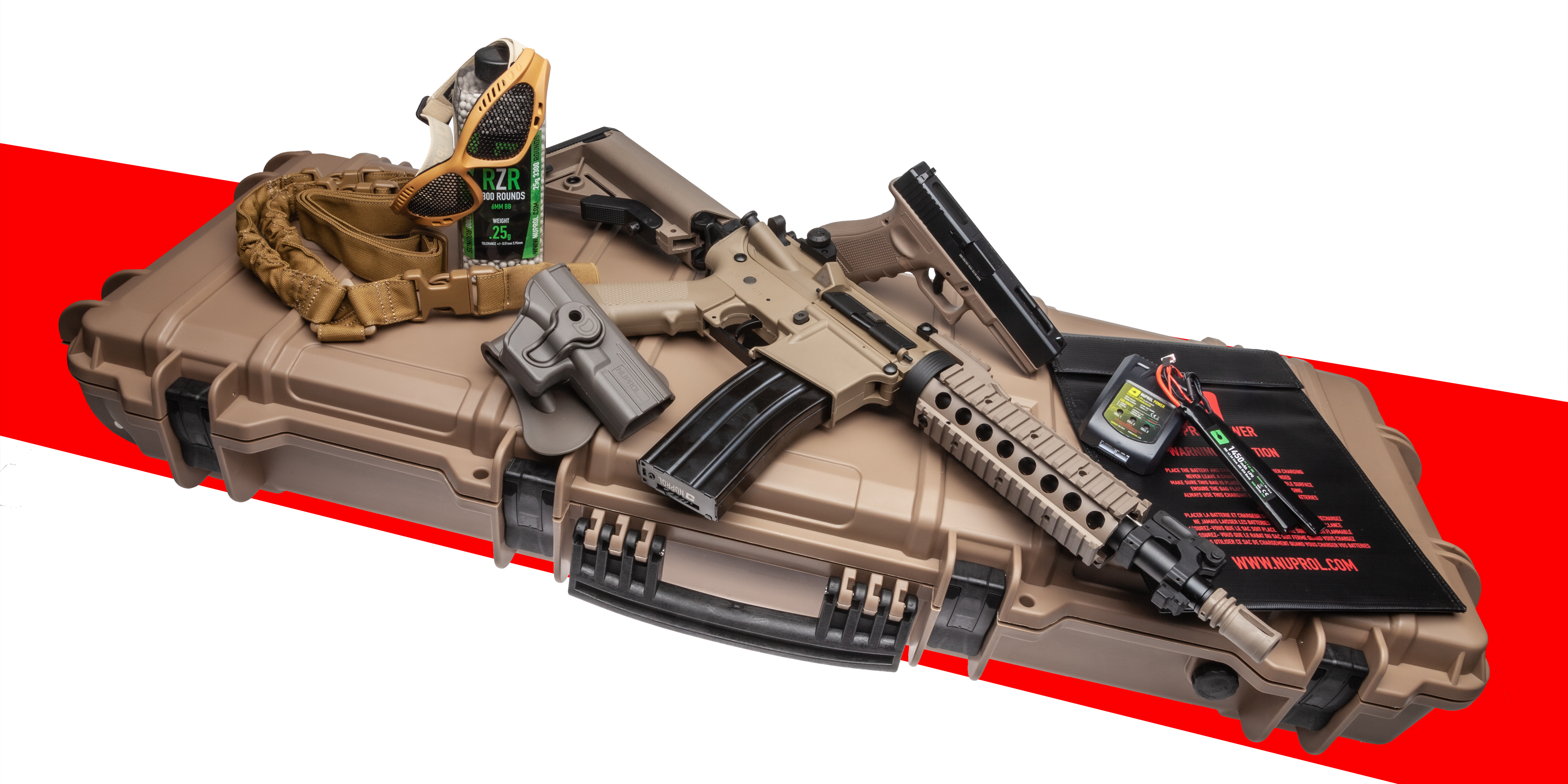 Nuprol Large Rifle Wheeled Hard Case - Tan
A top-of-the-line hard rifle case, designed to store and transport Airsoft guns in the lap of luxury and utmost security.
Nuprol Delta Pioneer Defender AEG - Tan
A solid beginners AR15 platform with excellent external build and robust, reliable internals. Capable of mounting optical sights, tracer units and vertical foregrips out of the box, the Pioneer Defender is ready and waiting...
RAVEN EU18 GBB Pistol - Tan
This is the perfect sidearm, allowing you to quickly and effectively protect yourself from any threat should your main weapon go down. The EU18 pistol is also very customizable, complete with a frame rail for mounting lasers and torches!
Nuprol EU-Series Pistol Retention Paddle Holster - Tan
The perfect companion to the EU18, this polymer holster combines low weight with dependable retention and the ability for a rapid draw. Fits on any belt, keep your sidearm close for those bad-breath range encounters!

Nuprol One Point Bungee Sling - Tan
A Single point Bungee sling designed to hold your primary weapon when not in use, but also to take force from the drop of your weapon whilst quickly transitioning to your sidearm. Helps you not lose your primary whilst on a pistol killing spree!
Nuprol Shades Mesh Glasses - Tan

NUPROL's High-quality Mesh goggles, made from a single sheet of steel with holes punched out to offer maximum protection. Protect your eyes whilst skirmishing without the risk of steaming up and obscuring your vision!
Nuprol RZR 0.25g BBs
NUPROL's latest high grade BBs. These newly designed 5.95mm 0.25g BBs have been made to provide even more consistent performance and greater accuracy than others.
Nuprol Li-Po Balance Charger
Built by NUPROL as part of their Power range this is a high-quality Li-Po charger designed to charge both 7.4v and 11.1v Li-Po batteries. No additional prizes for guessing the last two items in the package!
Nuprol 7.4V 1450mAh Li-Po Battery - Mini Tamiya Connector
Part of NUPROL's power range, this is the recommended battery type for the Pioneer Defender AEG. A Li-Po Crane Stock battery designed to fit in stocks and small spaces which other large batteries do not fit.
Nuprol Safe Charging Bag
In the interest of safety...BORING! Regardless of being the most yawn-worthy part of this package, a charging bag is none-the-less something that is necessary for preventing costly oversights!

---


To enter simply place an order between 00:01 13/09/21 and 23:59 19/09/21, each order enters you once into the draw. There is no minimum order spend for entry. Refunded, cancelled and B2B sales will not be entered into the draw. Competition only open to Road Travel UK mainland residents. This excludes Ireland, Northern Ireland and anywhere that requires overseas shipping due to the prize package containing a RIF. We apologise for any inconvenience caused. All entrants must be over the age of 18 to qualify. UKARA is not required to be entered as it is a gift. The prizes are considered a gift and can not be returned or exchanged for any other item. Warranty is not included.

Each order = 1 Entry!
Don't miss out on a great opportunity to get your hands on some free NUPROL kit! Get stocked up and ready for Airsoft and be in with a chance of winning one of several incredible prizes!