Try Airsoft Gift Cards, for those who don't know what they want!
So, the festive period is here, everyone has their Christmas trees up, and now for the last and most stressful part: the presents. If you're here reading this because you have to buy your son, daughter, or significant other an Airsoft gift but don't know what to pick, don't worry, we've got you covered! We Airsofters are a picky lot, we like certain stuff, and we hate other stuff, sometimes we get things on a whim, but the one thing we all like is to customise and pick our gear to the exact specifications for the task at hand.
Buying a gift for an Airsoft player can be a nightmare, with worries for compatibility to simple things like colour, it can be a bit of a minefield to pick that perfect Christmas gift. Why not skip the worry entirely and grab them an Airsoft Gift card, that way they can pick for themselves!
What Gift Cards are available?
At the moment we are offering a £20 gift voucher, which can be purchased through us for use either in-store or online. The cards feature a scratch-off back section which can be scratched off to reveal the code for use via our website. These make great gifts for a family member looking to buy a rifle, as they can use their own defence to avoid having the weapon two-toned.
The cards can be stacked used together, along with any other offers available through the website, so if you want to work together with other family members you can contribute by all buying gift cards and allow the recipient to really pick something they want and deserve!
If you're looking for the cards themselves they can be found on our website as: Patrol Base - £20 Gift Card, and Terms and Conditions can be found on our Gift Card Terms and Conditions Page.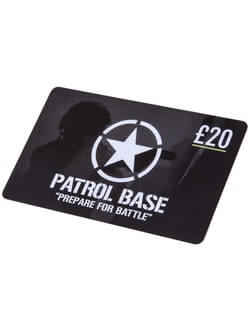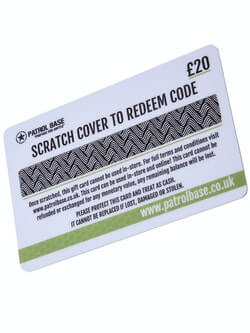 What can they use the gift cards for?
The gift cards can be used to buy anything from simple BBs and supplies, all the way up to fully-fledged Airsoft replicas. Standard rules will still apply, so they'll still need an Airsoft defence, but at least they get to pick something they really want.
Avoid defence problems
Though using Gift Cards does not mean that you will not need a defence, it means you can contribute towards a gun someone wants to buy! One of the biggest problems when it comes to Christmas Airsoft gifts is that to buy an Airsoft Gun which isn't two-toned you need to have a relevant defence, even if it is for someone else. Due to the laws which govern replica weapons the person who purchases or pays the weapon must hold a defence, this means we cannot sell people Airsoft rifles in military colours even if they intend to gift it to someone who has a defence.
Gift cards present a great opportunity to give the recipient a chance to pick their own rifle, as well as allowing them to use their own defence to purchase the Airsoft weapon of their choice.
Avoid picking things which don't fit, or work with their kit
Airsoft can be a bit confusing at times, with tonnes of different rail types for attaching accessories, more camouflage patterns that an artists pallet, and a wide range of pouch types, it's far too easy to pick something that they may not need or want. By buying a gift card you allow them to pick exactly what they need so you're not wasting money on something that will sit unused in the corner.
Contribute to a bigger package
We realise that quite a lot of Airsoft guns are out of the price range for any one person as a gift. Stop worrying about it and buy them Airsoft Gift Vouchers instead. They can pool all their vouchers together to buy the gun they want. Work with friends and family to contribute towards the recipients gun fund!
Gift cards can be used in store
Because the cards can be used in-store they can also visit us in Huddersfield, between Wakefield, Leeds, and Manchester to get an idea of what they want and allow them to try before they buy.