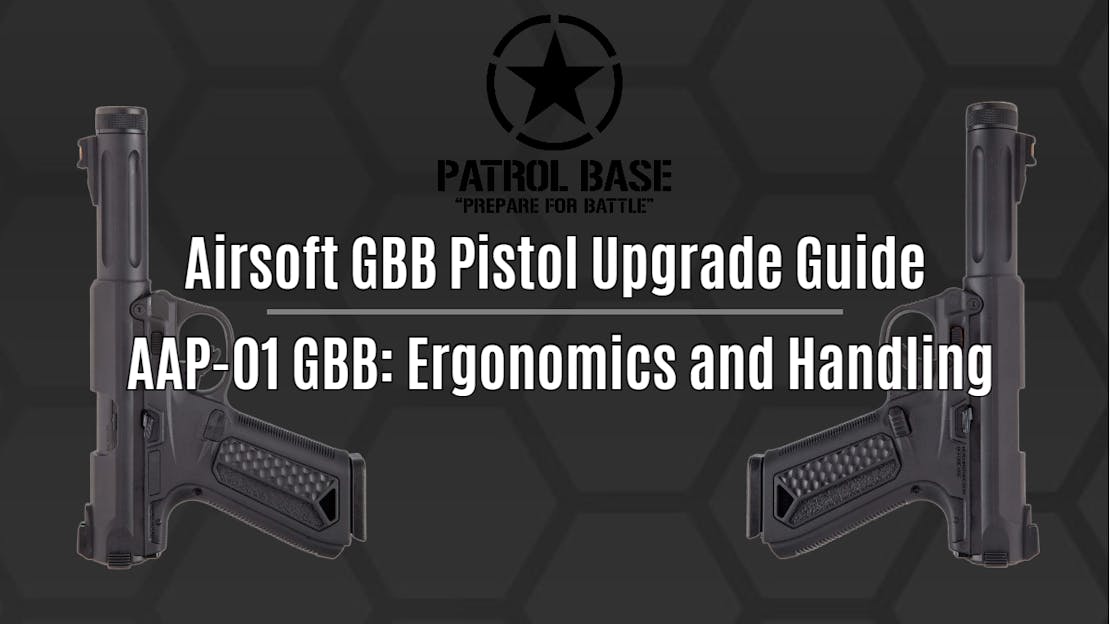 Airsoft GBB Pistol Upgrade Guide - AAP-01 GBB: Ergonomics and Handling
How to improve the handling and ergonomics of your AAP-01 Airsoft GBB Pistol
The Action Army AAP-01 has taken the Airsoft world by storm and is rapidly gaining in popularity thanks to its flexible design which can be tricked out to look like almost anything you want, from a super slick tactical carbine with M4 furniture to a thoroughbred primary pistol for CQB skirmishes and Speedsoft events.
The one true pistol for the performance focussed, the AAP-01 is an unconventional design without the full sized moving slide of a normal GBB pistol. This gives the AAP-01 a significant advantage when it comes to rate of fire and gas efficiency due to the lower mass of its bolt when compared to even a lightweight ported Hi-capa slide.
With impressive performance straight out of the box, the AAP is the up and coming choice for Speedsoft oriented players, and is enticing ever more players over to using a kitted out GBB pistol as a primary weapon for CQB; where size, handling and speed matter most! The AAP is pulling ahead of legacy designs and is uniquely equipped to take advantage of its unconventional form and be upgraded externally with relative ease., without most of the fine-tuning needed to upgrade a Hi-capa or EU series GBB pistol. If you want to get the most out of your AAP, this is how you do it!
This guide should give you a good idea of what parts are currently available to enhance the ergonomics, and speed up the handling of the AAP-01 for effective use in CQB and allow you to set your AAP-01 up for your mission requirements. Stay tuned for future guides, as everyone in the Airsoft industry wants to make AAP parts, and we have no doubt there is more to come!
---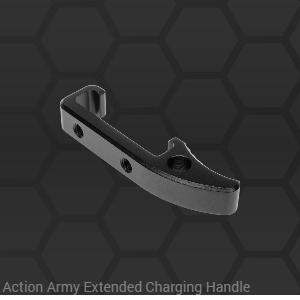 The Action Army CNC charging handle is constructed entirely from 6061 aluminium for a flawless finish and precise fit. The handle can be installed in two ways, either protruding on the right side or reversed to protrude on the left side, allowing the handle to be set up for either left or right-handed shooters and easily swapped between. This charging handle is an extended design for fast access, allowing you to save precious seconds during a reload and bring your AAP-01 back into action faster.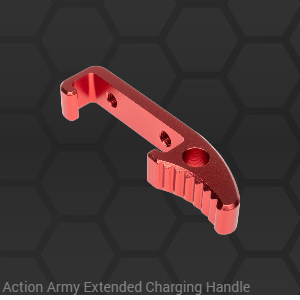 The frontal surface of the charging handle features deep linear serrations to ensure you have a solid, positive grip on the control and enable one-handed operation. This charging handle is easy to grab, and simplifies the reload process to save you time, which we hope you put to good use getting more kills! This charging handle is available in either subtle and discrete black, or larger than life metallic red, meaning no matter your build objective, Action Army has a charging handle to suit!

---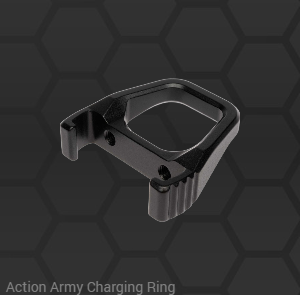 The CNC Aluminium Charging Ring from Action Army is the perfect addition for any AAP-01 user that wants to increase their speed by improving the handling characteristics of their pistol whilst keeping the sides of the pistol slick for a fast and uninhibited draw. This "ring" style charging handle allows for use of the AAP-01 with either the traditional charging handle grip, i.e pinching the charging handle between the thumb and index finger, or with a single finger to shave time off your reloads and prevent your finger from slipping in wet weather.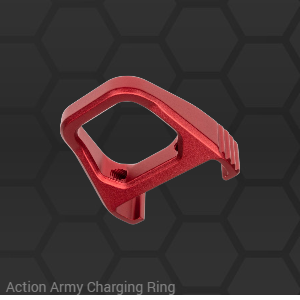 This dual-use functionality is provided by linear serrations positioned to cover and replace the serrations on the AAP-01's bolt to allow you to continue to use the standard charging technique with optimum grip. The ring itself is large and has ample room inside for a gloved finger, with no danger of getting your finger trapped. The Charging Ring is available in either subtle and discrete black, or larger than life metallic red, meaning like the Action Army Charging Handle, the Charging Ring can be had in whatever colour suits your style!
---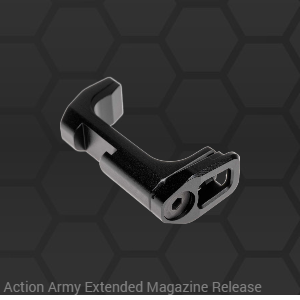 The AAP-01 Aluminium Extended Mag Release is constructed from CNC machined aluminium just like Action Army's other enhanced parts. The magazine release comes with a raised extension piece pre-installed, giving you faster access to the mag release for a quicker reload. If you prefer a more low profile solution, and less chance of accidentally releasing your magazine you can remove it using an Allen key and still benefit from the precise engagement of an enhanced part with the option to extend it when needed.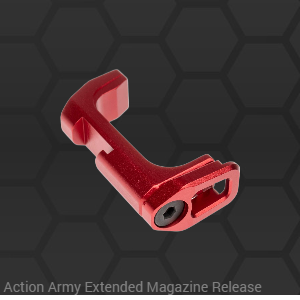 Beneath the extension piece, the mag release features deep linear grooves on its surface to provide a positive grip and allow for effective use in any weather condition. With the extension piece installed you are granted a 4mm increase in width which also extends the overall footprint of the mag release. This means if you are working fast and under pressure and you nearly miss the mag release you will likely still hit the extended piece. This is very valuable in intense CQB skirmishes where a slow reload can ruin the momentum of an attack and allows a fumble-free reload every time!

---

This part is inspired by real steel "gas pedal" style thumb stops, intended to provide a place for you to rest your thumb and apply additional downforce to keep the muzzle rise of both pistols and rifles under control. This is particularly useful for an AAP-01, as its high rate of fire makes it harder to control than a semi-auto GBB pistol. If you are using an HPA adapter with your AAP this becomes even more important as with the added weight the pistol will become harder to support and steer between targets. The gas pedal gives you an additional point of control, making it easier to engage multiple enemies in rapid succession which is a pre-requisite of "speed soft" style gameplay.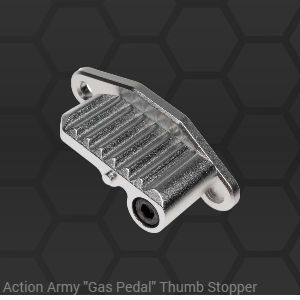 The gas pedal attaches to your AAP-01 via an attachment plate and covers the manual safety to provide a super stable and well-placed mounting point. You won't miss the manual safety if you have a speedy playstyle, and you can still shoot safely thanks to the AAP's two-stage trigger. This thumb stopper can be installed at two different angles on either the left or the right side of the AAP-01, allowing it to be used by both left and right-handed shooters with equal functionality and be set up to suit your hands for maximum comfort.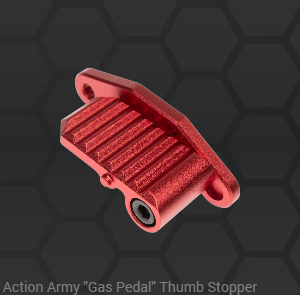 If you are leaning into the AAP-01's advantages with your build, and seek an increase in handling speed, recoil control and grip consistency, the "Gas Pedal" Thumb Stopper from Action Army would be a good call. The AAP-01 Thumb Stopper is precisely CNC machined from aluminium and is available in either matt black, metallic red or silver, meaning if you are adding other Action Army enhanced parts you can choose the colour scheme to suit you!

---
If you are leaning into the AAP-01's advantages with your build, and seek an increase in handling speed, recoil control and grip consistency, the "Gas Pedal" Thumb Stopper from Action Army would be a good call. The AAP-01 Thumb Stopper is precisely CNC machined from aluminium and is available in either matt black, metallic red or silver, meaning if you are adding other Action Army enhanced parts you can choose the colour scheme to suit you!

Each of the CowCow Tactical Aluminium Magazine Baseplates is machined from 6061 aluminium and is finished in a beautiful matt anodising in a selection of metallic colours, with red, black and gold to match the Action Army parts and silver for a touch of pure class! The anodising process keeps the attractive angles and details of the baseplate visible and crisp whilst offering a hard-wearing finish that won't scratch up as easily as paint.

On either side of the baseplate, we can see machined grooves designed to allow you to get your fingers in and remove a tight-fitting magazine from your pistol more easily, and help you to keep a solid grip on the magazine during a reload. A fumbled reload can make all the difference in-game, and an extended baseplate can help ensure you slam your magazine home consistently every time, and never accidentally hurl a magazine that was intended for your pistol onto the floor!
---

The Action Army AAP-01 Adjustable Trigger is constructed from CNC machined aluminium and includes the adjustment grub screw, trigger safety, and a spare trigger safety pin. This trigger allows you to tune your AAP-01 for minuscule trigger pull by shortening the distance between the trigger and the trigger bar using the grub screw in the trigger body itself. If you are a CQB player your mouth is probably already watering, and make no mistake the trigger response provided by this trigger is practically impossible to beat.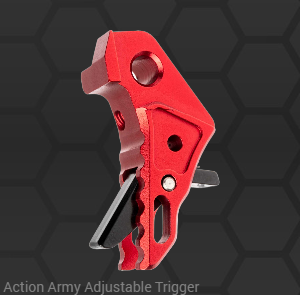 Hair triggers are often associated with negligent discharges which can be embarrassing for the user and dangerous for those around. What marks this trigger out as being immune from this issue is its EU-style trigger safety, matching the function of the original AAP trigger but with a more dynamic look. This safety works by having a separate centre section of the trigger with an extension on its rear face that is able to move independently of the trigger itself. The extension on the rear face blocks the trigger travel against the frame of the pistol unless it is first depressed by the trigger finger. This means unless you intentionally pull the trigger the pistol won't fire, so you can have a super light trigger and be safe in the knowledge that your AAP won't fire if you let out an inadvertent sneeze!

The Adjustable Trigger has had a serious style-up when compared to the plain and boring looking EU style trigger, and its red centre section gives the AAP-01 the looks of a custom pistol when combined with its straight design and serrated front surface. The adjustable trigger would suit just about any AAP-01 build, whether you are using it as a sidearm or going full primary pistol!
---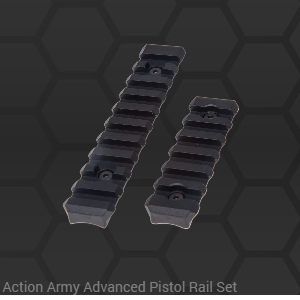 Adding a vertical or angled foregrip to your AAP-01 is an excellent way to make this little machine pistol more controllable, and bridges the gap between a machine pistol and a true submachine gun for a CQB dominating setup. The Action Army rail set attaches using the pre-threaded mounting holes on the top of the receiver, and the bottom of the outer barrel, providing a sight rail for adding a red dot optic, and a lower rail for a grip or tactical flashlight. in its default configuration, allowing you to further personalise and customise the pistol to suit your needs. The rails are constructed from heavy duty polymers and come with all the screws required for fitting

---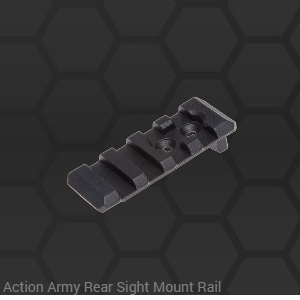 The Rear Sight Mount rail replaces your rear sight with a small rail section ideally suited to mounting a "micro" style red dot sight such as T1/T2 and RMR style reflex sights. Adding a red dot sight will speed up your shooting by providing a single index point to align with the target rather than first having to align the sights. Red dot sights are quickly becoming the go to choice for an upgraded Airsoft pistol, as they rise in popularity in the real world. The added benefit of mounting an RDS on your AAP-01 is that the mounting position does not move, unlike a slide-mounted red dot sight. This means you have a consistent point of aim every time, and follow up shots are easier to land as you don't have to wait for your sight to return to position before shooting again. It also means your red dot sight will last longer than if it was mounted on a moving slide as the delicate internals will be under far less strain.

---
The Spitfire tracer unit is one of our favourite accessories to add to any Airsoft gun. We love it for its affordable price, awesome utility in-game and immersive muzzle flash effect it provides. The Spitfire can be mounted to the front of a CQB oriented AAP-01 and allow for super-fast instinctive aiming without the need for sights, allowing you to trace your shots to the target and adjust as necessary. This unit uses an internal rechargeable battery providing enough power for around 20,000 shots, which is more than enough for even the most trigger happy skirmisher.
The Spitfire has an array of orange LEDs in the front to replicate a realistic muzzle flash when you fire. This effect looks phenomenal when paired with a gas blowback Airsoft gun like the AAP, as the cloud of gas emitted with each shot will heighten the muzzle flash effect and give off the vibe of fire and smoke. When mounted on an AAP-01 the Spitfire Tracer Unit is a great choice for rapid instinct aiming, or if you value having the psychological warfare upper hand in CQB. The Spitfire is equipped with an 11mm CCW Thread for attaching to GBB Pistols but is supplied with a 14mm CCW adapter so that it can attach to the AAP-01.
---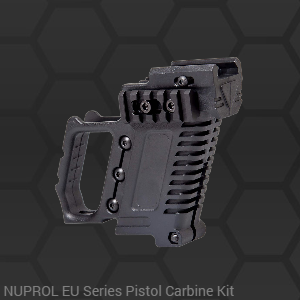 The NUPROL EU Series Pistol Carbine Kit is designed to fit the EU series of GBB handguns, but can also be mounted to the AAP-01 if you are using the Advanced Pistol Rail Set. This kit provides 20mm Picatinny side rails, an area where you can grip the kit and use it as a foregrip, and a spare magazine carrier which fits EU series magazines, perfect for the AAP-01!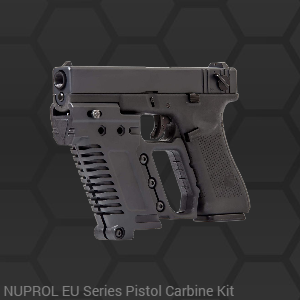 When mounted onto the AAP-01 this kit gives off a very "Kriss Vector" style vibe and transforms the look of the AAP-01 into a more chunky, menacing looking pistol. This kit works well with or without a stock added, and can really come into its own mounted on a CQB primary pistol, as it provides the additional rails on the sides which would be well suited to mounting a tactical flashlight, and provides a spare magazine which is right next to your hands for a fast reload when you need it.

If you use your AAP-01 as a sidearm, this kit is probably not ideal, but if you go into the CQB site with your AAP as your primary weapon, and little else, this kit can add some serious functionality to your setup, and make it look awesome at the same time!
---
With some, or all of these enhancements added to your AAP-01 you will be well equipped to handle the intense rigours of exchanging fire with the enemy at kissing distance, whilst taking pure advantage of the unconventional slide-less design to provide comfort and handling other pistols can only dream about!
The options presented in this guide should allow you to kit your AAP-01 out either for use as an enhanced sidearm, or fully equipped as a primary weapon which has been upgraded to suit your needs perfectly. Many parts in this guide offer improved handling, but everything is a balancing act, and it is worth carefully considering what you need to suit the way you use your AAP, as is the benefit of owning such a flexible Airsoft pistol!
If you are already content with your AAP's handling, or you are looking at internal upgrades to even further improve the incredible rate of fire and trigger response, check out our guide on Increasing the Rate of Fire of your AAP-01!
Ergonomics and Handling upgrades: AAP-01 GBB