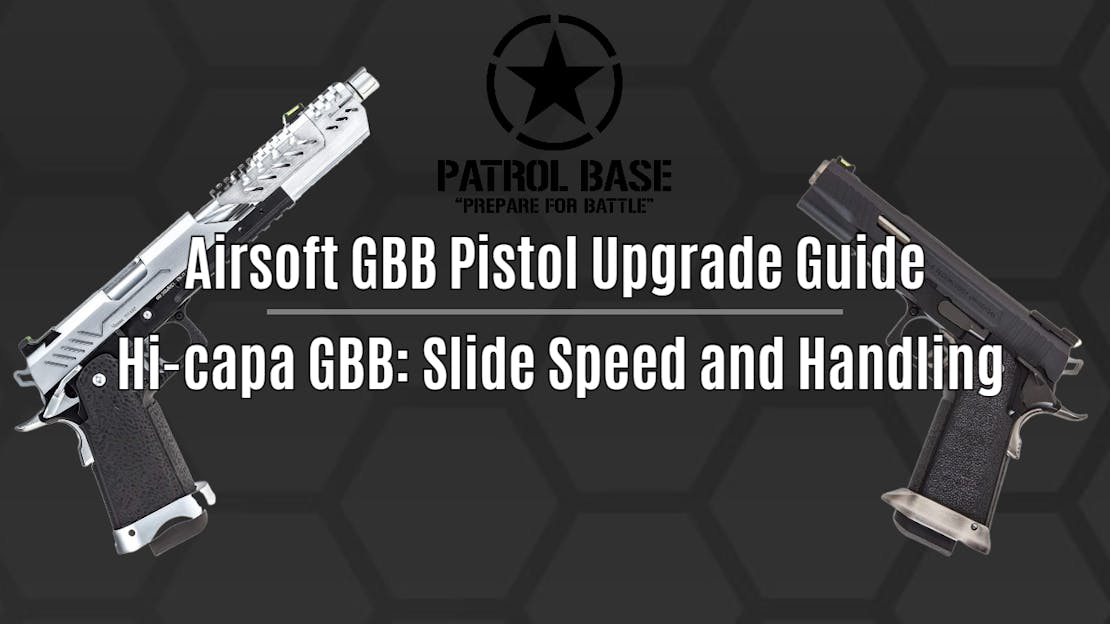 Airsoft GBB Pistol Upgrade Guide - Hi-capa - Slide Speed and Handling
Make your Hi-capa cycle and handle faster - Hi-capa Speed Upgrade
If you are running a Hi-capa it would be a safe assumption that you appreciate modern handling and high performance from your Airsoft sidearm. The Hi-capa GBB platform offers a wealth of opportunity when it comes to upgrades, allowing you to reach any reasonable goal you set yourself with one of the most upgradable Airsoft pistols out there. Whether it is an aesthetic upgrade you fancy to make your 'Capa stand out, or you are looking for more speed and better handling for more performance when it matters, the parts are out there to achieve your build goals.
This guide will cover slide speed upgrades and handling upgrades with the objective of improving the overall speed of an Airsoft Hi-capa GBB pistol. For the fastest Hi-capa out there you will need to practice, as your software is every bit as important as your hardware when it comes to Airsoft skirmishing. This guide focuses on the hardware and will outline what you can do to your Hi-capa GBB to improve its rate of fire, and speed of handling.
---
Lightweight External Upgrade Parts
Slide
Laylax Gungnir Optics Ready slide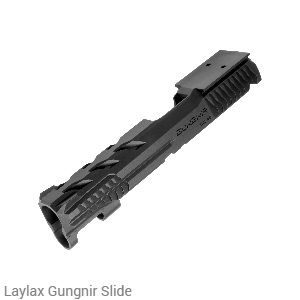 This slide represents a new take on Hi-capa slides; instead of following real steel designs, and thereby compromising performance, the Gungnir is all about function. The Gungnir slide weighs an astonishingly low 48g, which is considerably lighter than any metal Hi-capa slide, which means better gas efficiency, consistency, and of course, rate of fire. The Gungnir slide's unique style gives the Hi-capa a menacing and modern look thanks to its deep angled serrations and weight-reducing ports above the barrel.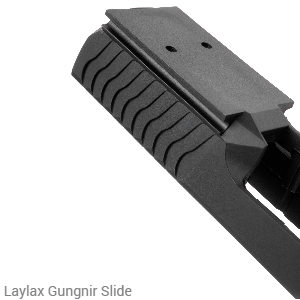 The Gungnir comes optics ready straight out of the box, meaning there is no need to burden either your wallet or your slide with the additional cost and weight of an aftermarket optic mounting plate. You will be happy to learn that the Gungnir slide is compatible with our favourite slide mounted optic, the Vector Optics Frenzy-X, so if you want to speed up your target acquisition and also benefit from a lightweight and speedy slide, the Gungnir is your best bet. The Gungnir also has two sets of backup iron sights on either side of the top of the slide, meaning you can continue to rack up kills even if your optic runs out of battery mid-game!
Airsoft Masterpiece EDGE Custom "RAZOR" Aluminium Standard Slide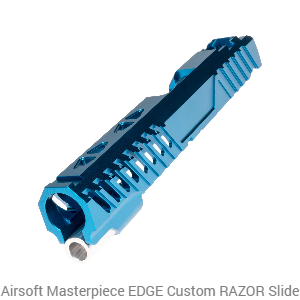 The RAZOR Aluminium slide is one of the lightest full metal slides on the market today, tipping the scales at a mere 75g! For comparison's sake, that is half of the weight of a standard alloy 1911 slide, meaning you can have the rapid cyclic rate and excellent gas efficiency of a polymer slide whilst retaining the metallic feel and strength of a metal slide. If you want speed, but you need metal, the RAZOR would be a solid choice for your build.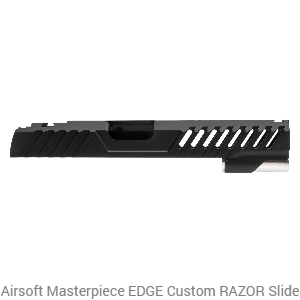 Though it excels in performance, the RAZOR is not exclusively about functionality; the slide has had some serious thought put into its aesthetic design, being styled after high-speed competition pistols.The ports at the front match the angle of the rear serrations, giving the pistol build a striking, dynamic look. The RAZOR is cut for standard Hi-capa 5.1 iron sights, meaning it can be coupled either with fibre optic iron sights or a red dot mounting plate for a faster first shot from the draw and quicker target acquisition.
Outer Barrel
Airsoft Masterpiece .45 Threaded Aluminium Outer Barrel for Hi-capa 5.1 GBB
The .45 threaded Aluminium outer barrel is designed for the TM Hi-capa 5.1 and its clones and provides a lightweight outer barrel with .45 engraved into the chamber area, denoting the calibre of the real pistol. The barrels of Hi-capa and 1911 GBB pistols reciprocate slightly with each shot to simulate the "tilting barrel" action of the real 1911 and 2011 pistols, and as such, the lighter your outer barrel, the faster your pistol will cycle.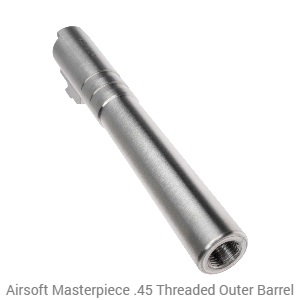 The Airsoft Masterpiece outer barrel is CNC machined from aluminium to provide crisp and precise details, including the realistic locking lugs found on the top. At the tip of the barrel, we are treated to 11mm CW female threads which can be used to mount a tracer or suppressor with the help of a thread adapter if it suits your build and mission. Be warned, any weight you add to the barrel will slow your pistol down, so stick to lightweight suppressors and tracers for the best performance!
Airsoft Masterpiece .45 Threaded Aluminium Outer Barrel for Hi-capa 4.3 GBB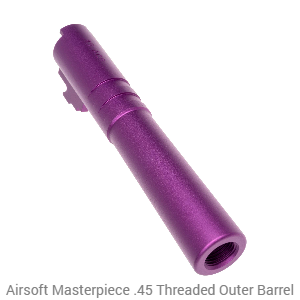 This outer barrel is the equivalent of the outer barrel discussed above but for the shortened 4.3 version of the Hi-capa GBB pistol. The barrel is constructed from 6061 aluminium using CNC machining processes for a precise finish, and also sports an 11mm CW female threaded tip so you can add a tracer or suppressor with an adapter. Steel outer barrels are available for the Hi-capa platform but if you value speed and performance over looks and realism we recommend choosing an aluminium outer barrel.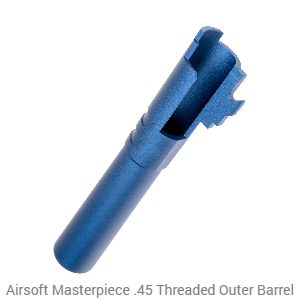 This barrel sports the same realistic details as the 5.1 version, including the mock locking lugs and ".45" calibre markings on the chamber area. The barrel uses a standard 1911/2011 profile, which widens towards the tip, as opposed to the Laylax fluted barrel which has a straight "bull" barrel style profile. If you have a 4.3 length Hi-capa there is no need to feel left out of the high-speed game!
The Laylax fluted outer barrel is a stylish piece, finished in the eye-catching "heat gradation" finish which is sure to get noticed on the field and mark your pistol out as an upgraded Hi-capa. This finish blends smoothly from blue/green, through red/purple to gold, making for an eye-catching look which is unlike anything else.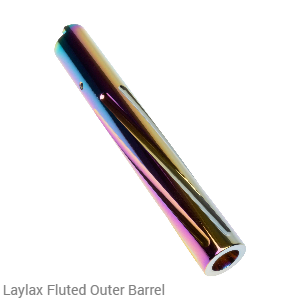 The surface of this outer barrel is fluted in an attractive twisted style known as "spiral fluting", a hallmark of highly customised and refined real steel 2011 pistols. This fluting reduces the weight of the outer barrel to improve cycle speed and is also a great addition for realism as this also serves to help dissipate heat build-up in real pistols intended for rapid strings of fire in a competitive scenario. The aluminium construction of this outer barrel pairs perfectly with the fluted design to provide a lightweight alternative for your original outer barrel.
Airsoft Masterpiece Aluminium Guide Rod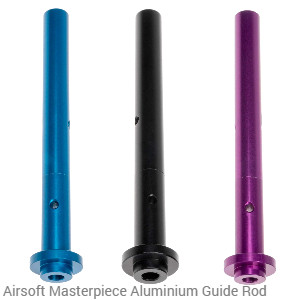 The Airsoft Masterpiece Guide Rod is CNC machined from aluminium for low weight and a precise finish. This guide rod is available in several different colours to suit any build, ranging from discrete black to eye-catching metallic purple. These guide rods are finished perfectly, with a smooth friction-reducing anodised finish applied to ensure the beautiful colours stand the test of time and that your recoil spring does not hang up causing a reduction in cyclic rate.
Upgrading the guide rod alone won't make much of a difference to your cyclic speed, but when you are using an enhanced recoil spring, a stronger guide rod is a must for long term durability.
The CowCow RM1 guide rod is designed to reduce felt recoil, bolt bounce and excessive wear and tear on the slide through the use of a dual recoil spring system, instead of the traditional single recoil spring. The RM1 is a great choice if you like to fine tune your Hi-capa to suit the ambient temperature or the specific accessories you have mounted, thanks to the multiple options available as to how you set the guide rod up.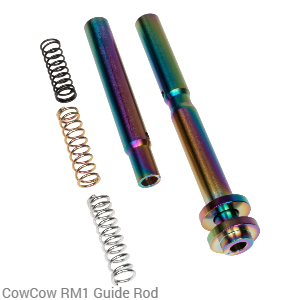 The RM1 comes with 3 options as far as recoil springs go, two of which need to be installed for the guide rod to function. This allows you to tune the recoil feel and slide speed of their pistol to suit their needs and the requirements of the build. The RM1 works with both the 5.1 and 4.3 variants of the Hi-capa pistol, thanks to its modular guide rod construction. The RM1 is also finished in "heat gradation" colours, making it a perfect match with other "heat gradation" parts for a coordinated and professional-looking build.
---
Internal Speed upgrades
Airsoft Masterpiece High flow Nozzle
If you want a snappier slide speed and increased recoil, you need more gas flowing to your internals. The Airsoft Masterpiece High Flow Nozzle was built with this in mind and will increase the felt recoil, FPS and slide speed of your Hi-capa GBB. It is worth noting that if you like to use Red gas or other high power Airsoft gasses, you may need to install an NPAS or velocity restrictor discs to keep your Hi-capa shooting within site limits.
Airsoft Masterpiece Ultra Light Aluminium Blowback Housing
When you have shaved every last gram from your slide, there are few other places you can look for weight savings but regardless, Airsoft Masterpiece has found a way to give you that edge in speed, even when you think your pistol is as fast as they get.
The A.M Ultra Light Blowback Housing is CNC machined from aluminium and includes a pre-installed piston head and o-ring. This blowback housing weighs an incredibly small amount, approximately 17g, complete with its piston and O-ring, meaning you can ditch your original alloy blowback housing for even further improvements in slide speed.
CowCow Technologies RS1 Recoil Spring
The RS1 recoil spring is a drop in replacement for your standard recoil spring and can be easily installed with a simple field strip. Using an uprated recoil spring will help your slide return more quickly, ready for the next shot. If you are installing a stronger recoil spring of any kind we always recommend purchasing an enhanced guide rod to keep your Hi-capa cappin' in the long term.
Airsoft Masterpiece Shock Buffer Kit
The Shock Buffer from Airsoft Masterpiece provides 4 rubber buffer pads and 4 steel spacers, allowing you to adjust the length of travel of your slide from so short that it only just loads a BB, to full length with a single buffer pad to reduce wear. For faster semi-auto follow up shots, this is what you need!
This kit is great for the Hi-capa user who values the ability to fine tune their pistol for their specific needs. Use of all the spacers in this kit will mean your slide will no longer lock back at the end of a magazine, so to keep your reloads spritely we recommend a charging handle.
CowCow Technologies NP1 Nozzle Spring
An uprated nozzle spring can help your nozzle return more quickly, which means your pistol is ready to fire again in record time. The NP1 was designed to work with other CowCow upgrades to lift the felt recoil and slide speed of the Hi-capa GBB platform.
Replacing your original nozzle spring with the NP1 should see a slight increase in cycle speed, which when added to other incremental improvements can make for an astonishingly fast Hi-capa setup.
---
Handling Speed Upgrades - Faster reloads mean more kills!
Magazine Well Extension
A magwell extension is a seriously useful upgrade when it comes to speed of handling and allows you to change magazines much faster whilst avoiding the fumbles which occur under pressure and cost you the initiative in-game. Obviously, without enough practice, you will still fumble the odd reload, but the magazine well extension can be a good way to alleviate this thanks to their bevelled inner walls which guide the magazine in smoothly, making the reload process much easier.
The Hi-capa GBB platform has more than its fair share of magazine wells available, ranging from the extremely wide and prominent magazine well extensions to the more discrete and low profile options. The magwell you choose is up to you, and with various styles and colours available you have all the choice in the world!
Airsoft Masterpiece EDGE M1 Magazine Well Extension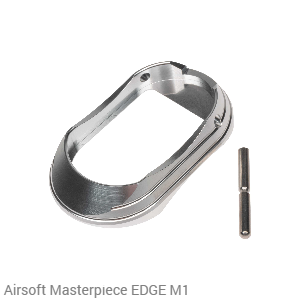 The EDGE M1 magazine well extension is larger than many others, leaning into the race pistol aesthetic with its linear weight reducing cuts along each side. Together with the overall shape of the mag well, this thing looks like it is about to break the sound barrier! The EDGE M1 sports a wide flare, which allows you to almost throw your magazine into the pistol and have it hit home every time. The styling of the EDGE M1 combines both the competition style streamlined appearance with a more aggressive overall look which would suit a CQB primary pistol HI-capa perfectly.
Airsoft Masterpiece Aluminium Magazine Well Extension Type 3
The Magazine Well Extension Type 3 is CNC machined from aluminium with a competition style aesthetic and is available in many different colour options to suit the style of any build, whether it is a super-serious combat style Hi-capa or a speedy open division pistol with all the bells and whistles.

This magwell has an extremely wide flare which should allow you to reload without paying as much attention to your pistol, and instead allowing you to spend those precious milliseconds scanning for the next target. The design of this mag well extension also allows it to be used as a palm rest, which helps encourage an effective and comfortable grip on your pistol.
CowCow Match Grade T01 Magazine Well Extension
If you are the type of player who likes to be noticed, you're going to love this one! The CowCow Match Grade T01 magwell is CNC machined from 6061 aluminium to guarantee a precise finish, significant strength and low weight, and is coated to mimic the "heat gradation" effect that high temperatures have on titanium exhaust pipes in high performance cars. When added to a pistol with other heat gradation coloured parts this magwell is a perfect fit, and would look as amazing hanging on the wall as it would turning and burning in a CQB skirmish.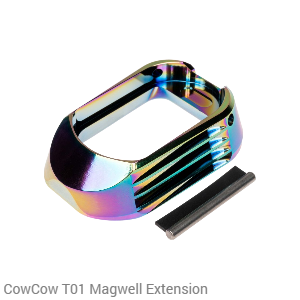 If you are the type of player who likes to be noticed, you're going to love this one! The CowCow Match Grade T01 magwell is CNC machined from 6061 aluminium to guarantee a precise finish, significant strength and low weight, and is coated to mimic the "heat gradation" effect that high temperatures have on titanium exhaust pipes in high performance cars. When added to a pistol with other heat gradation coloured parts this magwell is a perfect fit, and would look as amazing hanging on the wall as it would turning and burning in a CQB skirmish.
Laylax Custom Extended Slide Stop
If you have decided against short stroking your slide, the next best thing for keeping your reloads swift is an extended slide stop. The Laylax offering is constructed from CNC machined aluminium, giving it the perfect balance between strength and low weight.
This slide stop will keep working long after an equivalent alloy slide stop fails, and its extended serrated section makes it far easier to reach from a firing grip, meaning you shave precious seconds from your "offline" time which adds up, whether you are shooting competitively or at a skirmish.
CowCow Raw Cocking Handle Open A
If you are leaning into an "open division" style build, it may be worth considering the addition of a cocking handle, especially if you have used recoil rod spacers to short stroke your slide. With a short stroked slide, your pistol will no longer lock back when the magazine is empty, and a cocking lever can help you maintain swift reload times.
The CowCow Raw cocking handle replaces your rear sight with a side-mounted cocking lever which can be installed for use by either left or right-handed users. The cocking handle replaces your rear sight, so you will need to consider your options for a forward mounted or frame mounted red dot sight unless you are building a "speed soft" style Hi-capa, wherein you may benefit more from adding a tracer unit and forgoing traditional sights.
---
Tracer Units
Using a tracer unit as an aiming device is rapidly becoming the norm for SpeedQB and speed soft style builds, and whilst it isn't very realistic, and won't be much help at long range, using a tracer on a high speed Hi-capa can be remarkably intuitive in CQB, and means you will waste no time finding your sights and can simply "walk" your BBs onto the target.
This is particularly useful if you are using an HPA adapter with M4/AR15 mid or high-cap magazines, as you will have more than enough capacity to send a stream of BBs at the enemy and steer the pistol according to where the brightly glowing BBs are landing. For use on a GBB pistol, even the mighty Hi-capa platform, we recommend sticking to the lightest and shortest tracer units possible in order not to compromise the cyclic rate of your pistol.
Our favourite currently is the Ghost Spitfire Tracer unit, offering compact size, a lightweight internal rechargeable battery and compatibility with both 11mm CW female and 14mm CCW male threading straight out of the box. We are suckers for realism here at PB, and the muzzle flash effect produced by the Spitfire makes Airsoft skirmishes that much more immersive, but if you are all business and see the muzzle flash as a potential downside as it can give away your location, the G&G UVT106 Gen.2 has just been released, and it shows a lot of promise...
The UVT106 2.0 is easily the smallest tracer unit on the market currently, being smaller than the Spitfire by a decent margin, and lighter to boot. The UVT106 2.0 doesn't have a muzzle flash function, but still sports an internal rechargeable battery and ultra-quick rotary activation which makes it formidable on the field, and very well suited to use on a Hi-capa GBB pistol. We can't wait to get our hands on this little beast!
---
The Hi-capa is currently facing off with the EU series and the AAP-01 to be crowned the king of upgraded Airsoft GBB pistols. The Hi-capa design puts it at an advantage purely thanks to its age and the fact that it has been the competition pistol of choice for decades, following in the footsteps of its real steel cousin, the 2011. There is no Airsoft pistol that compares to the Hi-capa in the volume of upgrades available, and the wealth of knowledge out there on this mature platform is unparalleled.
To keep the lead over the up and coming AAP-01, and the no-frills means pure business EU series design, the Hi-capa has some work to put in. The parts discussed here should keep you competitive with the current upgraded AAP and EU pistols out there, and will ensure that, though it may have competition, the Hi-capa GBB maintains its lead!
Hi-capa GBB Pistol - Speed and Handling Upgrades
Replaces Rear Sight
Sight Mount Plate
For Red Dot Sight
A mounting plate designed to fit to allow the attachment of backup and red dot sights to TM based Hi-Capa 5.1 pistols. The plate attaches to the pistol by replacing the rear sight, and using the existing screws secures into place. The backup sight plate is constructed from lightweight yet durable 6061-T6 Aluminium Alloy and secures your sight securely to your pistol.
This mount is perfect for those Airsoft skirmishers who are looking to attach a red dot or backup sight to their pistol in order to make more accurate and quicker snap shots to get an advantage whilst playing.
Aluminium construction
Available in several colour options
Speed up your reloads!
If you are building a custom Hi-capa or 1911 GBB, whether it is for competition shooting or use as a primary pistol for skirmishing, a cocking lever can help speed up your reloads and get you back into the action faster! The CowCow Raw cocking handle is designed for the TM Hi-capa and 1911 GBB pistols and replaces your rear sight with a side-mounted cocking lever which can be installed for use by either left or right-handed users. This cocking handle is compatible with most TM clone GBB Hi-Capas but will only fit 1911s with a rear sight dovetail, not the classic style with the rear sight machined as part of the side.