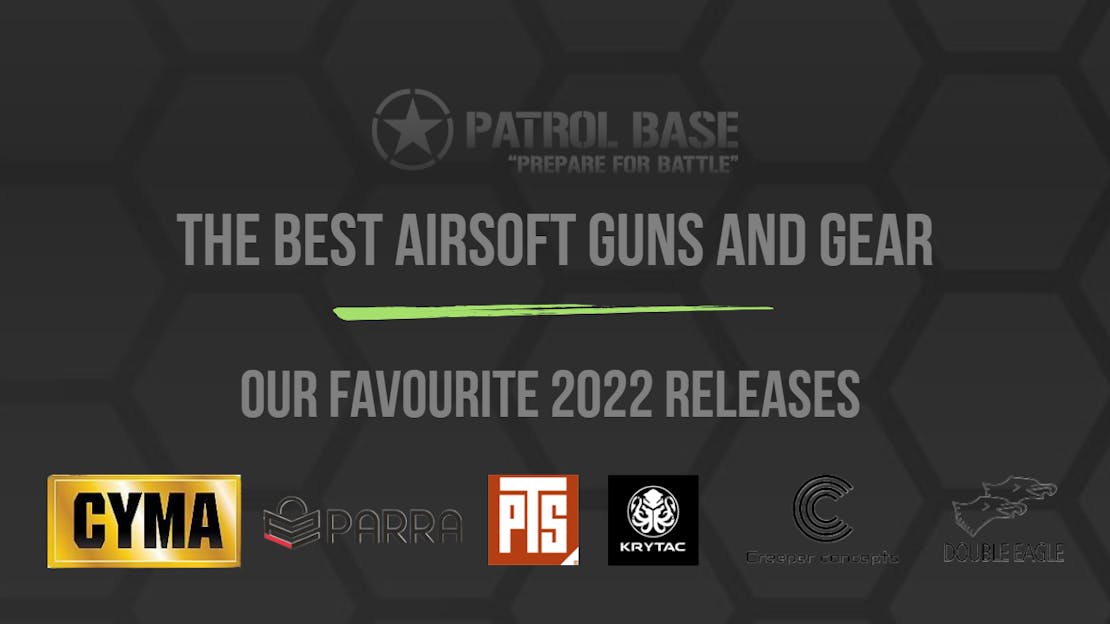 Best Airsoft Guns & Gear 2022
Krytac has teamed up with Evike Manufacturing Group and produced what has to be the ultimate P90 AEG replica. Not content with copying the Tokyo Marui design and throwing in some metal and fiber-reinforced polymer, Krytac has gone through the Marui design with a fine-tooth comb, pinpointed its weaknesses, and rightly addressed them!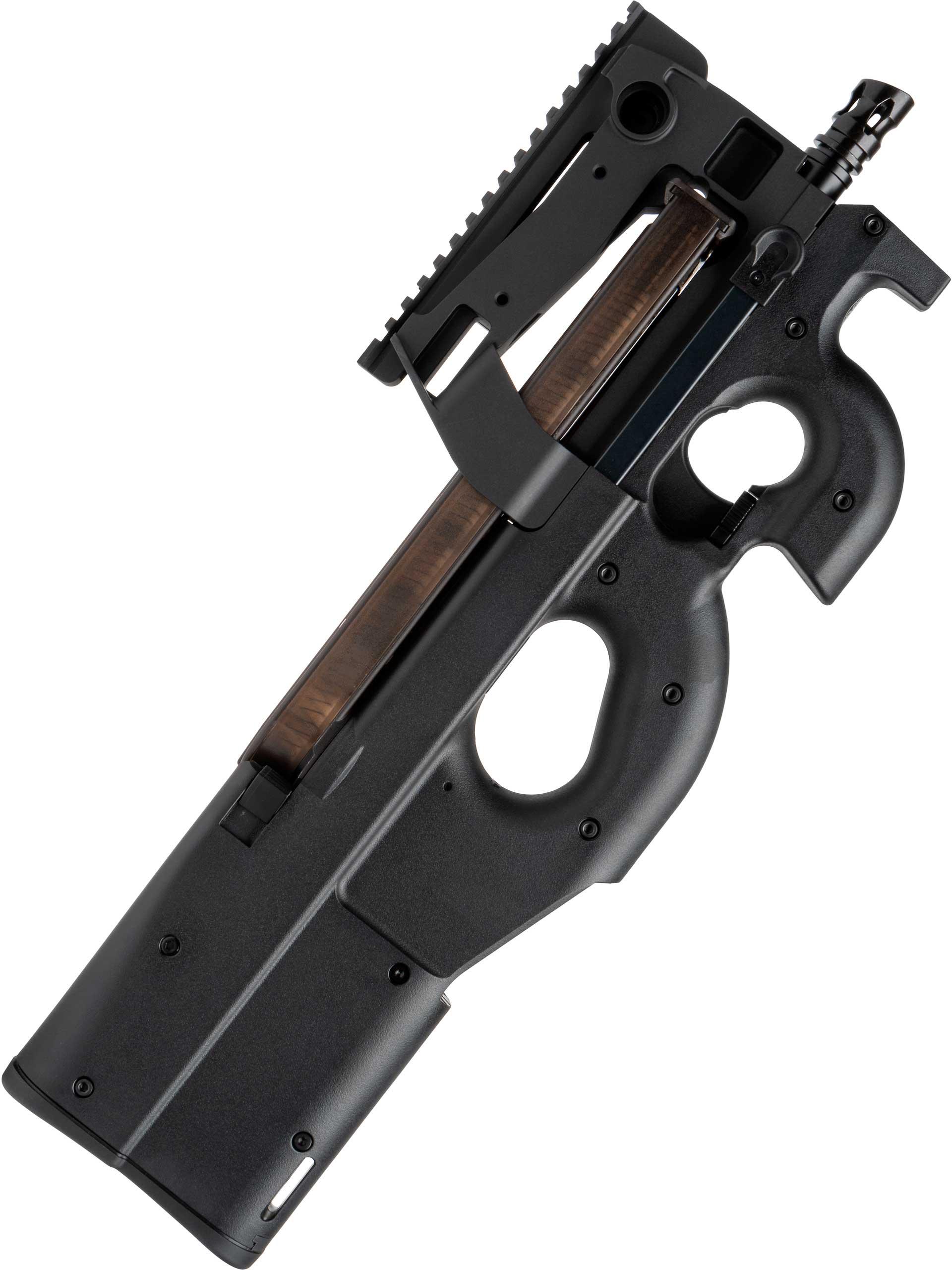 The upper receiver assembly is constructed entirely from Aluminium, increasing strength whilst keeping the weight low to ensure the P90 remains manoeuvrable and aimable, as one would expect from a short bullpup design. On the left side of the upper receiver assembly, we can find beautifully engraved trademarks, licensed by FN Herstal themselves. The markings read: "P90 - cal 5.7x28", which match well with the other trademarks moulded into the high-density fiber-reinforced polymer lower receiver assembly. The upper receiver provides a single side Picatinny rail which can be swapped to either side and a long upper rail for mounting optical sights, with an aperture iron sight for emergency use built-in to the rail itself!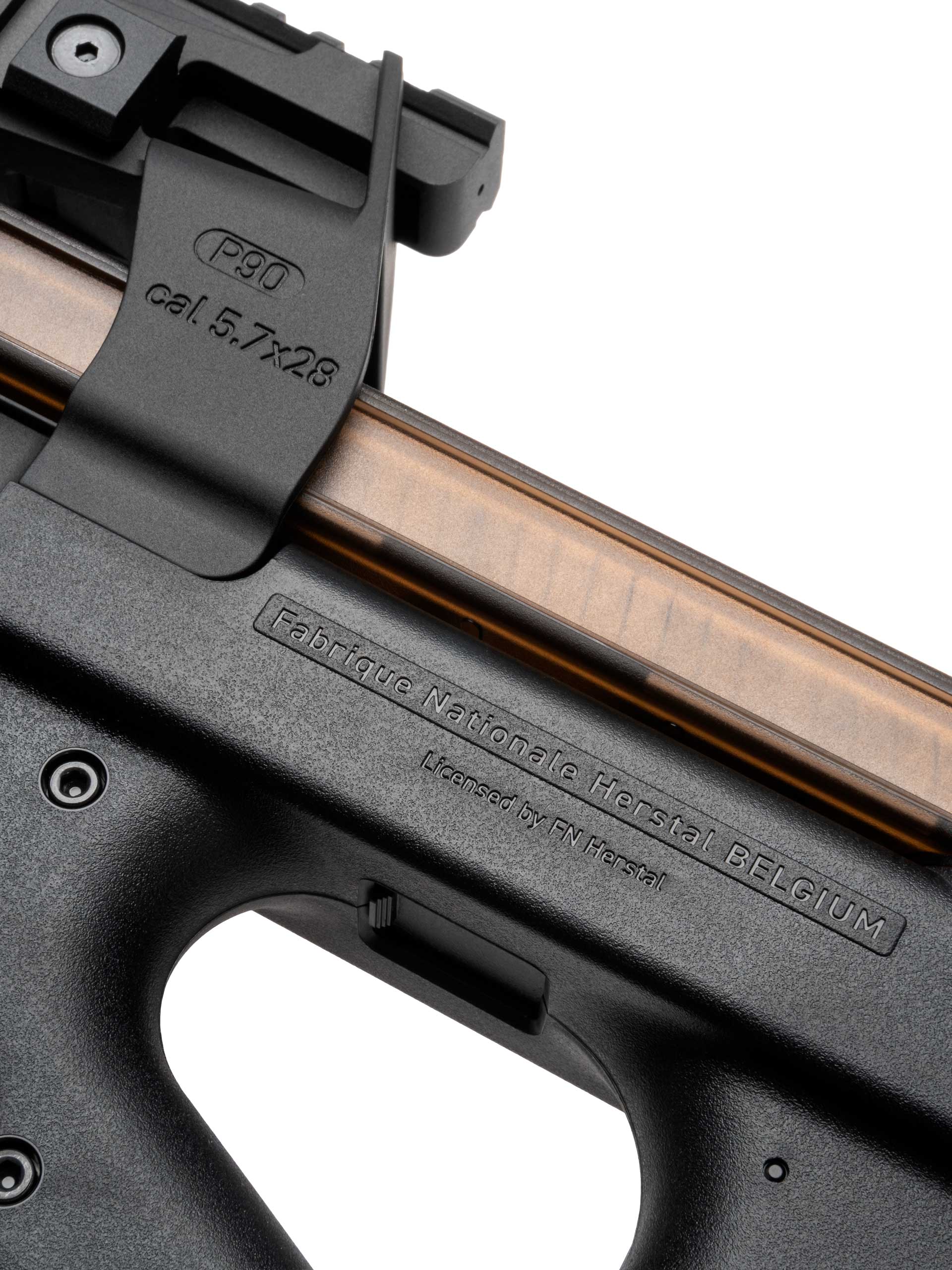 The Krytac gearbox which powers this beast boasts a famous Krytac in-line MOSFET, 8mm bearings, steel gears, and a quick change spring system; allowing you to tune the AEG to perfectly meet the limits of your Skirmish site with ease. To ensure that the Krytac P90 can handle stronger springs the Gearbox has had its cylinder window corners radiused to reduce the chances that fatigue on the shell will cause a failure. The gears are of an 18:1 ratio, providing efficient smooth running of the gearbox and an absolutely mental rate of fire!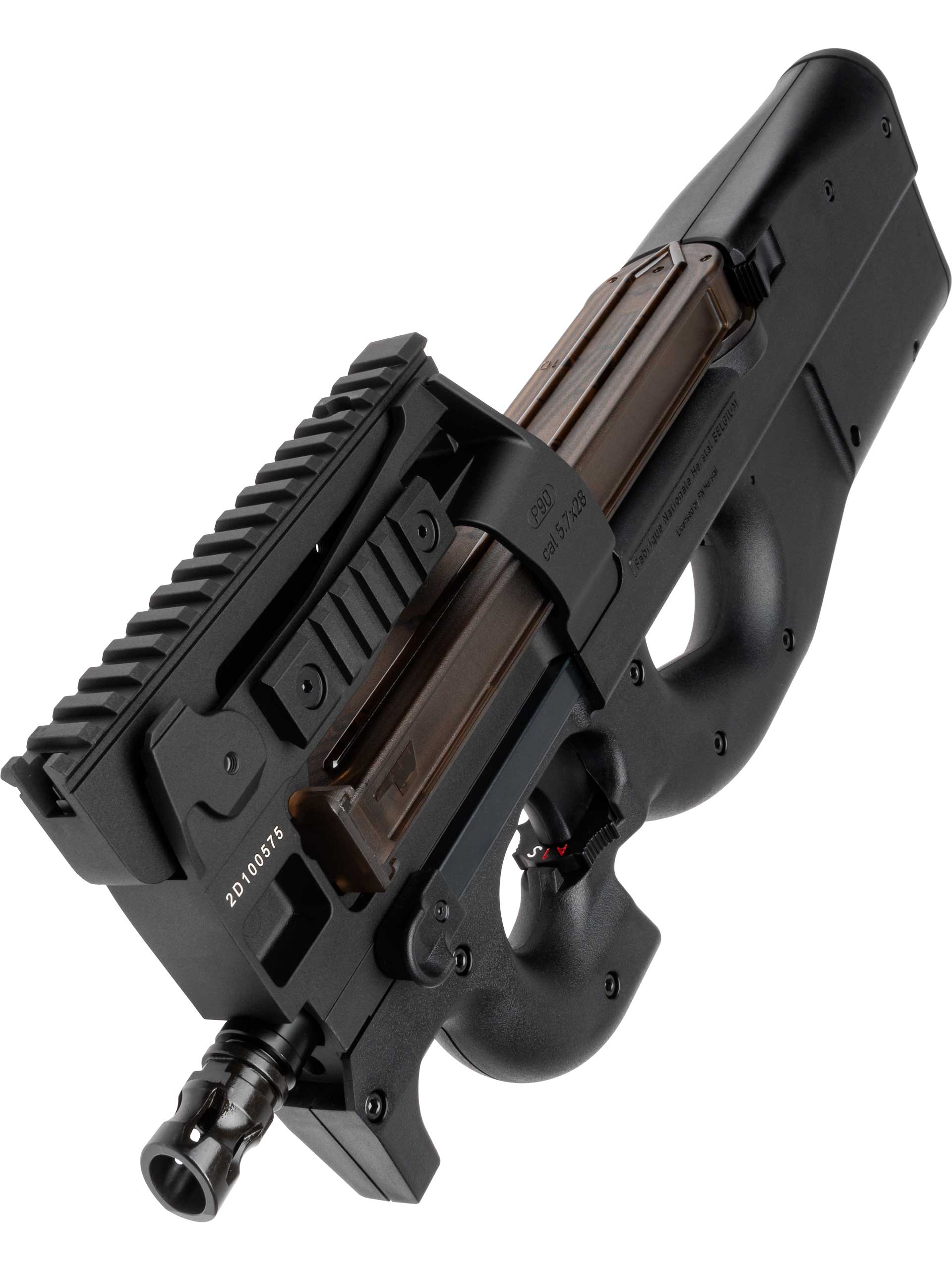 Its plethora of advanced features, exceptional build quality, and jaw-dropping performance crown the Krytac P90 the king of Airsoft P90 platforms! One of our favourite features is the new trigger system, which unlike legacy P90 AEGs has a light and quick to reset trigger with very little creep whilst retaining the original P90's dual-stage functionality; with a short press providing a single shot, and an extended press firing full auto. The trigger can also be adjusted, allowing the user to tune it for a very short press, or a long press if desired. P90's are not often seen on CQB sites, probably due to their relatively sluggish trigger on semi-auto. With this new trigger, we expect the Krytac P90 will be out turning and burning with the ARP-9s and the M4 PDWs, once again marking out CQB as P90 territory!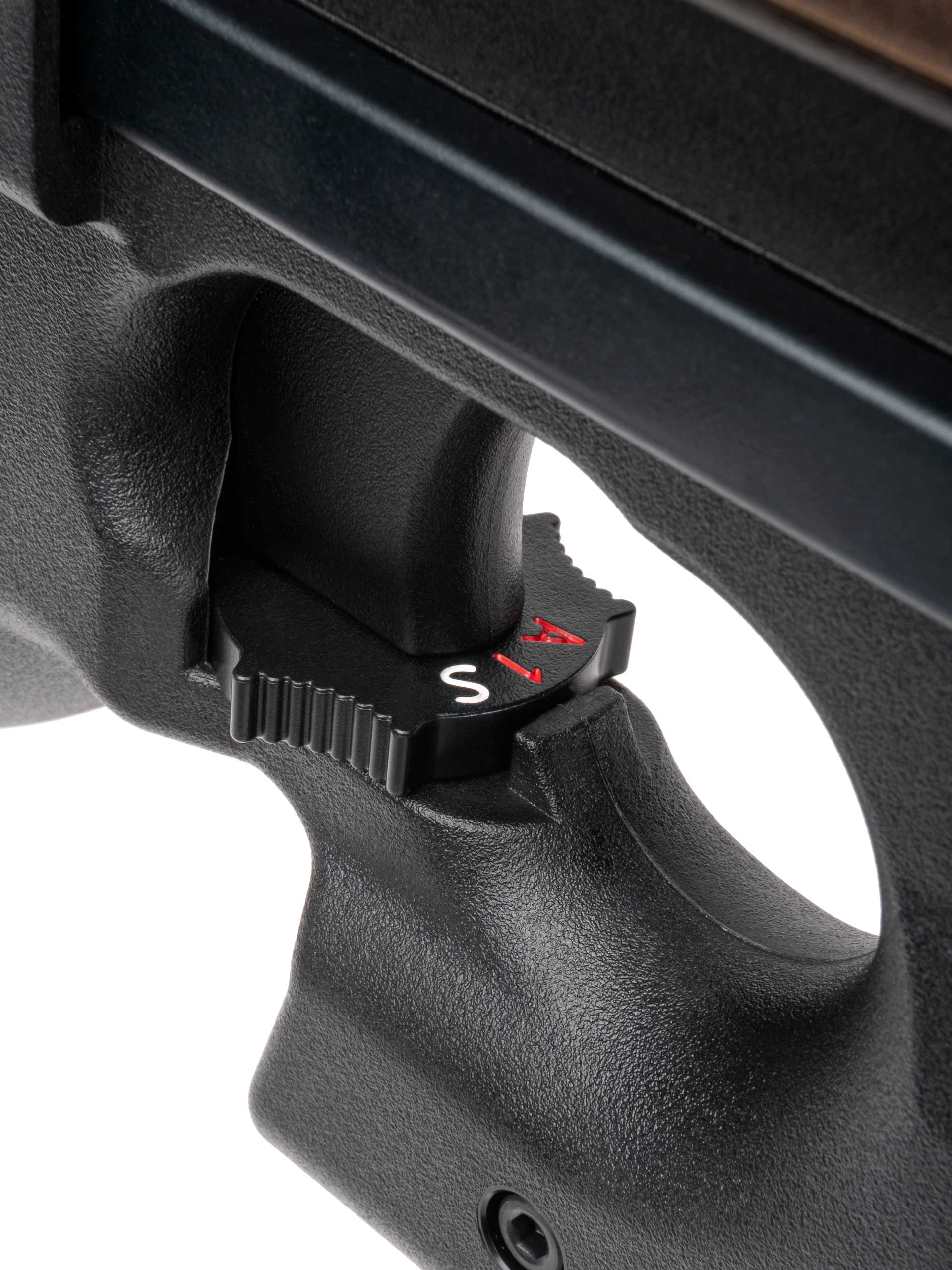 The Krytac P90 is compatible with standard Tokyo Marui style P90 magazines, giving users of older P90 designs no excuses not to switch over to this stunning new design. Naturally, Krytac has also released their own upgraded magazine, which features adjustable capacity, with a realistic 50 rounds for the milsim players or 200 rounds for the casuals, all built into a single magazine and easily adjusted without disassembly.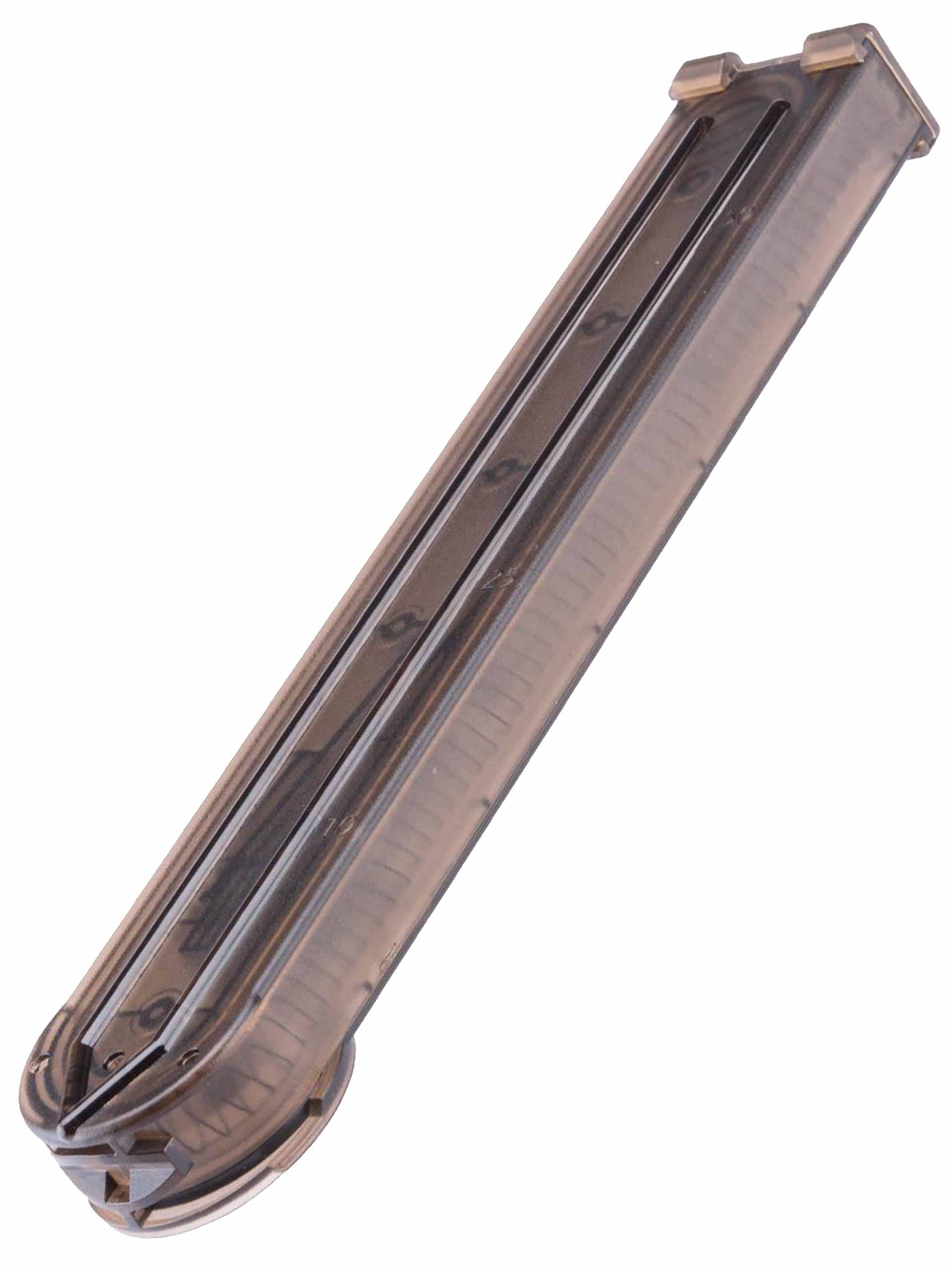 When using the enhanced Krytac Magazine, the P90 can sense when its ammunition supply has been expended, cutting off the trigger to let you know its reload time. This can be extremely functional in-game and will prevent those moments where you aren't sure if you are shooting BBs at the enemy or just harmless air. This feature also separates the Krytac P90 from other similar looking AEGs, marking it out as one of few "advanced AEGs", joining the ASG Scorpion Evo, the TM NGRS series, Systema PTW, and others in the elite club of electric Airsoft guns that can tell you when your magazine has run dry! Will there ever be a better P90 AEG than this? We doubt it!

The Double Eagle UTR45 has kicked up quite a fuss amongst Airsofters since it appeared, mainly for its absolutely inimitable style. We have only just realised this, but the UTR is not in fact an original Double Eagle design, it is loosely based on the LWRC Striker.45 pistol caliber carbine, which was released in the US early last year. The Double Eagle design team sure has their ear to the ground, and we can't wait to see what they have in store next! The UTR45 takes all the best features from the previously released UTR556 and the other Double Eagle FALCON EFCS series AEGs with a unique multi-position side folding stock and straight .45 caliber style magazines to bring into being one of the most practical and tactical Airsoft AEG's we have seen in years!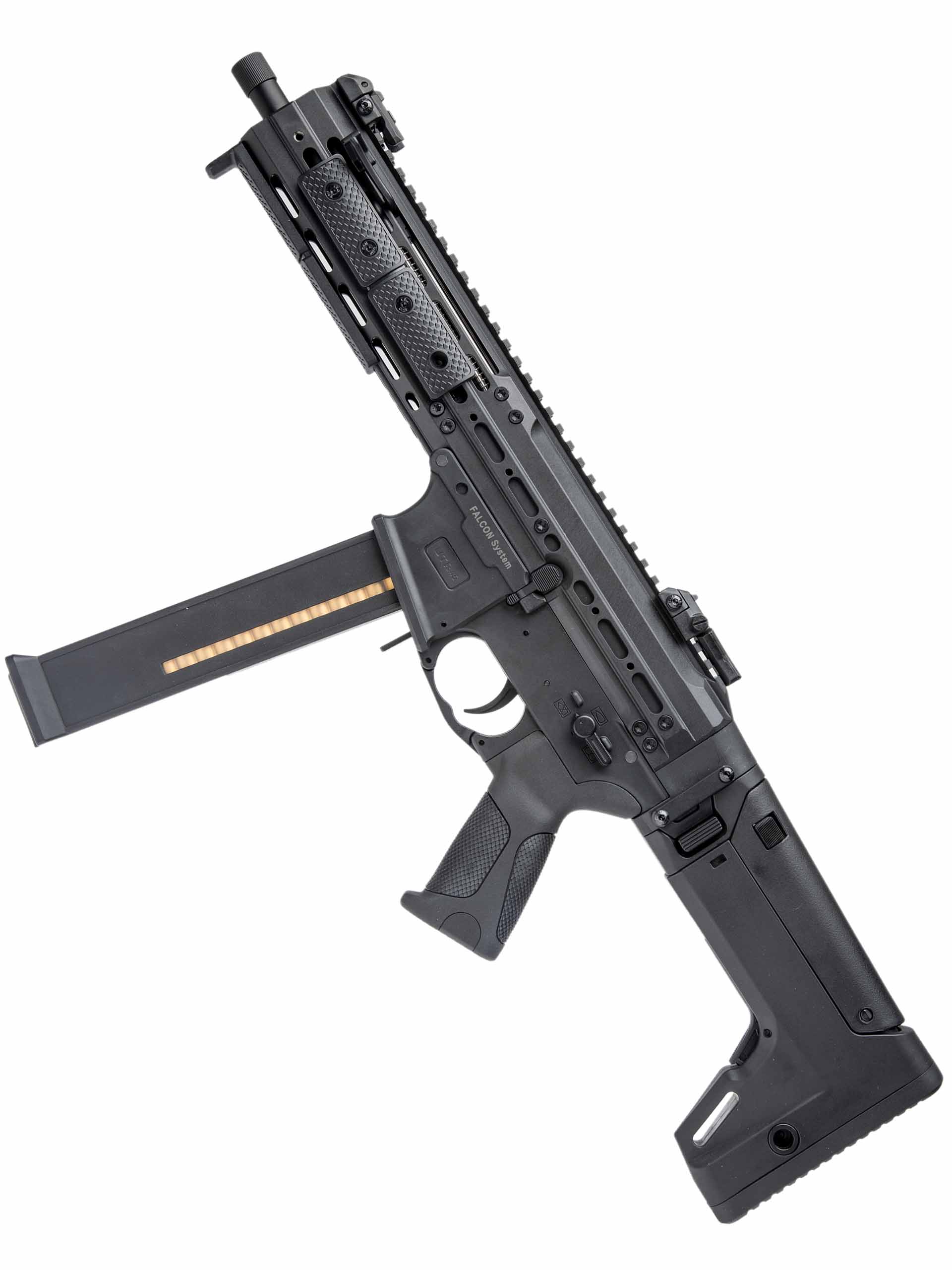 The UTR45 sports a finely tuned gearbox equipped with the highly advanced Double Eagle FALCON Enhanced Fire Control System, a MOSFET trigger unit which allows the AEG to be programmed with different lengths of trigger travel, burst modes of varying duration, and even a binary trigger mode, which fires once when you pull and then again when you release the trigger! Talk about speed!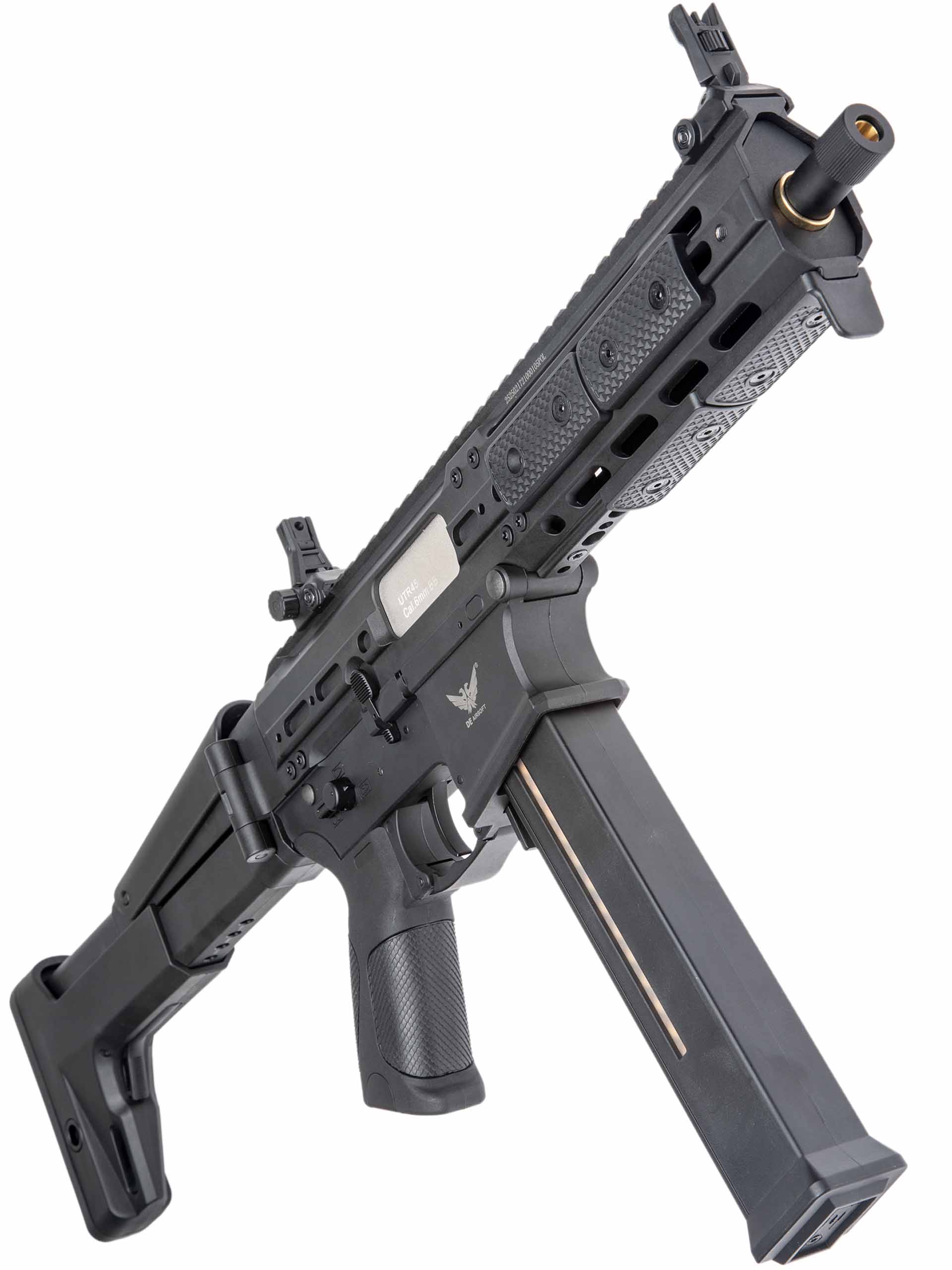 The performance of the UTR45 is extremely impressive at any price point, but given it is amongst the most affordable Airsoft AEGs with this feature set in existence, we are honestly astonished this is not being sold for 100 quid more! If you want to see yourself well set up for the CQB season of 2022, the highly adaptable, compact and lightweight UTR45 AEG will best almost anything out there!
CYMA CM.106 AR-9 PDW Platinum Upgraded Version
If you prefer the familiar handling of an M4/AR15 over other designs, you will love the CM.106 AR-9 from CYMA! Similarly to Double Eagle, CYMA has successfully made the transition from supplying full polymer, basic skirmish grade AEG rifles to full metal, pre-upgraded setups with MOSFETS, high-speed gears and silent piston and cylinder parts pre-installed!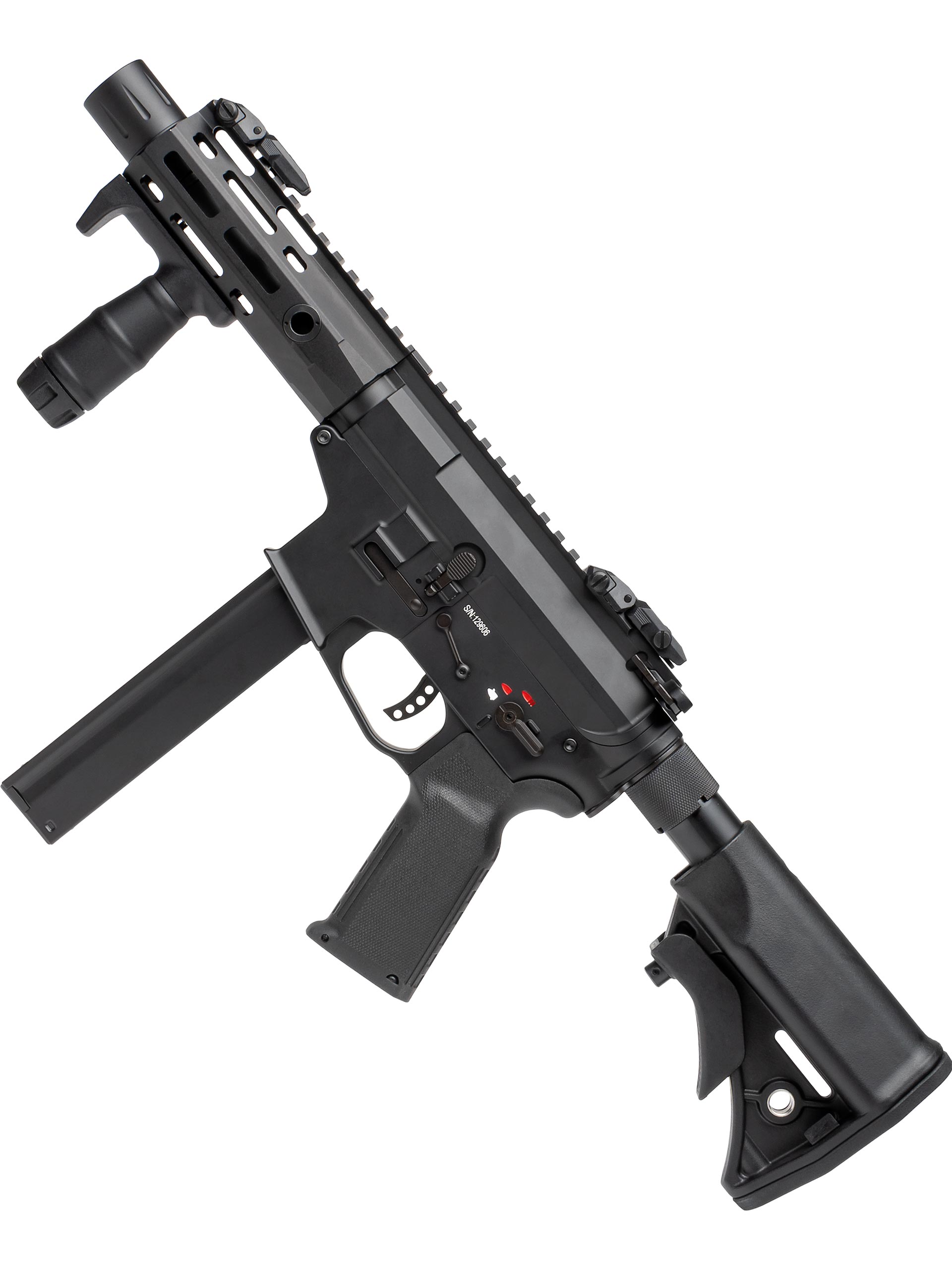 The external design of the CYMA AR-9 series is not based on any other Airsoft design, but instead mimics real AR platform rifles that have been converted to fire the more available and pistol compatible 9x19mm cartridge. This effectively turns the AR15 platform into a submachine gun, especially when paired with a short barrel and handguard setup. CYMA's AR-9 boasts the latest M-LOK handguard with QD sling sockets built in, and a compact sound amplifier for an intimidating muzzle report that will have the enemy on the run!
Internally, the CM.106 is one of CYMA's finest offerings so far. The usual Platinum gearbox found in the other CYMA Platinum AEGs remains, with its pre-installed ETU and MOSFET, quick change spring system and reinforced shell, but now has additional upgrades installed, because, why not?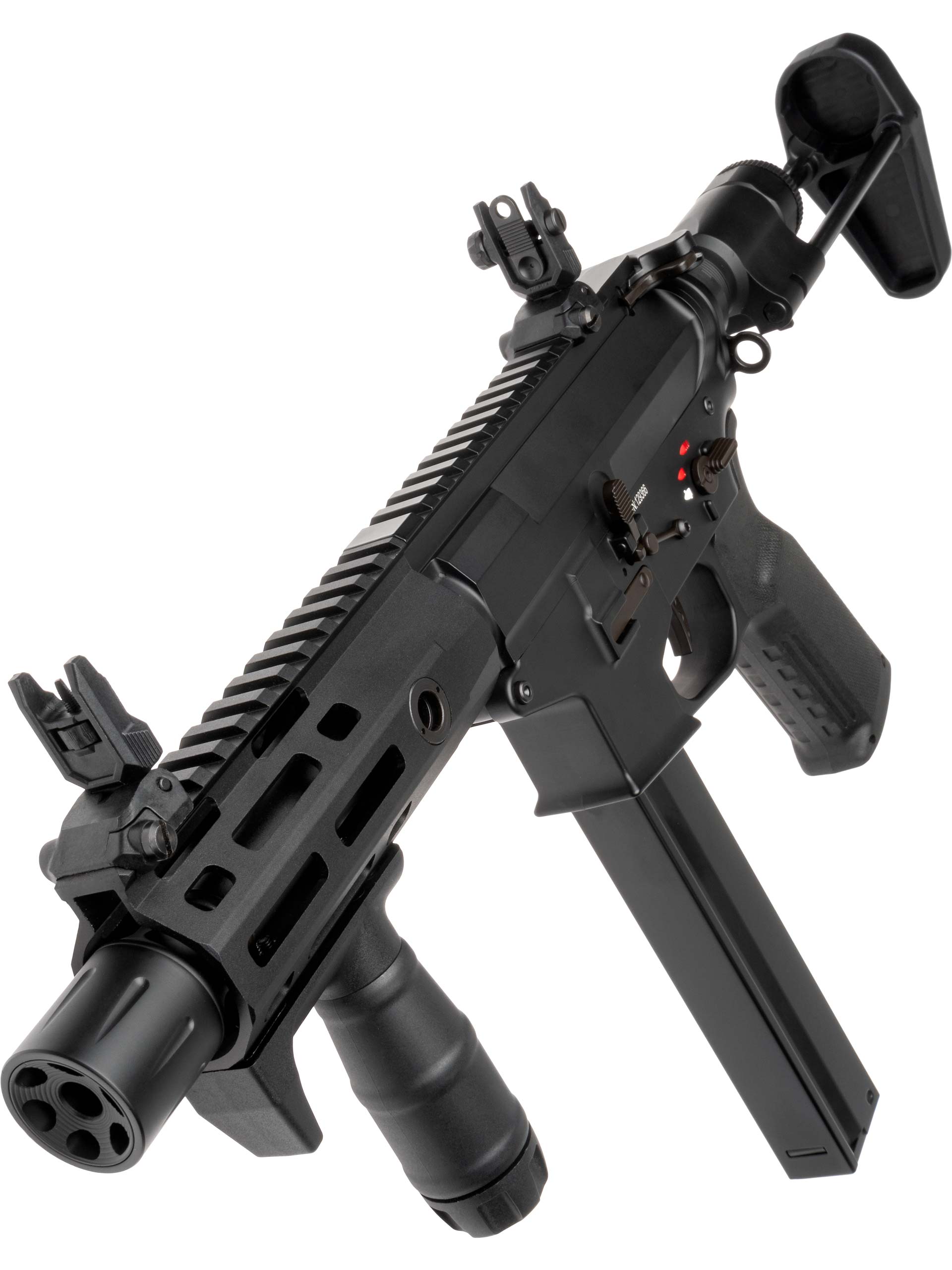 The standard steel gearset has been replaced with a 13:1 ratio gearset running on 8mm bearing bushings, which combines with the impressive high-speed motor to provide a monstrous rate of fire, and exceptional trigger response. A silent piston head and silent cylinder head have also been installed, with a double O-ring on the cylinder head and a ball bearing on the piston head to help reduce the overall noise from the gearbox for a smoother sound and more efficient running. The spring guide is also equipped with ball bearings, reducing the stress on the rear of the gearbox and effectively resolving a known weakness in Airsoft gearbox designs.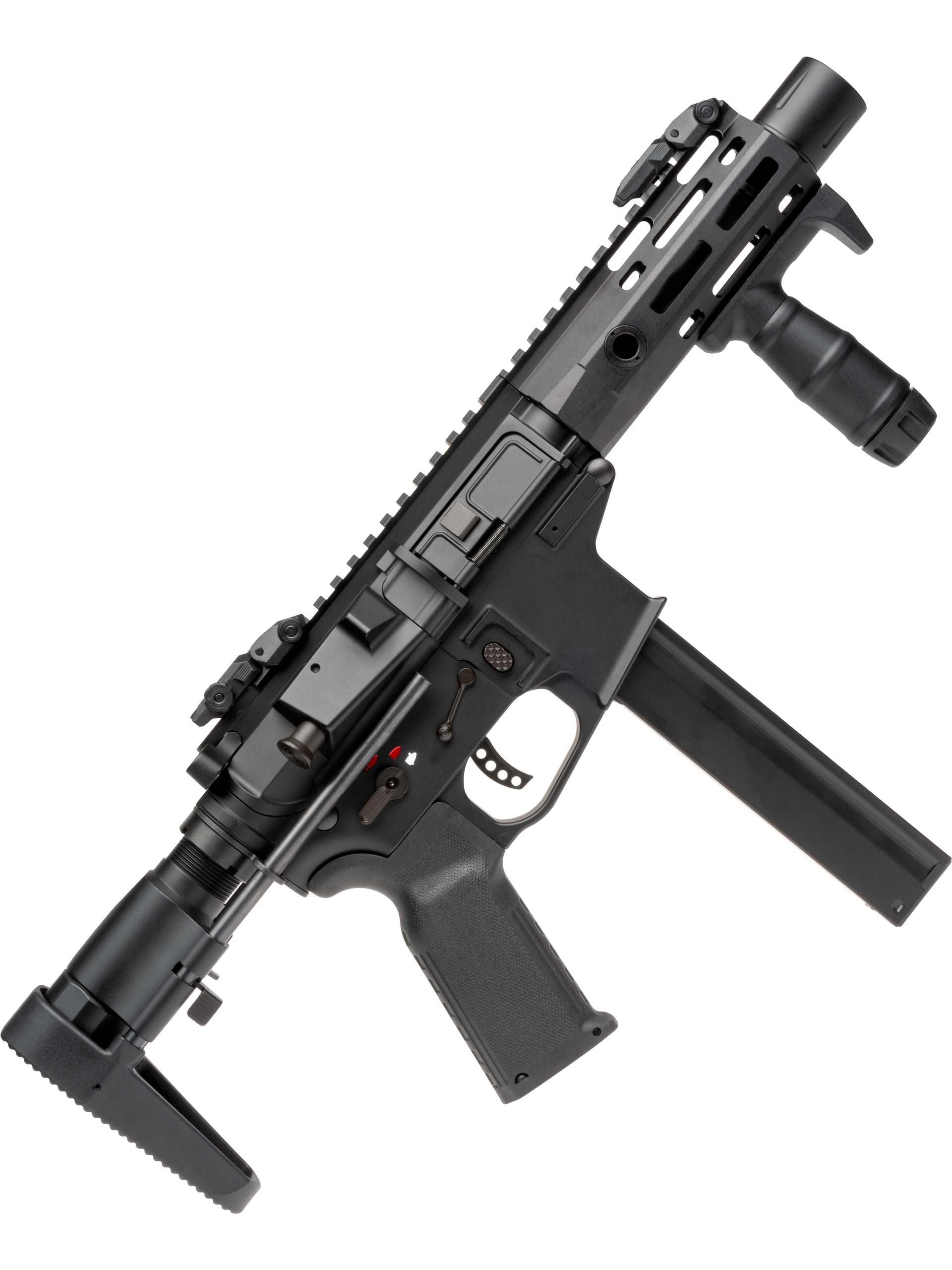 The CM.106 is available in both a PDW configuration and a standard M4/AR15 buffer tube setup, with the same impressive internals. The PDW stock allows the CM.106 to be housed in smaller gun cases, and fired in a more compressed format. The M4/AR15 stock configuration is well suited to those who like to swap stocks for the latest and greatest M4 stock designs, and also allows for larger batteries to be used for longer skirmishes. The CM.106 also comes with two magazines included, and is compatible with ever available SMG-5 AEG magazines!

If you have been looking for a pistol light to aid your efforts in CQB, the Vaide Scrapper is one of the best tactical flashlights currently on the market! The Scrapper is a compact tactical flashlight optimised for use with compact and subcompact pistols. Being a mere 5cm long, the Scrapper is best suited to use on pistols, but is also the perfect choice for any compact Airsoft weapon, such as the previously mentioned UTR45 and Krytac EMG P90.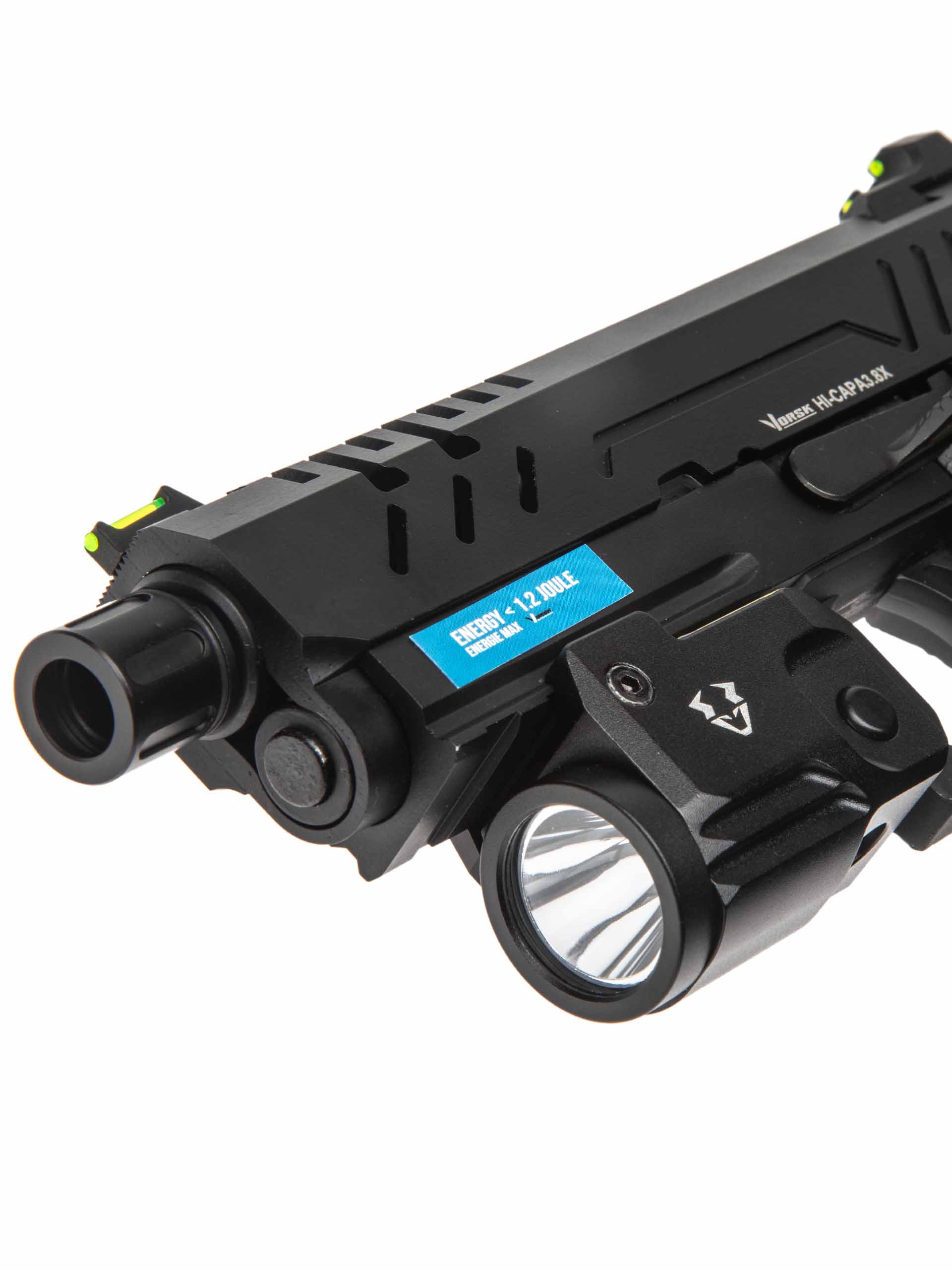 The Vaide Scrapper features magnetic charging, several output levels, and a touch-sensitive smart sensor which allows some serious tactical functionality. If you use this light correctly, the touch-activated smart sensor knows when you go for the trigger and it lights the enemy up as you...light them up!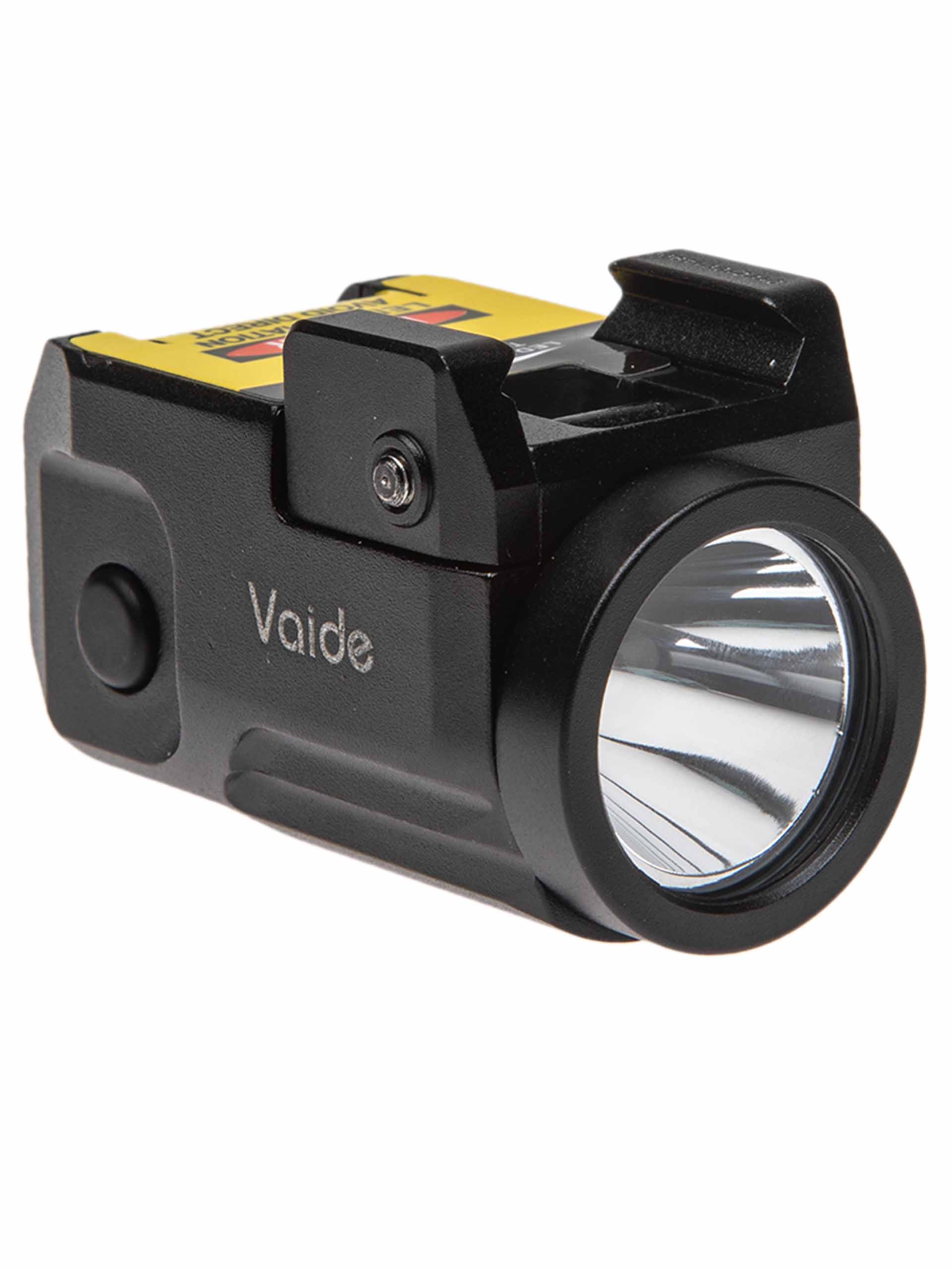 Pumping out an eye-watering 500 Lumens in its high output mode, the Scrapper will outshine the vast majority of tactical lights on the Airsoft Battlefield, rivaling real steel tac lights such as the O-Light PL series of pistol torches in intensity. The Scrapper also features a useful 40 Lumens "Navigation mode", which allows you to sneak around a pitch dark CQB site emitting as little light as possible so you neither trip over nor give your position away to the enemy!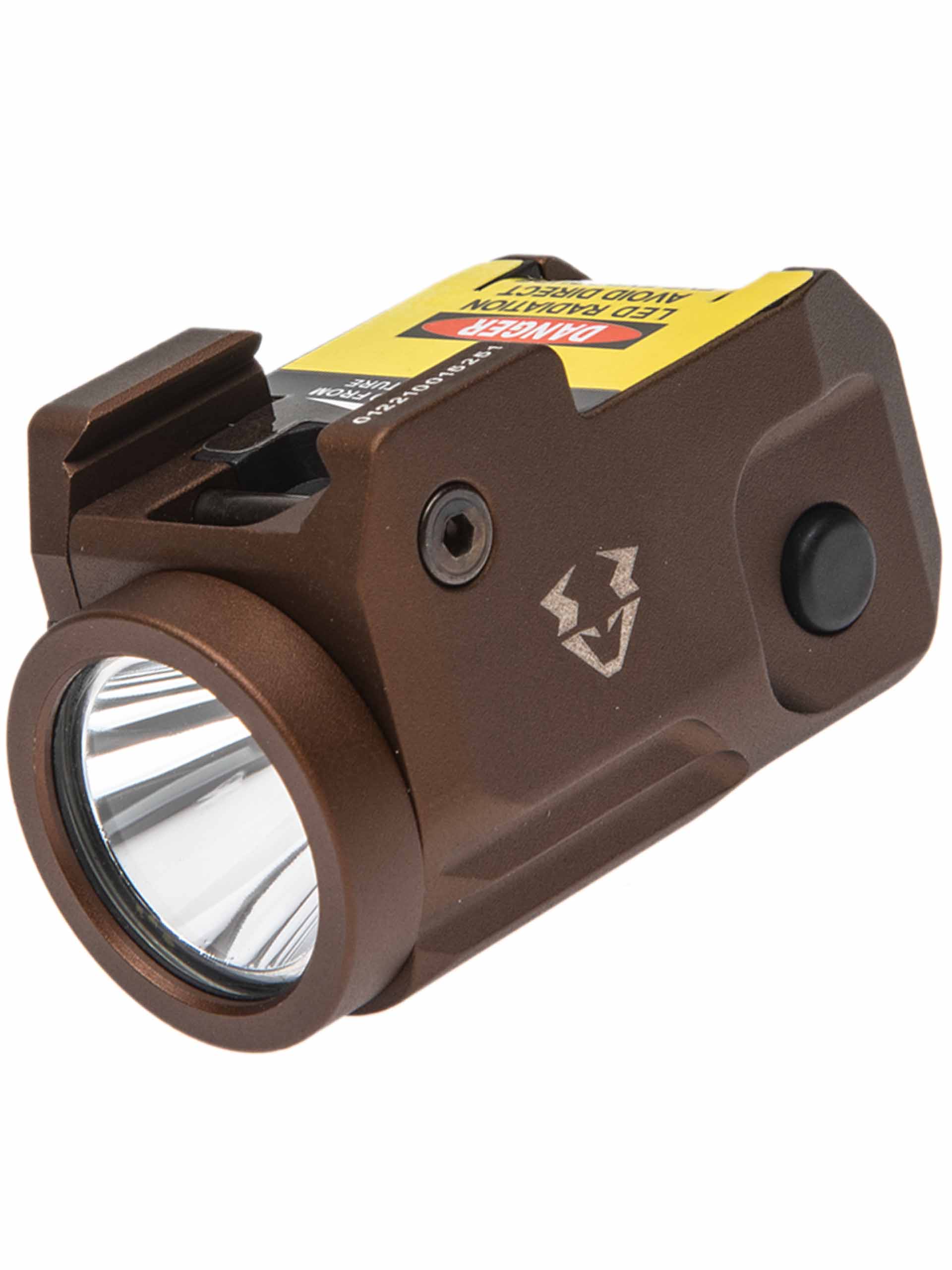 When you're all stacked up and the time to breach arrives, the Scrapper can assist with its stroboscopic mode, blinding and confusing the enemy team whilst concealing your position so you can get those all-important first shots to land on target and clear the room!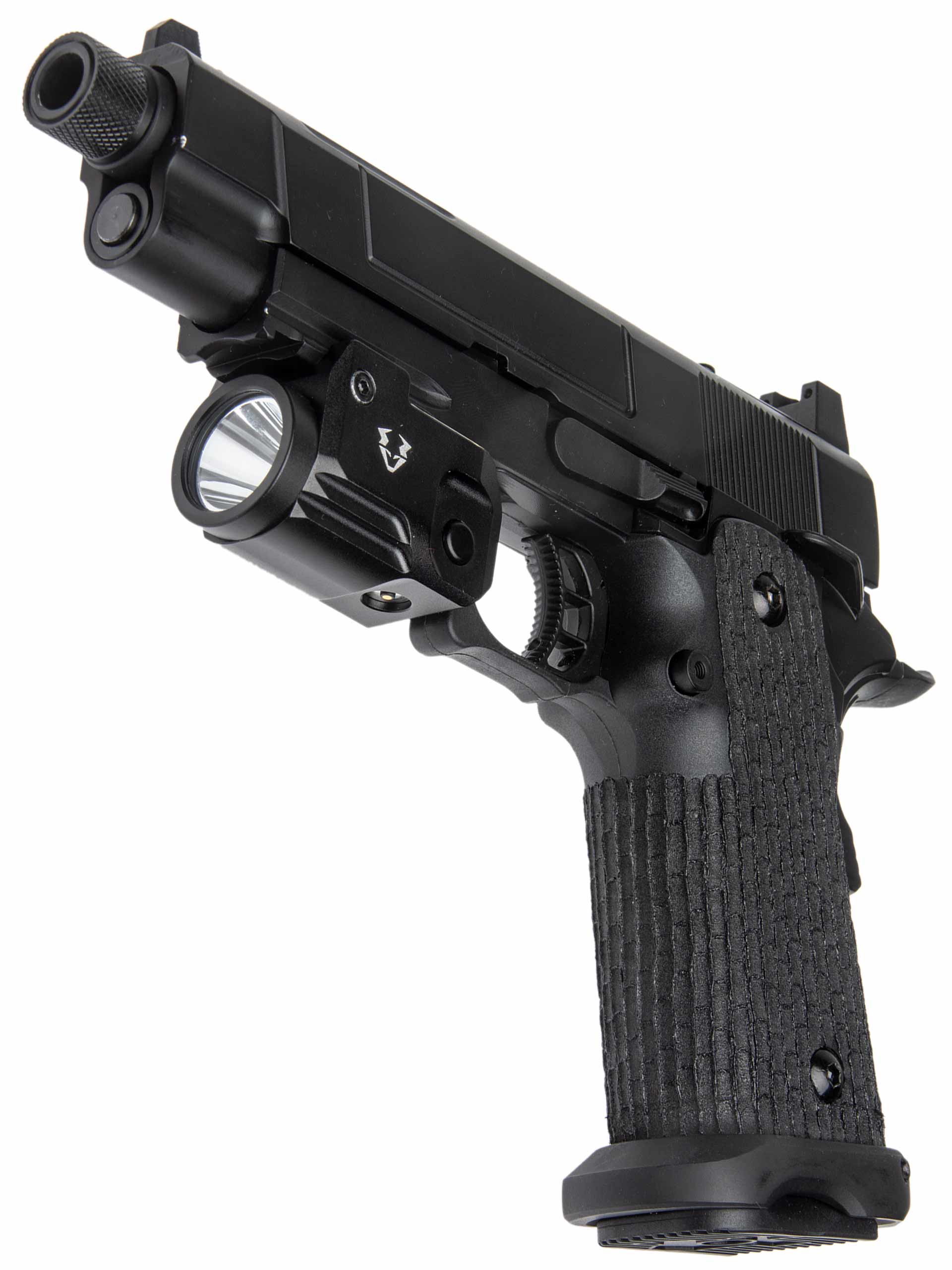 We even offer the Scrapper as part of a Bundle deal paired with the hard hitting Army Armament R504, an optics-ready, combat-styled Hi-capa GBB pistol with a seriously aggressive look, and some impressive performance to boot! A match made in heaven if you ask us!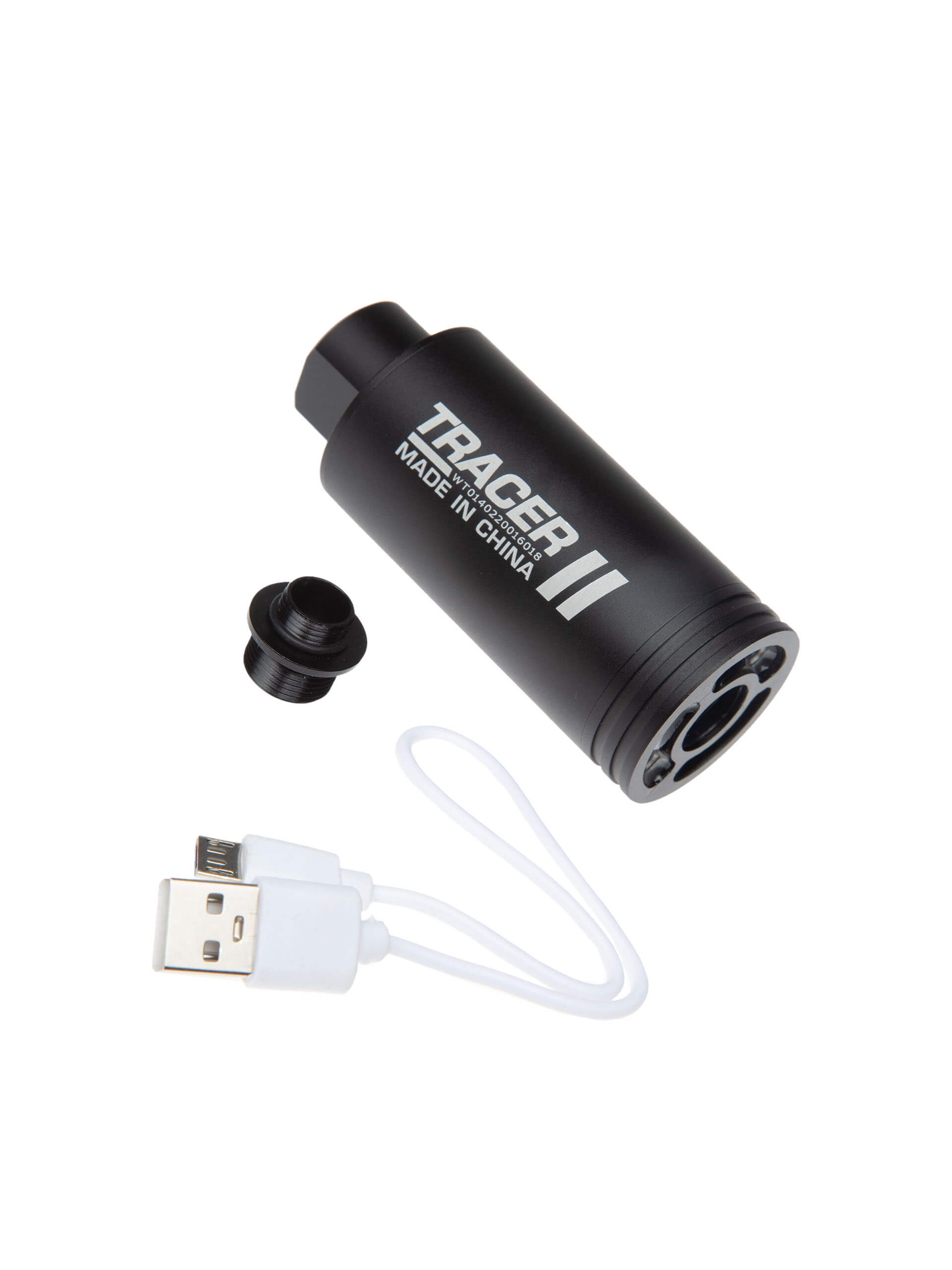 No matter how bad 2020 was, at least it brought us this little beast of a Tracer Unit. Not only is this a Tracer Unit with an internal Rechargeable Battery, that is happy to run for around 20,000 shots, but it has an array of orange LEDs in the front to replicate a realistic Muzzle Flash when you fire. We are happy to report that we have secured another shipment of these, and they are no less awesome than they were a year ago!
The 'Muzzle Flash' effect works especially well with a Gas Blowback Gun, as the light will reflect off the excess Gas leaving your Muzzle, and help it look really realistic. The Spitfire Tracer Unit still works well with AEGs and Spring Powered Guns, providing a glowing "tracer" projectile to follow to your target, but the muzzle flash effect is most realistic when used with a GBB.
Whether you have a Pistol or Rifle, the Spitfire Tracer Unit should fit and work for you. It has an 11mm CCW Thread for attaching to Pistols, but is supplied with a 14mm CCW adapter so that it can attach to the majority of Rifles too. If you're unsure whether it will fit on your equipment, feel free to get in touch with us to double check first! Check out the following brief video clip to see the Spitfire in action:
LOUD VOLUME WARNING!
The Creeper Concepts Pistol Magazine HPA adaptor Gen2 is for when you have the rig, the DYE mask, the pistol, but you have not yet attained the ultimate level of speed. This adaptor allows your Airsoft EU or Hi-capa pistol to feed from M4 AEG magazines, of any style or capacity. Make reloading a thing of the past!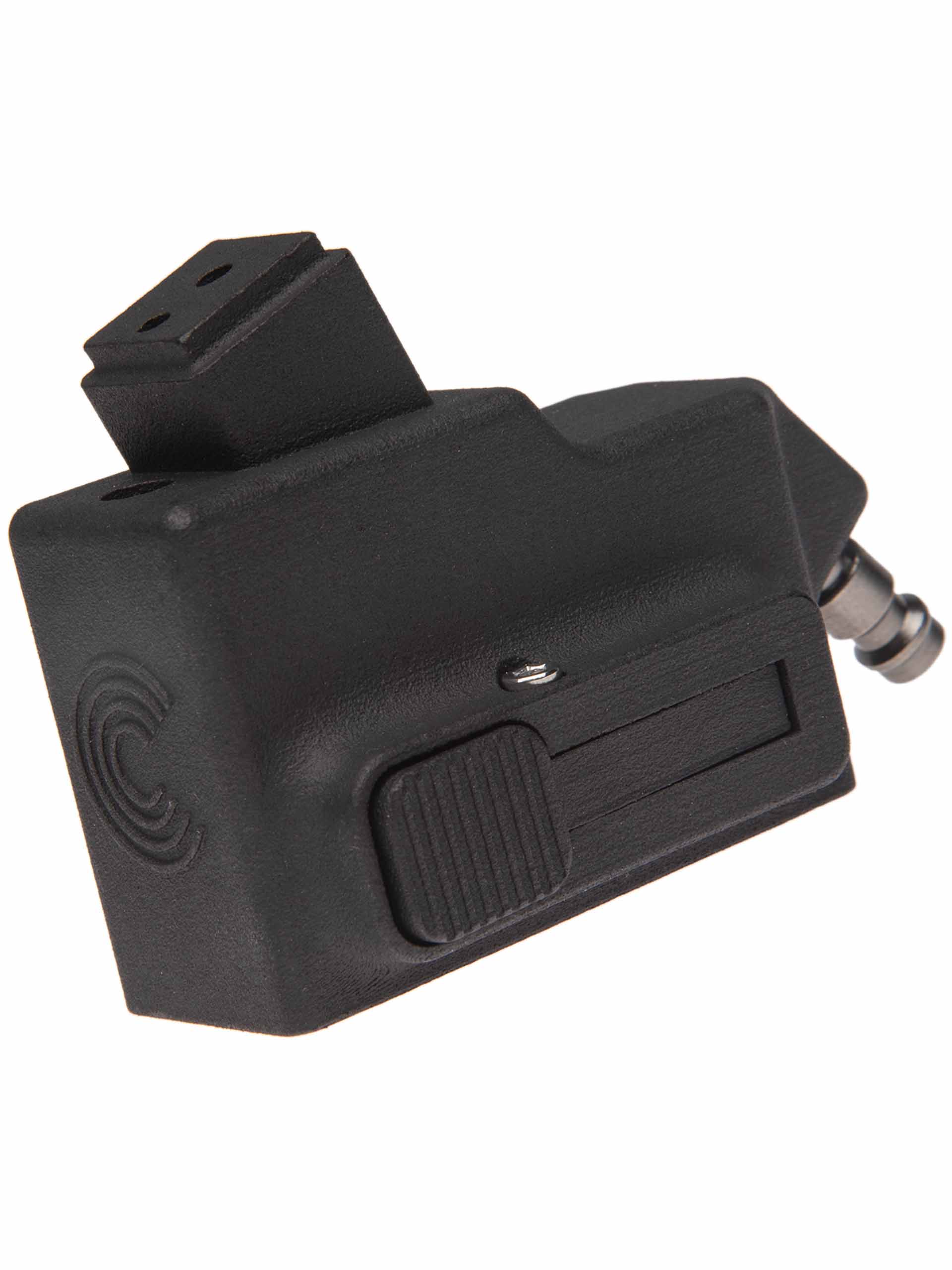 With a standard, HPA tapped magazine, each time your pistol runs dry you lose any speed you gained disconnecting your HPA rig, and reconnecting it to the fresh magazine once inserted. This adaptor allows you to keep your HPA rig connected to the pistol, and instead of feeding it using its own magazine, feeds through the original magazine's shell using a common, cheap, and ever available M4/AR15 style AEG magazine, of any capacity.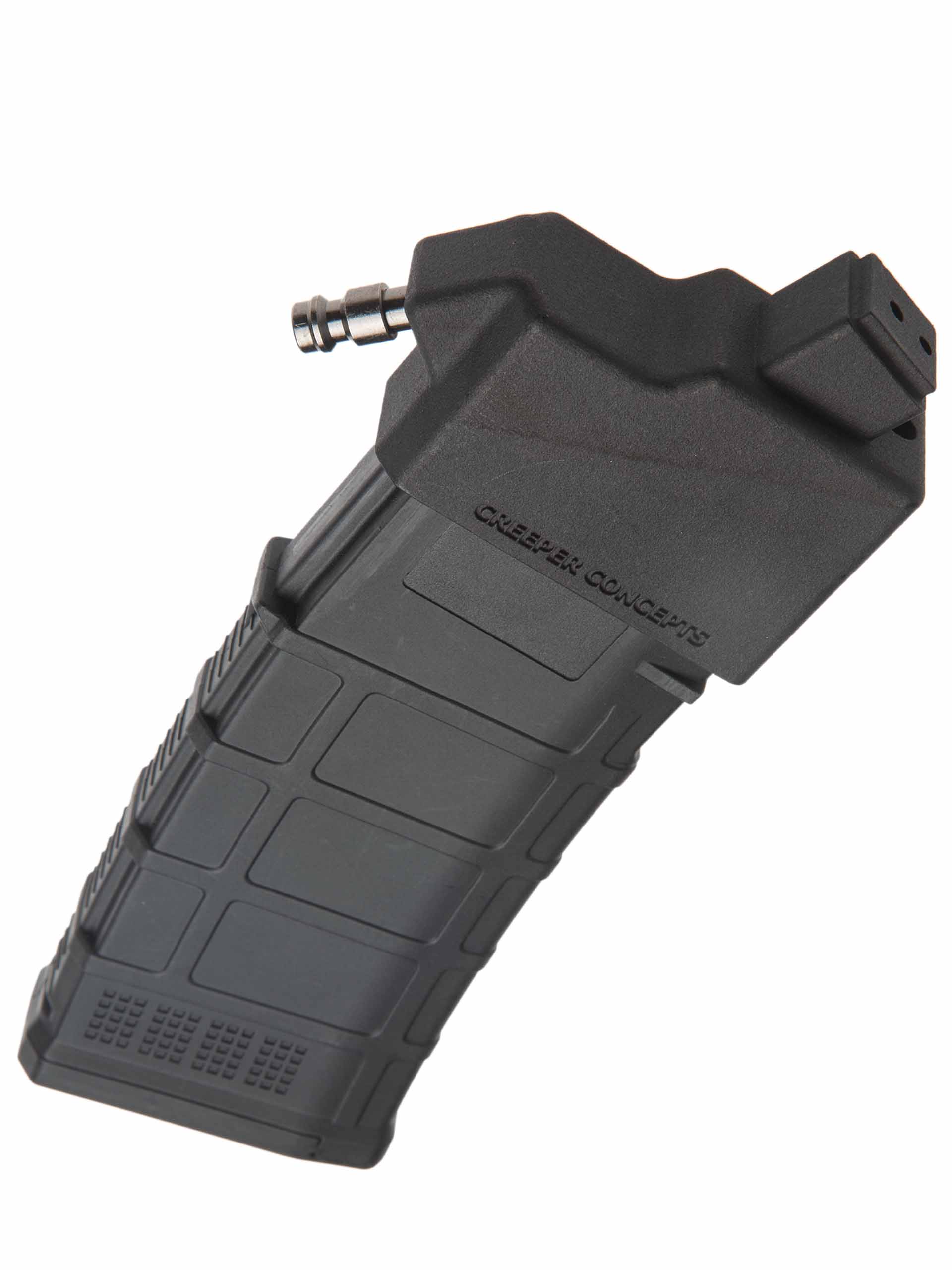 The HPA Adapter is constructed from 3D printed polymer and uses Multi Jet Fusion printing, allowing the piece to be printed at a finer level of detail with tensile strength akin to that of injection moulded plastic! The adaptor is designed to use PTS EPM and EPM1 Magazines for the best feeding speed and performance, but can also be used with the majority of M4/AR15 magazines, including drum magazines. So, if you feel the need, the need for speed 😎, Creeper Concepts have what you need to perform at your best!
Another gun by Double Eagle! You would think we were on their payroll! The truth is, we are very impressed by the sudden uptick in quality from D.E and are even more enticed by the direction they appear to be heading, producing more unique designs based on highly modern real steel platforms which are not only fantastically build on the outside, but also perform fantastically. The PFS9 is a real steel variant of the highly popular Glock platform, manufactured by Janus Division Group and offered as a pre-upgraded alternative to the Glock 17 pistol. The Double Eagle PFS9 is officially licensed by JDG and sports the official "stamp of approval" of the real handgun's manufacturer.
The Double Eagle PFS9 provides the same snappy and immersive firing experience we have come to expect from an EU series based GBB pistol design, but with a fresh new aggressive look that makes it appear to be an entirely different pistol than the comparatively mild-mannered EU17. The trigger guard is reprofiled, the grip has added texture for better handling, and the PFS9 still takes the ever available EU series magazines!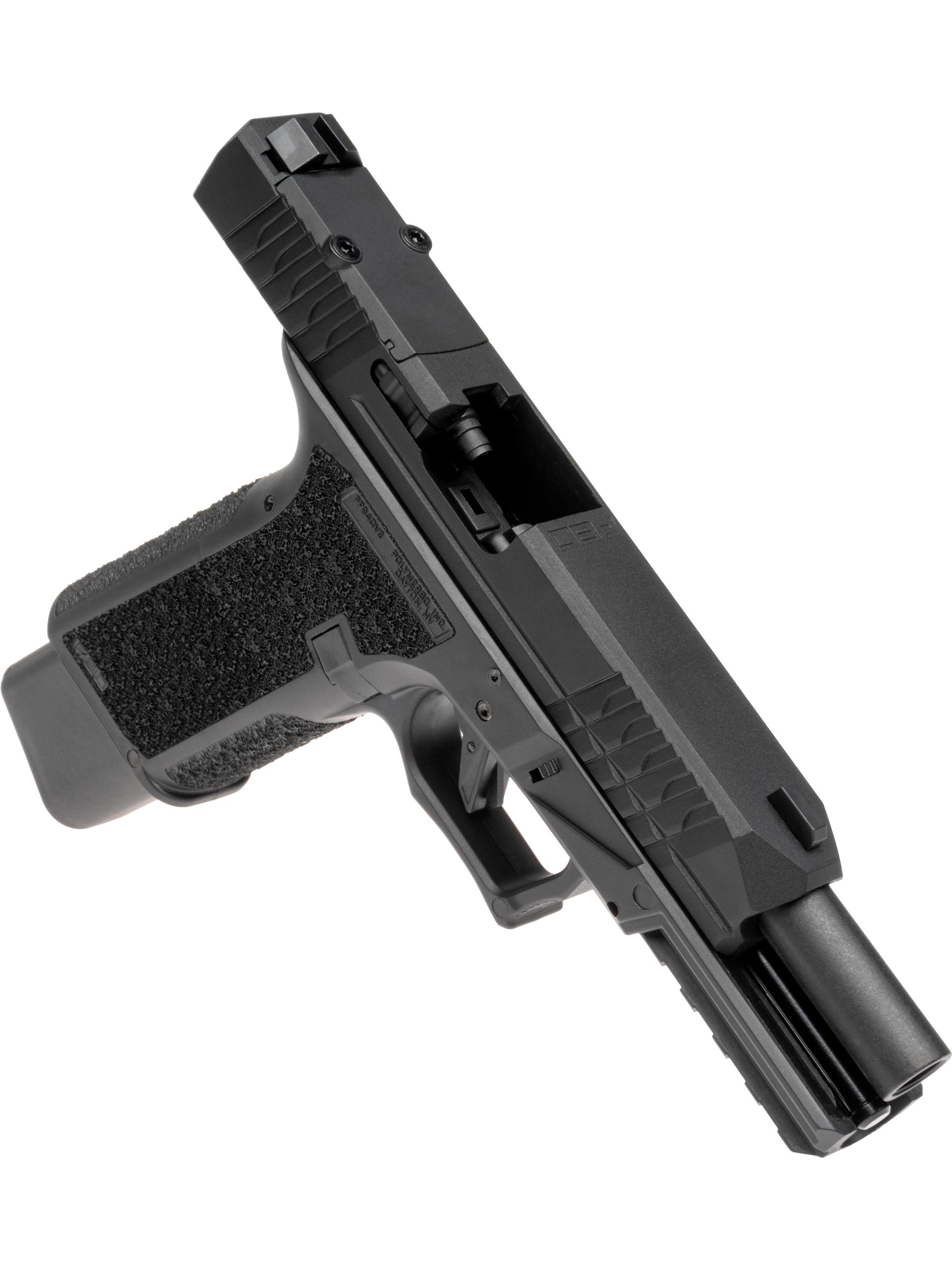 The Double Eagle PFS9 is one of the most well equipped out of the box GBB pistols on the market as far as mounting accessories go. The PFS9 sports a threaded outer barrel, ready for an 11mm CW to 14mm CCW adapter to be installed for those who want to use a tracer unit or suppressor. The frame is equipped with a 20mm Picatinny rail, allowing tactical flashlights to be used to distract and disorient the enemy in CQB skirmishes.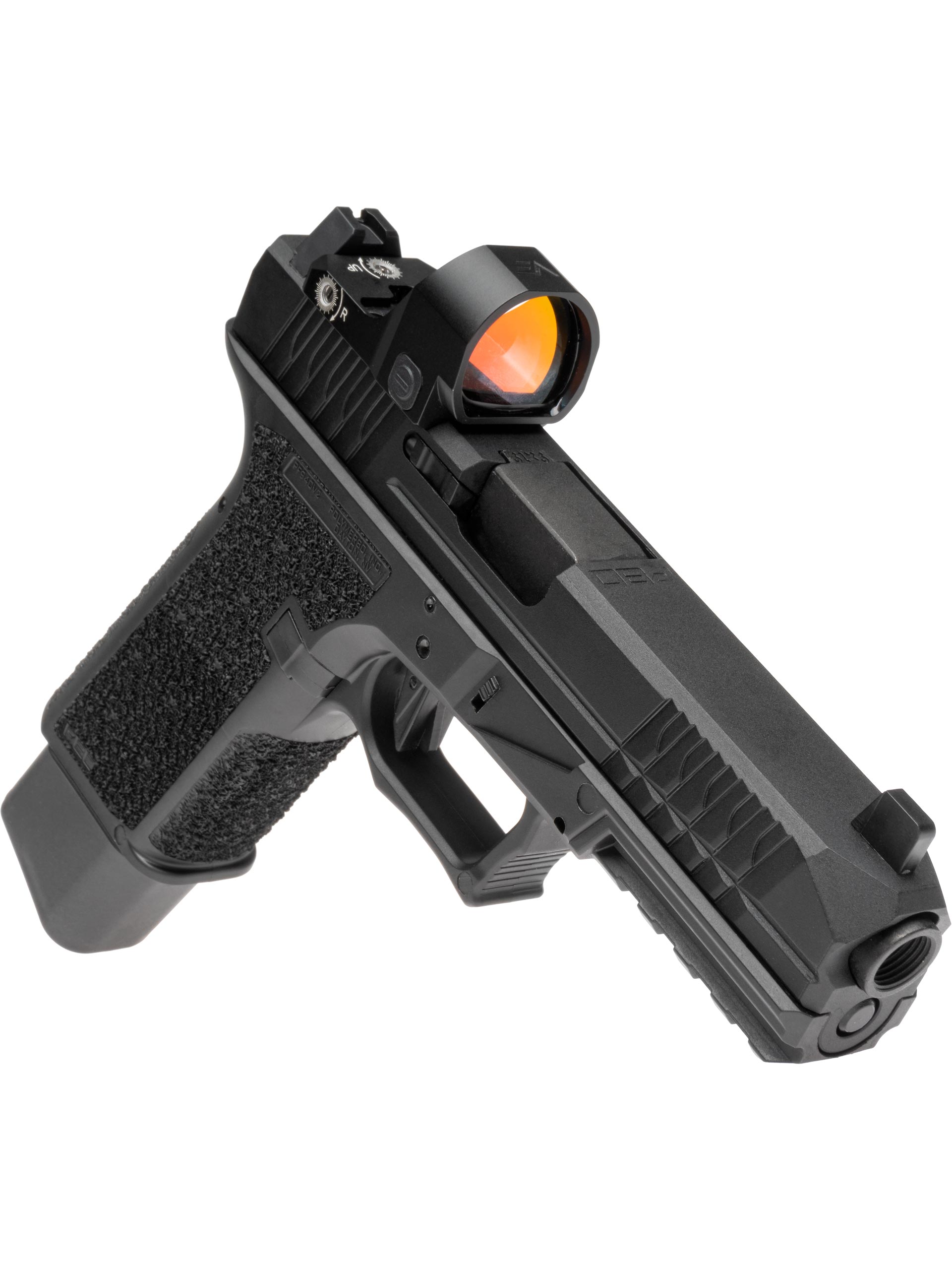 The icing on the cake with the PFS9 is its optics ready slide, which is pre-cut to mount RMR style reflex red dot sights. The PFS9 is compatible with our favourite slide mounted optic, the Vector Optics Frenzy-X, straight out of the box, meaning if you want to gain the upper hand and shoot faster and more instinctively you don't need to buy a new slide or additional mount plate!
Looking for a hard-wearing, waterproof hard case to store your precious Airsoft guns? PARRA provide some of the best cases in the industry, complete with waterproof seals, impact certification and both low and high temperature certification. Cases are a bit boring for this kind of article, but we are so impressed with the combination of quality and affordability offered by the No. 2806 Beluga Hard Case specifically that we just had to mention it!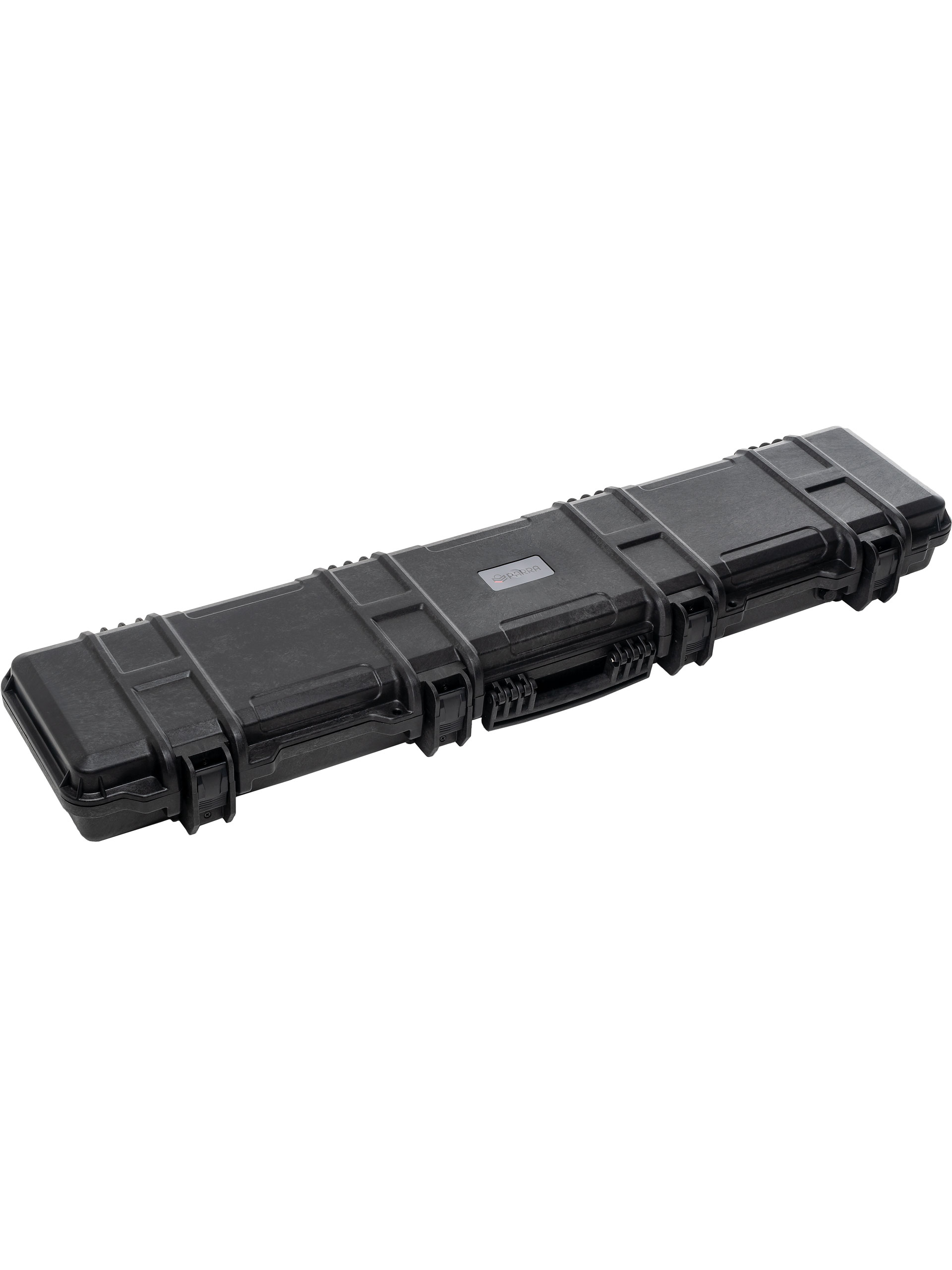 The case is fully IP rated and tested by a 3rd party quality assurance company to give you the confidence you need to put your trust in the case. The case is IP rated IP67 Water and Dustproof, meaning you can store your Airsoft guns in this case long term and be assured that rust will not develop on steel parts, and moisture will not enter the internals.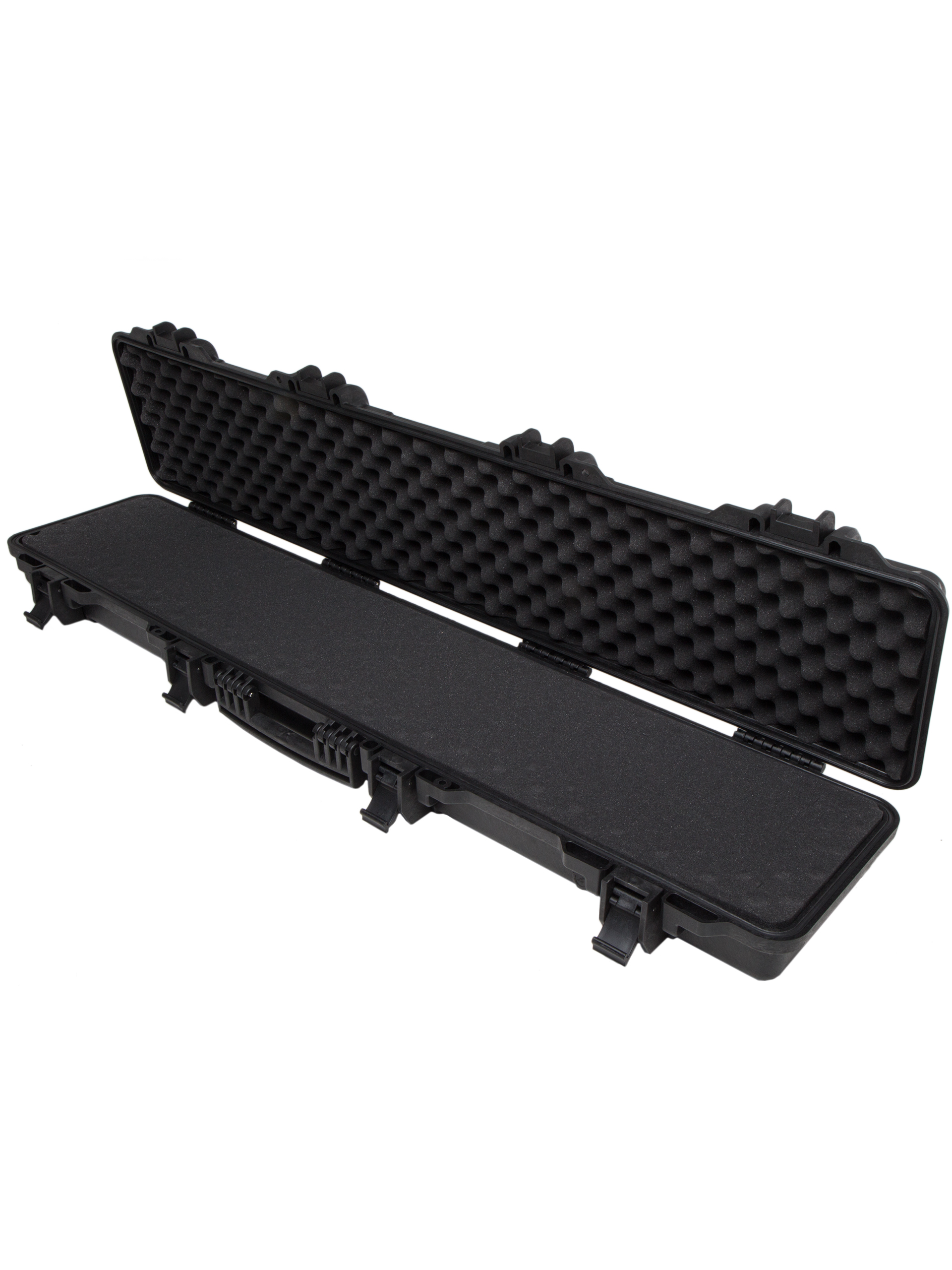 The Beluga Case is constructed from a combination of Polypropylene (PP) with glass fibre reinforcement, which is the secret to its incredible strength. Beluga cases are designed to stack together, so if you want all your Airsoft guns to have their own case, this one would be a great choice.
If you are the type of player who uses a full loadout of midcaps, and you want to reload and get ready for the next game in just a few seconds, the M12 Sidewinder Speed Loader from PTS Syndicate is what you need! This loader made it into this article simply because it is a game-changer when compared to legacy thumb actuated speed loaders. The ODIN M12 is set up to load M4/AR15 AEG mid-cap and low-cap magazines by default, but aftermarket adapters are available to allow practically any Airsoft AEG magazine to be loaded using the ODIN.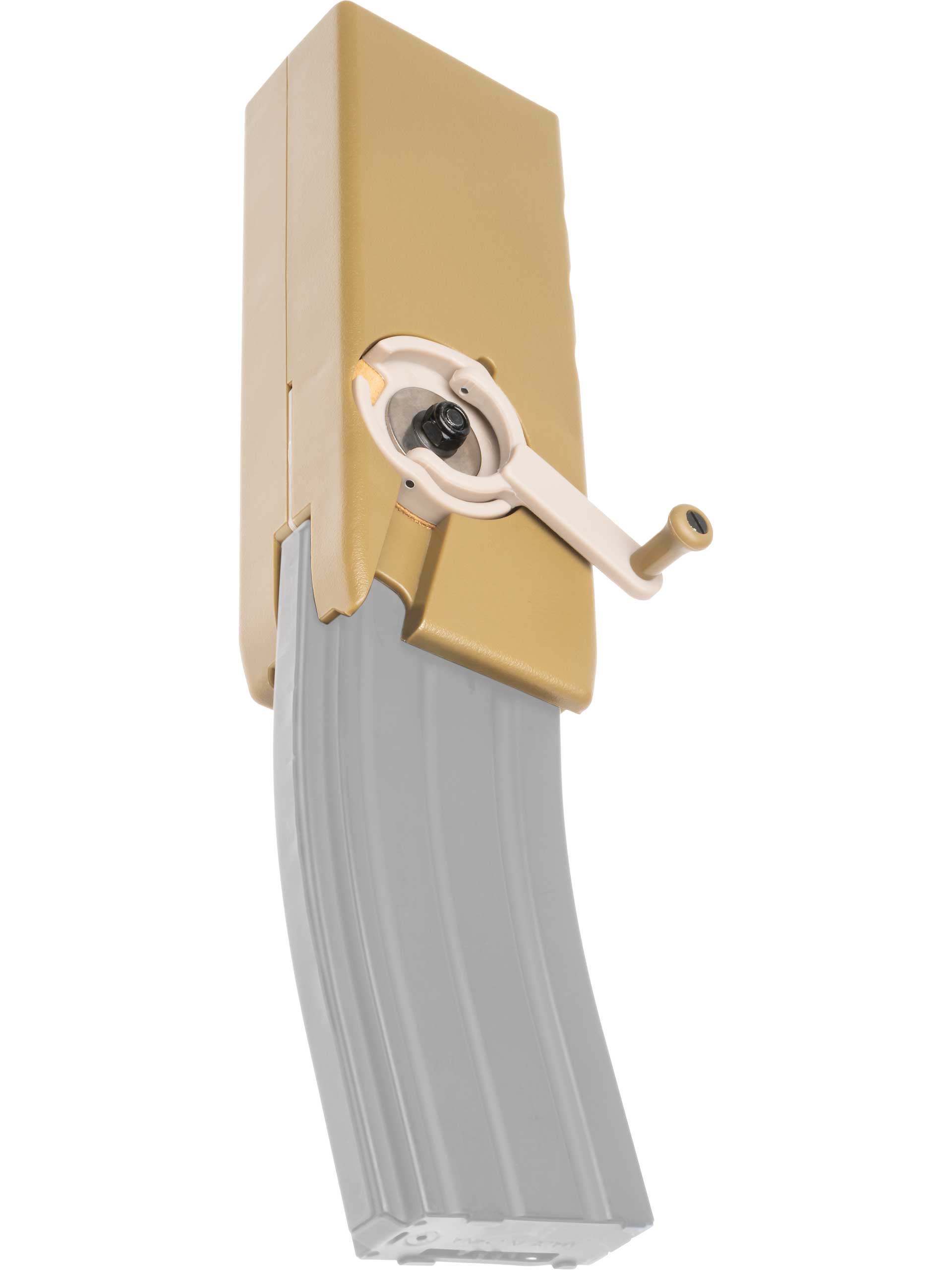 The ODIN M12 speed loader has a whopping 1600 round capacity and is widely known for its reliability, being the original crank wound speed loader design. The ODIN is equipped with a strong polymer internal mech, allowing it to be used to load mid-caps with extremely strong feed springs, such as the PTS EPM1. The ODIN can load a mid-cap to full capacity with under 4 seconds of winding, an impressive feat, we must say!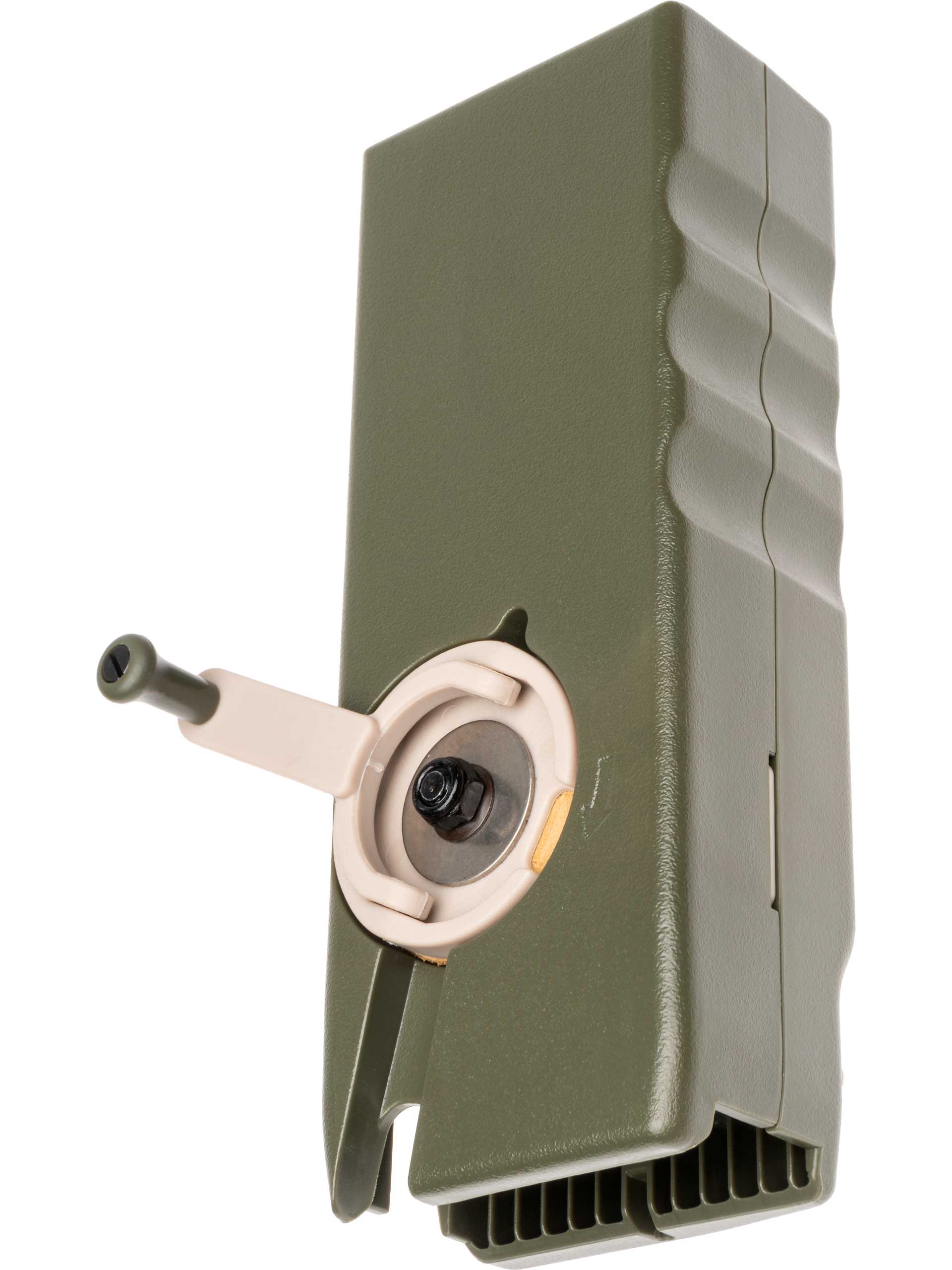 Our last batch of ODIN speed loaders sold so fast they almost burst into flames on their way out of the warehouse, but as soon as they are available again we will be ordering as many as we can. This impressive time saving speed loader can also be equipped with a sound dampening insert, allowing you to sprint around without the dreaded "battle rattle"! If you are looking for an ODIN M12, we recommend signing up for an email stock alert, and we will be in touch when our next batch arrives.
---
Still unsure which Airsoft Gun to choose? Get in touch with one of our Airsoft experts for more information about our incredible choice of weapons. We proudly stock the biggest Airsoft collection in the UK so you're bound to find exactly what you're looking for.
Our Favourite 2022 Releases
Full metal construction
Licensed JDG PFS9 with Polymer 80 frame
Ready for a slide-mounted red dot sight!
If you have seen the impressive performance of the EU series of GBB pistols, but you have also seen the way they look and you aren't a fan, Double Eagle has something you may appreciate! The Double Eagle JDG Polymer 80 PFS9 GBB pistol takes the superb EU series internals and puts them inside a slide and frame with a dynamic modern look. The PFS9 sports an aggressively textured pistol grip, a 20mm Picatinny frame rail, an optics ready slide and an 11mm CW threaded barrel, making the pistol ready for any task you set for it. This GBB pistol is based on the real PFS9 which is quickly rising in popularity in the US, and its redesigned "Polymer 80" frame.