Tamiya/Deans/XT60
For All Airsoft Batteries
NiMh/NiCd/LiPo/LiFe/Pb
A performance built all arround battery charger, designed to last and charge almost every type of battery used in Airsoft, Remote Control Cars / Planes / Helicopters and a range of other devices.
Description
The charger itself is built with an Alloy shell, with an LCD display and comes with all the cables needed to charge all types of smart batteries. The charger has the ability to be powered by a portable power source, such as a car battery, allowing you to charge your batteries on the go. The charger has the ability to charge NiMh, NiCd, LiPo, LiFe, and Pb batteries. The charger has lots of features, allowing you Balance, Discharge, Cycle and ready Batteries for Storage (Battery Dependant). This is the perfect charger for those who want a go-to one off charger, allowing them to charge any possible battery they may ever use for Airsoft.

Features:
Charges almost all types of batteries
Connector cables for the following connectors:

XT60 (Male)
XT60 (Female)
Crocodile Clips
Large Tamiya (Female)
Small Tamiya (Female)
Deans (Male)

Charges up to 6 Cell LiPo / LiFe batteries
Charges up to 15 Cell NiMh / NiCd batteries
Charges up to 20v Pb batteries
Charger can be plugged into other batteries to charge others (Eg. Car Batteries as Power Supply)
Can be used to Fast Charge, Balance, Discharge and prepare batteries for Storage
Can perform between 1 to 5 Charge / Discharge Cycles
Charging Amps can be manually defined or set to Automatic
Temperature Sensor
Internal fan to keep the charger cool whilst charging
Save program for Batteries for quick charging
Balances individual cells on LiPo / LiFe Batteries
Delta-peak sensitivity to protect the battery in case of a Voltage Spike
Package Includes:
ACCUCEL 6 - NiMh/NiCd/LiPo/LiFe/Pb Battery Charger
Power Block
Connector Cables
Power Cable for Portable Power Source (Crocodile Clips)
Special Information:
When charging batteries you can get the Ampage from the mAh rating by dividing the mAh Rating by 1000. Eg: 1300mAh / 1000 = 1.3A.
Operating Levels:
Operating Voltage Range: 10.0V - 18.0V
Charge Current Range: 0.1A - 5.0A
Discharge Current Range: 0.1A - 1.0A
Current Drain for Balancing LiPo: 300mAh per Cell
NiCd/NiMH Cell Count: 1-15 Cells
LiPo / LiFe Cell Count: 1-6 Series
Pb Battery Voltage: 2V to 20V
Weight: 400g
Dimension: 13.5cm x 4cm x 10cm
Specification
General
| | |
| --- | --- |
| Parts & Accessories Type | |
| Over 18 | |
Construction
| | |
| --- | --- |
| Item Colour | |
| Construction | |
| Material | |
Charger Specific
Battery Type

Ni-Mh

,

Li-Po

,

Li-Fe

,

Ni-cd

,
Delivery & returns
Below are some rough postage prices for orders. Please note these are subject to change, and are only a rough guide. For more accurate postage estimate please use the Postage Calculator at the basket.
* Please note that Scottish Highlands, Islands and EU post prices can vary wildly. Prices range from £8.99, up to £29.99, so please ensure you refer to the Postage Calculator at the basket for the lowest possible price.
---
---
---
Size guide
Charging Safety Guide
MAKE SURE YOU USE THE CORRECT CHARGER TYPE FOR THE CORRECT BATTERY
NiMh battery should only be charged with NiMh compatible battery chargers.
LiPo battery should only be charged with LiPo compatible chargers.
Always read all supplied instruction manuals on how to safely use your charging device.
Airsoft Battery should only be charged with the chargers as they are specifically designed to work with the specific voltages required by the battery.
Different battery types have different chemical configurations, and require certain chargers to charge them. Charging a battery with the wrong charger can cause damage to the battery and charger, and can cause fires and further damage. Please ensure that before charging you double check that you are using the correct charger.
If your charger supports multiple battery types always ensure that it is on the correct settings before starting the charge.
If you are unsure of what battery or charger you have please get in touch with us via the Contact Us Page.
---
Using a LiPo?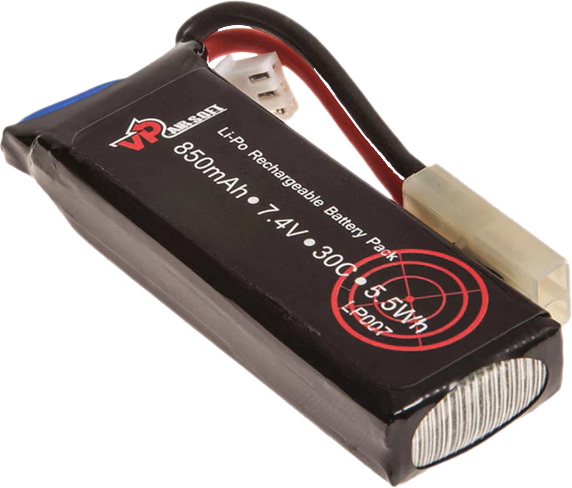 If you're using a Li-Po battery only use a Li-Po charger!
Failure to do so can cause damage to the battery and charger!
Using a NiMh?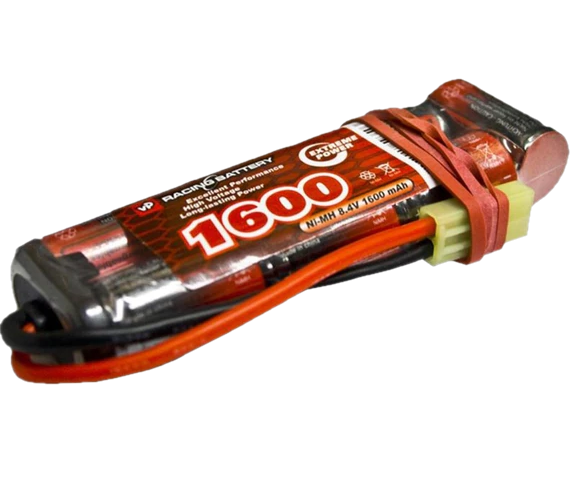 If you're using a Ni-Mh battery only use a Ni-Mh charger!
Failure to do so can cause damage to the battery and charger!
Similarly matched Colours