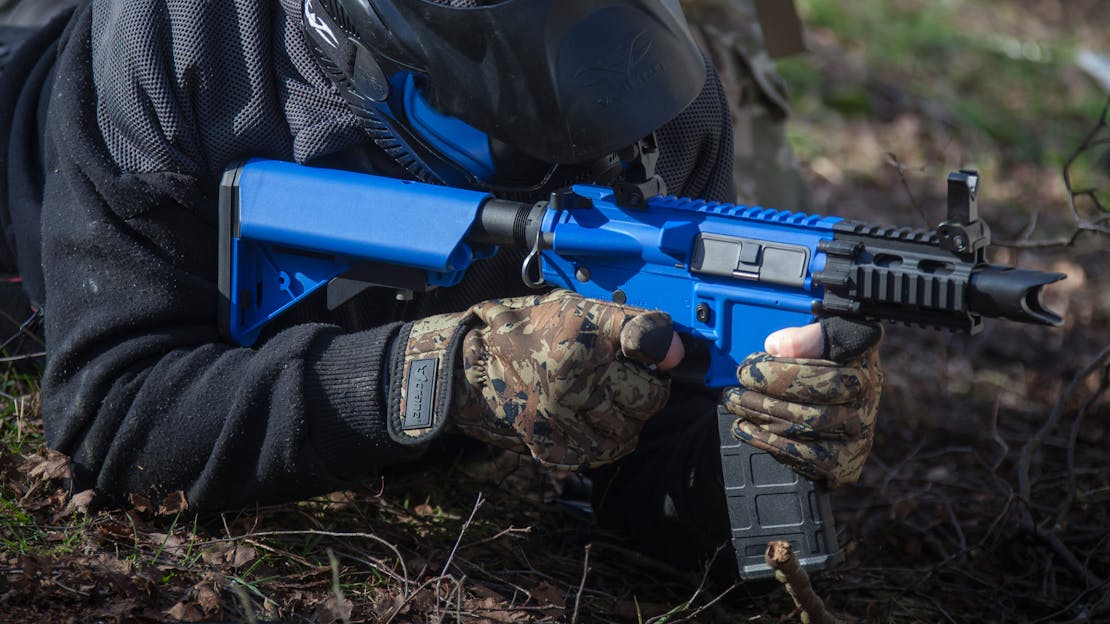 Two-Tone Service
1 - What is a Two-Tone Service
The intent of a Two-Tone Service is to provide an option to purchase an Airsoft Replica / Realistic Imitation Firearm (RIF for short) for those who are 18 years of age and above and who do not hold a recognised valid Airsoft Defence.
Realistic Imitation Firearms in the UK are covered by the Violent Crimes Reduction Act (VCRA, 2006), to prevent the misuse of Replica Replicas, which applies in England, Scotland, Wales and Northern Ireland.
The Violent Crimes Reduction Act specifically states that to buy a Replica Imitation Firearm the Recipient must be Over 18, and have a valid Reason / Defence for doing so, unless the Replica is over 51% a bright non-military colour such as: Blue, Red, or Green.
There are currently no restrictions on owning a Realistic Imitation Firearm / Airsoft Replica, the restrictions are on the Point of Purchase.
This means to qualify to buy an Airsoft Replica you must be:
Must be Aged Over 18
Have a Valid Defence OR Buy the replica in Two-Tone Colours
A replica which is to be Two-Toned will be stripped down to its component parts by our In-House Workshop Team, the required parts Sprayed with Spraypaint, and then Rebuilt and re-tested.
For more information on the Two-Tone service, including estimated delivery times, see our Two-Tone Terms and Conditions here.
For proof of defence we require a paper trail to prove your defence is valid, which we store against your order. For more information on What Is a Valid Defence, please see our Help Page about Airsoft Defences.
---
2 - What are the Restrictions / Age Requirement?
To qualify to buy a Two-Toned Airsoft Replica / Realistic Imitation Firearm you must be Aged 18 or Over.
If you are a Parent looking to purchase a Replica Imitation Firearm for your Child, you can gift the replica to them without restrictions from the VCRA. However, please consider that these items look like real replicas. If the police are called relating to actions taken with a Replica Firearm, it will be treated as if were a Real Firearm, which will usually include a visit from Firearms Officers.
By gifting them the replica you will be taking responsibility for supplying it, so please:
Before Gifting any Airsoft Replica, please sit down with your Child and discuss Safety and the Responsibility of possessing a Replica Imitation Firearm.
We suggest that you treat any Airsoft Replica the way you would treat an Air Rifle, ensuring usage is observed at all times, correct protective equipment is worn, and transported safely.
We would also recommend that you only allow children Aged 12+ to use Airsoft Replicas, and supervise them at all times.
If you're a Parent, and are looking for information or guidelines for the usage of Airsoft Replicas, please see our Help page: Airsofting For Parents.
---
3 - Adding a Two Tone Replica to your Basket
There are two ways to add Two-Tone Services to your replica. You can either view a Two-Tone Only Section or add a Two-Tone Service to any replica on our website.
3.1 - Adding a Two-Tone Service to any Replica
You can add a Two-Tone service to any replica on our website by adjusting the Two-Tone Drop Down Box on the top right of any page on Desktop, or at the top of the page on Mobile Devices.
Clicking or Tapping the Two-Tone Drop Down Box will give you the option to Remove the Two-Tone, or Add a Two-Tone in the available colours.
Once selected, if available, a Preview Image will be shown showing which parts of the replica will be spray painted.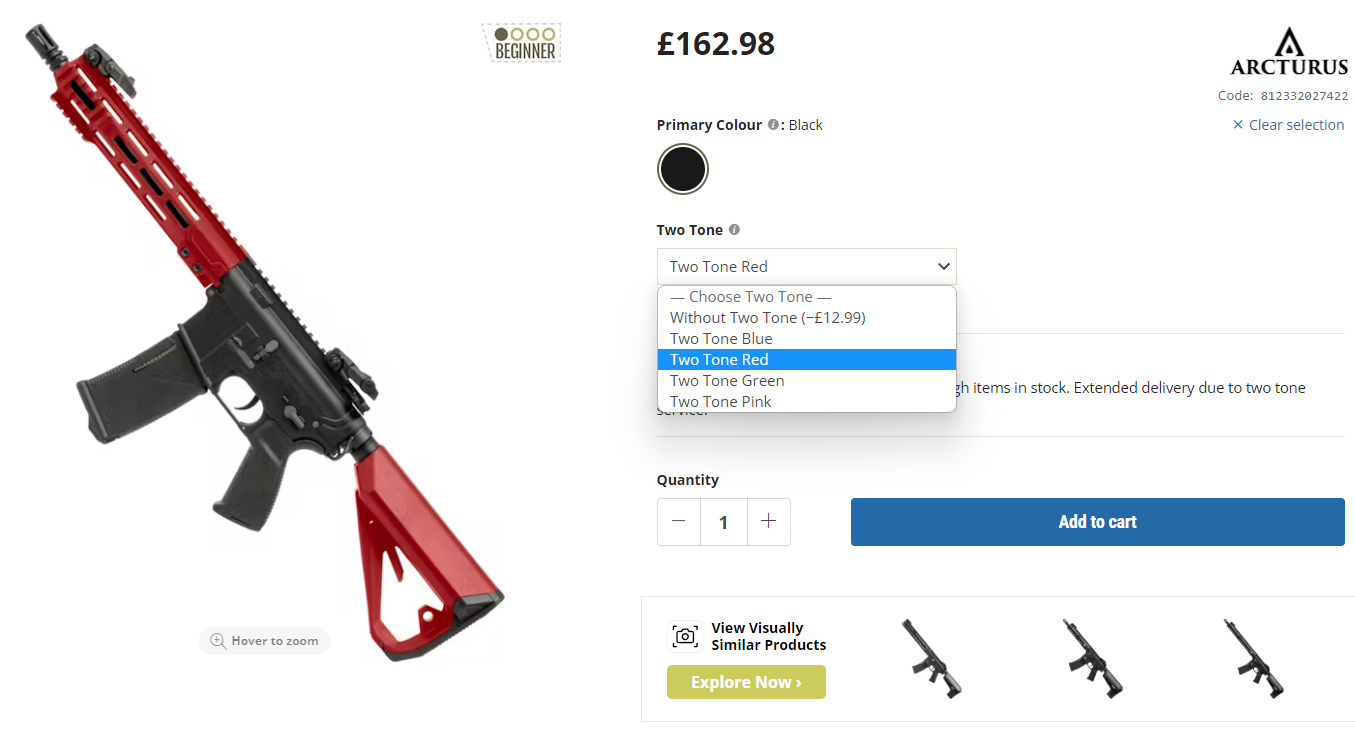 3.2 - Finding Two-Toned Replicas by Colours
If you want to browse Two-Tone replicas by a specific colour first visit any Two-Tone Section, and then adjust the Product Filters to show replicas of a specific colour.
If you are using a Desktop device you can click the Two-Tone Colour Filter on the Right side of the page, and if you are using a Mobile Device or Tablet you can use the Refine Results Button at the bottom of the page.
---
4 - Terms and Conditions
For detailed Terms and Conditions please see our Terms and Conditions - Two Tone section. The section covers everything from what you can expect from the service, up to returns and cancellations.
---
5 - Common Questions
Here are some commonly asked questions about the Two-Tone Service. If you have and additional questions please feel free to get in contact with us via the Contact Us page, or feel free to call us on: 01484 644709.
How long will the Two-Tone Service Take?
Typically a Two-Tone service takes between 4-8 Working Days, which means Monday to Friday. Once the Two-Tone Service Job has been completed (2-5 working days) your order will be dispatched on on a Standard service (2-3 days). The displayed delivery estimate is a worst case scenario.
Can I jump the Queue, or pay for an Express Service?
Unfortunately we do not offer a 'Queue Jump' or 'Express Service', we feel it is fairer to complete the Two-Tone service jobs in the order that we received them. Try order well in advance of the time you will need the replica to avoid disappointment.
Can I return my Two-Tone Order?
Once a Two-Tone Order has been Two-Toned we can no longer accept return of the replica, this is because the item has been modified from its original state.
Please ensure before ordering that you are 100% happy with your purchase to avoid disappointment. Don't forget, you can always visit our Retail Store to try the replicas before you buy them.
If the replica develops a fault or stops working due to a manufacturer error we can look into fixing the replica for you.
For more information, or for how to contact us please see our Contact Us page.
Can I cancel my Two-Tone Order?
It is possible to cancel your Two-Tone order as long as the replica has not already been Two-Toned when you request the order be cancelled.
If you want to cancel your Two-Tone order please call us as soon as possible so we can try catch the order before it is processed. This typically happens on the same day you ordered it, so try to call as soon as possible.
If you want to cancel other items on your order which have not been modified, such as extra Batteries, BBs, or Magazines we can cancel those with no issues.
If you want to cancel your order please call us immediately on: 01484 644709.
My gun is broken, can I return it?
On the unfortunate occasion your Gun breaks you can return it for a Repair, but we will not be able to offer you a refund.
If the damage is due to User Error the work will be chargeable, such as if it was fallen on or taken apart, but if the damage is due to a Manufacturers error we will cover it under our warranty.
If the paint has been removed, or the replica has been modified permanently in any way we cannot cover it under our warranty.
If we cannot Repair your replica we will Replace it with an equivalent replica. If no replacements are available we will offer you in-store credit for the value of the replica at the time of purchase against another replica we sell.
For more information on Returns and replica Warranty please feel free to read our Website Terms and Conditions.
Why is the paint wearing away?
Unfortunately due to the nature of the painting process the paint can be worn away. Although we have picked the toughest paint we can find through lots of testing, the paint may still wear away on high contact areas such as the Stock and Handguard, and will also scratch if rubbed against sharp surfaces.
This is normal and to be expected as general wear and tear through use.
The longer you leave the paint before use the better, as Spray Paint can sometimes take up to a week to fully harden to its maximum potential based on the humidity and temperature of where it is stored.
How do I clean my Two-Tone?
You would clean your Two-Tone replica the same way as any other part of the replica: with a damp cloth and lukewarm water.
Do not use Solvents, Oils, or Household Cleaners as these may affect the paint and cause it to wear away.