Buy more and Save on ASG Blaster BB's
Buy 3+

£

5

.

49

per unit
Buy 6+

£

4

.

99

per unit
Buy 12+

£

4

.

49

per unit
Approx. 3300 BBs
±0.01mm Tolerance
Standard White 0.20g
The go-to weight of every Airsoft site and skirmisher. 0.20g BB are commonly used as a beginner weight of BB, great in all Airsoft replicas offering the highest velocity with the same high quality finish as the rest of the ASG blaster Range.
Fast Delivery
Here at Patrol Base we ship all around world, with delivery not only to the UK, but to most of the EU and select Worldwide locations as well. We provide a working day by road service via our handpicked courier services, simply buy your Airsoft guns with us and we'll have them delivered directly to your door.
For more information and to see the country we deliver please check out our Delivery Information Page.
Below are some rough postage prices for orders. Please note these are subject to change, and are only a rough guide. For more accurate postage estimate please use the Postage Calculator at the basket.
UK Standard
£4.95
Approx.
UK Next Day
£6.95
Approx.
Highlands / Islands
£12.99*
Approx.
* Please note that Scottish Highlands, Islands and EU post prices can vary wildly. Prices range from £8.99, up to £29.99, so please ensure you refer to the Postage Calculator at the basket for the lowest possible price.
---
We want you to be absolutely happy with our products and services, so we provide the simple Patrol Base guarantee: if on receiving your item you are unhappy with your item for any reason then simply send it back to us. We will replace or refund the item.
You can return any item for any reason whatsoever, even if you have just changed your mind, within 14 days of receipt of the order. This is in addition to your rights under the Consumer Protection (Distance Selling) Regulations 2000.
For more information on returning products, and how to do it please visit our Returns Policy Page.
Description
Action Sport Games proudly introduce their most popular brand of BB on the market in their newest bottle design which holds a larger 3300rnd capacity!
0.20g are most commonly used to chrono Airsoft replicas at game sites for consistent power ratings. Used by new players, rentals and regular skirmishers alike these BB are perfect in Pistols, Submachineguns, Shotguns and Lightmachineguns in CQB and Woodland locations.
ASG have delivered their best BB in a newer bottle holding up to 3300rnds per unit. A slightly thinner but taller bottle over their original design is easy to hold and has a larger cap for easier pouring of BB's into your speed-loaders or directly into high capacity magazines.
ASG's Blaster range of BBs are well renowned for their high quality within Airsoft, with their BB being used across the country by both sites and retailers as a standard reliable brand of BB. To ensure the BB are of the highest quality they are re-sorted at ASG before being bottled with every BB being tested to be within +/- 0.01mm of eachother for more consistant and accurate groupings.
Specification
General
| | |
| --- | --- |
| Item Colour | |
| Weight (KG) | |
BB Specific
| | |
| --- | --- |
| Amount | |
| BB Type | |
| BB Weight (g) | |
| BB Size (mm) | |
| BB Tolerance (mm) | |
| BB Material | |
| Container | |
Further Information
Features:
High Grade 0.20g 6mm Airosft BBs
Made from high quality polymers
Perfect for Indoor and CQB Sites
White in colour
New 3300rnd capacity bottle
New easy pour larger cap
Part of the ASG Blaster Range
High quality polish and finish
Excellent consistancy
± 0.01mm tolerance between each BB
Perfect weight for upgraded replicas
Package Includes:
ASG - 0.20g Blaster 6mm BB x 3300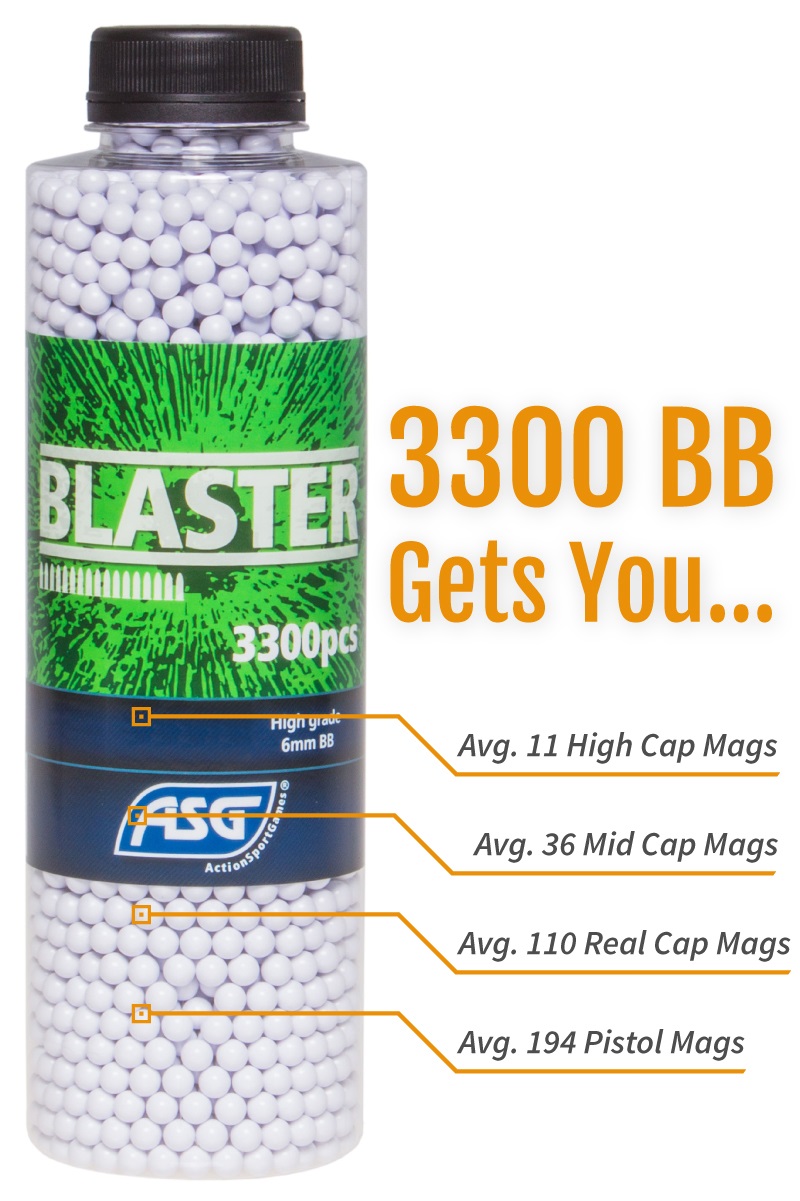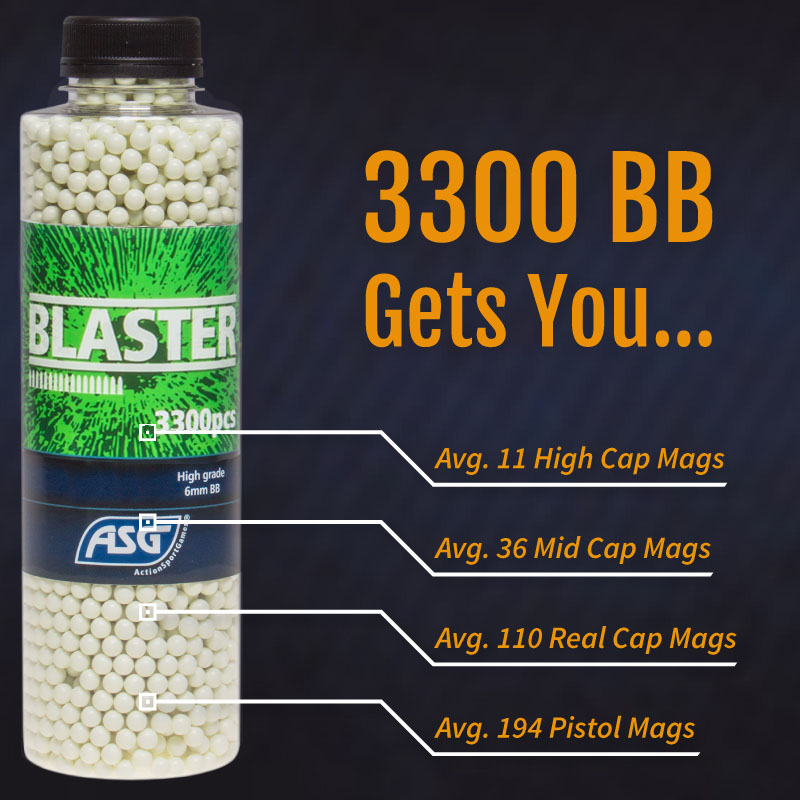 Customer

reviews
1 review for ASG 0.20g Blaster 6mm BB x 3300
Reviews.co.uk
customer reviews
Been using this brand for years with no issues. Would definitely recommend!
These BB's aren't doing it for you? why not try some others?
White BBs
0.25g in Weight
Approx 3300 BBs
NUPROL's latest offering into the Airsoft Market with newly designed 5.95mm 0.25g BBs made to have more consistent performance and greater accuracy that ever before.
100% Biodegradable
1kg Resealable Bag
Camouflaged
The age old problem, we want to do everything we can to save the environment, but we also want to fling plastic at each other. If you want to do you bit for the planet then why not consider switching to Bio BB designed to be biodegradable? MIMETIX BB are 100% bio degradable BB designed to degrade in soil, and are camouflaged so they blend into the environment as well.