Shipping to the EU, Internationally or to Ireland?
Live outside of the UK, but still want Airsoft Kit? Don't worry, we've got you covered.

Currently, we can not ship outside of the UK, sorry for any inconvenience. (23/06/21)
---
How to calculate postage
You can easily calculate your Estimated Postage Speed through your Cart once you have added the items you wish to purchase.
To calculate a rough delivery cost first add items to your Basket, then navigate to your Cart.
Enter your delivery post code into the Estimated Delivery Cost Box, and press Calculate.
The best possible delivery method will be shown in the Summary Box, and will display the Estimated Delivery Cost and Estimated Delivery Date.

Please note that we will follow all the laws relative to your country, and if we cannot send out an item (such as an Airsoft Gun) we will contact you via Email for more information and hold the items. For more information please see: Delivery Information - 4 - Imports and Exports.

If you would like to chose an alternate service you will have the option during the Checkout Process.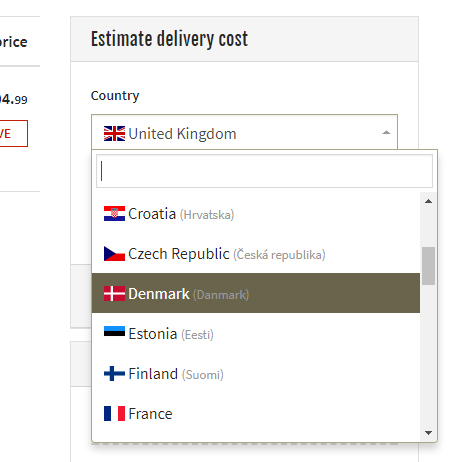 ---
Where do you deliver to?
Below is a table of where we deliver to, as well as an interactive map which shows the locations.
Austria (Zone 2)
Belgium (Zone 1)
Bosnia-Herzegovina (Zone 5)
Bulgaria (Zone 5)
Croatia (Zone 5)
Czech Republic (Zone 3)
Denmark
Estonia (Zone 4)
Finland (Zone 4)
France (Zone 1)
Germany (Zone 1)
Greece
Hungary (Zone 4)
Ireland (Zone 1)
Italy (Zone 3)

Latvia (Zone 5)
Lithuania (Zone 5)
Luxembourg (Zone 1)
Montenegro (Zone 5)
Norway (Zone 5)
Poland (Zone 4)
Portugal (Zone 4)
Romania (Zone 5)
Serbia (Zone 5)
Slovakia (Zone 3)
Slovenia (Zone 4)
Spain (Zone 3)
Sweden
Switzerland (Zone 2)



---
Common Questions
Below are some questions commonly asked over the Phone, via Email, or via TokyWoky ralating to EU and International Shipping.

Country not listed
Visitor
Help!! My country isn't listed????
PatrolBase Jonny
Hey there! If your country isn't listed in our postage matrix you can always drop us an email with the list of items in your order so we can try organise the shipment with an alternative Courier Service! Please get in contact with the Customer Services Department by emailing: websales@patrolbase.co.uk, and they will be able to help you out! Hope this helps :)
---
Should you require any further information please feel free to get in contact via our Contact Us Page.