7.4v 1500mAh
Stick Configuration
Deans or Mini Tamiya
A Lithium-Ion Stick Battery for Airsoft Electric Guns with an overall voltage of 7.4v and a capacity of 1500mAh, which is perfect Crane Stocks or anywhere that can accept a wide Stick Battery, and are available with either a Mini Tamiya or Deans connector.
Fast Delivery
Here at Patrol Base we ship all around world, with delivery not only to the UK, but to most of the EU and select Worldwide locations as well. We provide a working day by road service via our handpicked courier services, simply buy your Airsoft guns with us and we'll have them delivered directly to your door.
For more information and to see the country we deliver please check out our Delivery Information Page.
Below are some rough postage prices for orders. Please note these are subject to change, and are only a rough guide. For more accurate postage estimate please use the Postage Calculator at the basket.
UK Standard
£4.95
Approx.
UK Next Day
£6.95
Approx.
Highlands / Islands
£12.99*
Approx.
* Please note that Scottish Highlands, Islands and EU post prices can vary wildly. Prices range from £8.99, up to £29.99, so please ensure you refer to the Postage Calculator at the basket for the lowest possible price.
---
We want you to be absolutely happy with our products and services, so we provide the simple Patrol Base guarantee: if on receiving your item you are unhappy with your item for any reason then simply send it back to us. We will replace or refund the item.
You can return any item for any reason whatsoever, even if you have just changed your mind, within 14 days of receipt of the order. This is in addition to your rights under the Consumer Protection (Distance Selling) Regulations 2000.
For more information on returning products, and how to do it please visit our Returns Policy Page.
Description
Li-Ion (Lithium-Ion) batteries are making a big entry to the Airsoft scene as a great mid-way between Ni-Mh and LiPo battery, by offering a higher power density than Ni-Mh battery, but being small enough to fit in standard stocks and hand guards. As an added benefit the wiring used on the Battery is thinner gauge than previous NUPROL batteries, with a tougher sheath which makes it easier to bundle the wires away safely without nipping the cables and causing damage.

The battery has an internal voltage protector which prevents the battery from dropping below a safe voltage, meaning that once the battery cells drop below a certain voltage it will no longer provide power to protect the cells. This effectively means that you cannot damage the lifespan battery by shooting your Airsoft gun when the power is low, and protects you from killing your battery by leaving them in your gun for long periods of time.

Due to the chemical composition of the battery Li-Ions battery are less susceptible to battery memory. The typical recommendation for battery is that you fully discharge them before recharging, however with Li-Ion battery you can charge them from any level without issue, making them more user-friendly.

This NUPROL Li-Ion battery range are all available with either a Deans or Mini Tamiya connector allowing you to pick the perfect battery for your Airsoft load out.
Features
Lithium Ion Battery
Internal Voltage Protector
Stick Configuration
High Power Density
Mini Tamiya or Deans
Low Voltage Protection
7.4v 1500mAh
20c Discharge
30A Cont.
60A Burst
Thin Gauge Cable
Stiff/Tough Cable Insulation
Lower Cost vs. LiPo
No Memory Effect
Balance Lead
Requires Li-Ion Charger
Package Includes
NUPROL 7.4v 1500mAh 20c LI-ION Stick Battery
Special Instructions
Please read the entire manual carefully before attempting to plug in or attempting to use the battery.

When charging a Li-Ion battery please ensure that the charger you are using is designed to charge Li-Ion battery. Do not use a Li-Po or Ni-Mh charger.
Please ensure that you only charge your Li-Ion battery with an appropriate Smart Charger. Do not charge your Li-Ion battery with any gift or free charger you get with your replica.
It is important to remember that like LiPo battery a Li-Ion battery can still die if its cells charge become too low. The internal voltage protector protects you from actively discharging the battery through use, but will not protect the battery against trickle discharge over long periods. We recommend that if the battery's internal protection is triggered and appears to 'run flat' that you charge the battery to at least 40% before storage.
Although a very low chance Li-Ion battery can still be a fire hazard, much like any other battery, so do not leave the battery unattended. Do not modify the battery in any way, as damaging, overloading can lead to thermal runaway or leakage. Should your battery leak ensure you cease to use the battery completely and dispose of it safely.
Manufacturer Recommendations
Charge the battery fully before using it for the first time
Unplug battery from MAINS and remove battery from gun BEFORE plugging battery into charger.
Do not plug the battery into anything while the battery is plugged into the charger.
Keep charger, included hardware, and batteries away from water, corrosive gases, dust and damp environments.
Use a specific Li-Ion charger only
Incorrect connections may cause permanent damage to batteries, charger, property and persons.
Only use included cables, adaptors and accessories, as others may cause permanent damage to batteries, charger, property and persons.
Specification
General
| | |
| --- | --- |
| Product Length | |
| Product Width | |
| Weight (KG) | |
| Warnings | |
Battery Specification
| | |
| --- | --- |
| Battery Type | |
| Battery Configuration | |
| Battery Connector | |
| Battery Voltage | |
| Battery Amperage | |
| Battery Discharge Rate | |
| Battery Wire Length | |
Size guide
MAKE SURE YOU USE THE CORRECT CHARGER TYPE FOR THE CORRECT BATTERY
NiMh battery should only be charged with NiMh compatible battery chargers.
LiPo battery should only be charged with LiPo compatible chargers.
Always read all supplied instruction manuals on how to safely use your charging device.
Airsoft Battery should only be charged with the chargers as they are specifically designed to work with the specific voltages required by the battery.
Different battery types have different chemical configurations, and require certain chargers to charge them. Charging a battery with the wrong charger can cause damage to the battery and charger, and can cause fires and further damage. Please ensure that before charging you double check that you are using the correct charger.
If your charger supports multiple battery types always ensure that it is on the correct settings before starting the charge.
If you are unsure of what battery or charger you have please get in touch with us via the Contact Us Page.
---
Using a LiPo?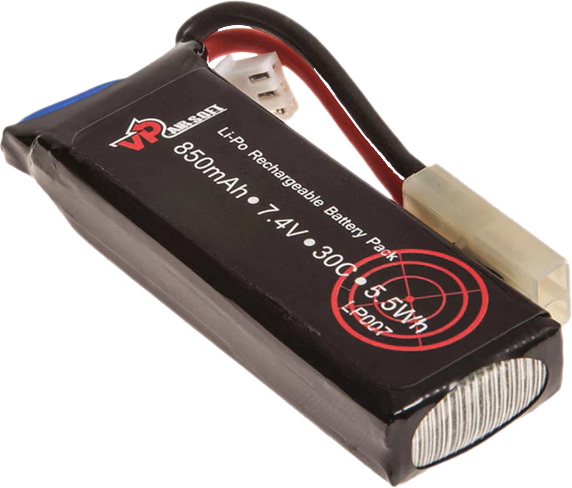 If you're using a Li-Po battery only use a Li-Po charger!
Failure to do so can cause damage to the battery and charger!
Using a NiMh?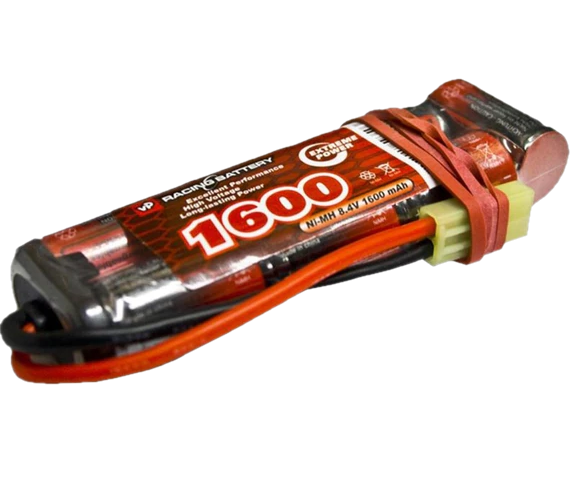 If you're using a Ni-Mh battery only use a Ni-Mh charger!
Failure to do so can cause damage to the battery and charger!
Need ideas for something extra?