Parra Hard Cases Breakdown
PARRA Hard Cases
Looking back at one of our most recent livestreams, today we're looking at PARRA Cases, exploring our suggestions for heavier/delicate equipment such as Cameras, Video Equipment, Drones and more!
Scorpio Hard Case
The Scorpio Hard Case is one of our personal choices for smaller Camera Equipment, such as Go Pros and all the accessories that go with them. This range of Hard Cases come supplied with several layers of Pick and Pluck Foam, allowing you to easily carve out perfect slots for your equipment, stopping it from rattling about in your Case and keeping it safe. With the foam being as thick as it is, it is more than adequate to protect most things, and the layers can be doubled up if you need some extra depth!
If you're running Go Pro Cameras, Batteries, Mounts, Night Vision, smaller Optics/Sights, then the Scorpio Hard Case is the perfect size for these applications. It locks up tight using the integrated Locking Clasps, and can be padlocked shut if you really want peace of mind. A pressure relief valve can be found on the front, should your equipment be particularly sensitive to pressure, or you want to take your Case on a flight or up a mountain.
Delphis Hard Case
This is a slightly Larger Hard Case, which provides more wiggle room for larger equipment, but still remains compact enough to easily slip under a bed, into the boot of your Car, or in the pesky-sized slot for carry-on luggage for flights.
As is the 'Case' (sorry!) with all of the Parra Hard Case series, they're all IP67 Waterproof Rated, as certified by third-party quality assurance company, Intertek. This means that the company making the Case weren't involved in the testing, this has been carried out by an outside company with no skin in the game. If that doesn't give you faith enough, then how about Extreme Temperature and Crush resistance?
Python Hard Case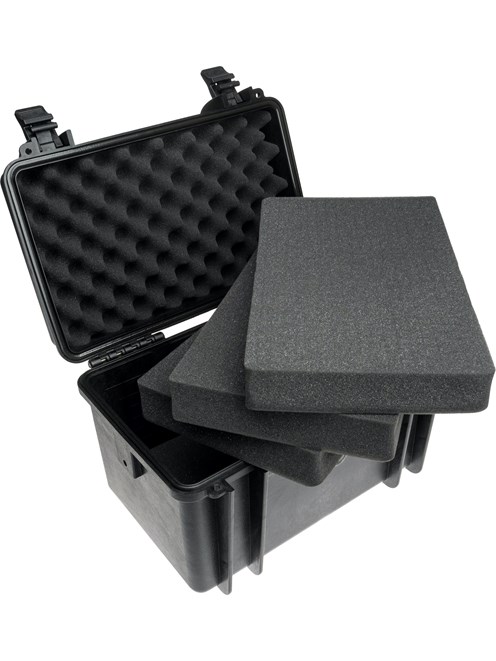 Need to carry even larger equipment to even more remote and dangerous places? The Python Hard Case might be up your alley. Whilst this Case is not as deep as some of the others, it has much wider proportions and is perfect for Camera Bodies, Telephoto Lenses, Drones and more.
With all the same features and ratings as the rest of the Parra Hard Case Range, the Python Case is just as much of a winner as the rest - just pick the size you need. The Cases will even neatly stack on top of one another thanks to the tesselating feet pattern, and this Case even comes included with a Name/Info Tag to help you organise your clobber. You will find a large Rubber Grab Handle on all of the Cases, which makes them comfortable to carry about, even when they're fully laiden with kit.
Why PARRA Hard Cases?
Low Cost
This will obviously be first and foremost on your mind. These Cases cost far less than their top-shelf equivalents available on the market, and will almost always outperform them in terms of features and quality. With a range of Cases to suit all budgets, we nigh-on guarantee you'll find a Hard Case that ticks all your boxes.
Peace of Mind
They're tough. Like, seriously tough. So much so, that Parra have invested in third-party testing by an outside company. The Hard Cases were all found to be IP67 Waterproof, Extreme Temperature Resistant, and resistant to Crushing and Pressure changes. This isn't conjecture, it's hard facts brought to light by heavy independent testing.
Security
What good is a Hard Case if it doesn't protect the contents? The Parra Hard Case range feature heavy duty Padlock Loops, which are compliant with TSA-Locks. This allows you to securely lock your equipment, and means that you can take your Case on a flight without fear that the TSA will cut your locks.
Convenience
Parra Hard Cases strike an amazing balance between weight and strength. They're so easy to carry about with you, especially thanks to the large Grab Handles (some of the Cases even have wheels!). The Pick and Pluck Foam Layers are easy to work with, and let you create your dream setup that neatly presents and protects all your most precious equipment.
For more info about the PARRA Range...
View the entire range of custom transport and storage solutions here!
PARRA Cases
Extremely Strong Case
Secure Rotating Latches
Chemical / Fungus Resistant
This Polyethylene constructed Hard Case has a One-Piece design that makes it incredibly strong, as well as thick corners and structural ribs to help it have excellent structural integrity. With an IP67 rated Water/Dustproof Seal and a resistances to Chemicals, Solvents and Fungus, the Jackal ROTA Hard Case is for the serious traveller who needs total protection from the elements.