Airsoft Loadouts: CTSFO
CTSFO - Counter Terrorist Specialist Firearms Officers
---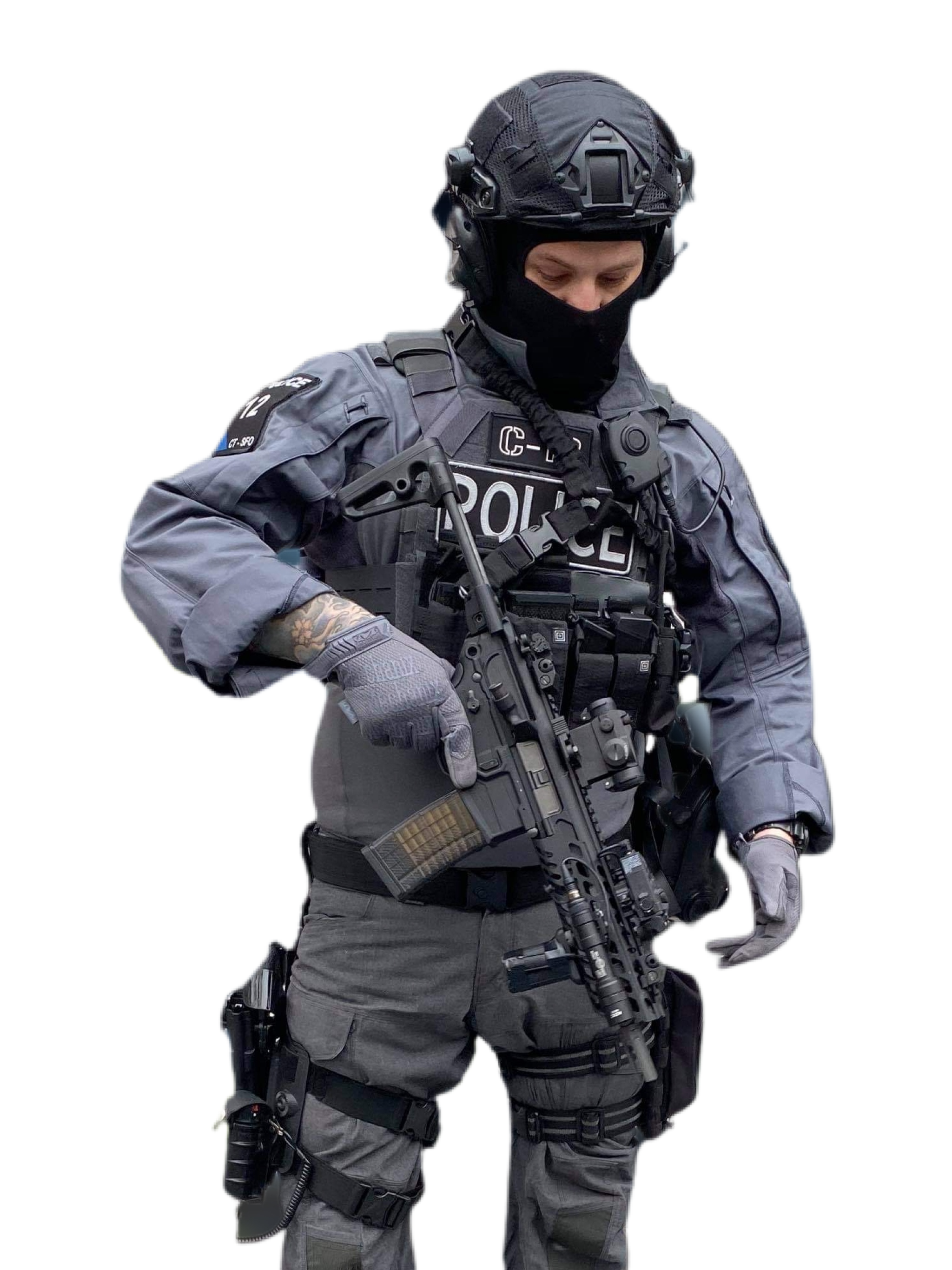 The CTSFO ( Counter Terrorist Specialist Firearms Officers ) SCO19 Are an Elite Unit of British Armed Police Firearms Officers Established in 2012 tasked with the capability to respond to terror related incidents and attacks, in order to provide a higher level of security than regular AFO's. CTSFO's operate in a low-visibility grey uniform and are famous within the Firearms and Airsoft community for their modern choice of equipment, the most famous of which being the SIG Sauer MCX 5.56x45 Carbine and the 9x19mm GLOCK 17.
The CTSFO do an amazing job for us here in the United Kingdom and man do they look cool while doing it. Rocking a low-visibility grey urban uniform accompanied by Modern Tactical Equipment and Firearms adorned in Tacticool accessories, the Counter Terrorist loadout is every Tactical-Nerd and Gun Nut's dream. So In this Loadout Blog we're going to take a good hard look at the Gear, Guns & Equipment used by the CTSFO and how YOU can replicate the look for yourself.
---
The Primary
SIG SAUER MCX CARBINE

The Sig Sauer MCX Carbine is an adaptation of the MPX Platform, which offers a longer overall length, larger 5.56x45mm caliber (meaning it accepts regular old M4/STANAG Magazines) as well as some furniture upgrades to make the platform as effective as it is good-looking. The MCX holds many features that make the platform an ideal candidate for our guys in grey, such as a highly effective heat dissipating handguard fitted with M-LOK sections for the addition of tactical accessories such as Torches, Lasers, Foregrips and other illumination devices like PEQ Boxes as well as a retractable SIG stock which wen combined together make for a highly ergonomic platform, essential for fast target acquisition. The MCX received an endless amount of praise from the Firearms community of shooters all over the world, and it wasn't long until the Weekend Operators caught a scent of the modern masterpiece and demanded an Airsoft Replica to fill the void in their imitation armoury.
The Airsoft Replica of the MCX is fully licensed by Sig Sauer and produced by VFC, including their Avalon Gearbox. The Airsoft MCX certainly doesn't refrain from feeling as close to the real thing as possible, built to a 1:1 scale with all furniture and features to match, from the SIG style Pistol Grip to the unique concaved ejection port and 3-prong flash hider, it's safe to say this replica went from reel steel to real feel.
The Attachments
---
The Secondary
GLOCK 17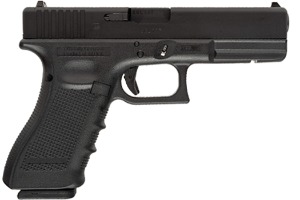 The GLOCK 17 is a polymer framed, short recoil operated locked-breech semi automatic pistol produced & manufactured in Austria and since 1982 has become the most popular pistol in the world. The pistol has seen service in over 45 countries & is currently in use by the United States Police, British Armed Forces and Armed Police Units, as well as many other security & contractor companies. The GLOCK is not only popular within Law Enforcement, it is also a favoured option among civilians, available in a multitude of calibres, sizes & styles the GLOCK is a go to for it's simplicity, ease of use & most importantly, reliability.
The Airsoft GLOCK 17 itself is built just as the real one is, featuring a lightweight, strong & reliable alloy slide which provides the end user with a realistic and authentic recoil / reloading experience, combined with a reinforced polymer frame featuring finger groves for added comfort & ergonomics and a stippled pistol grip thus providing improved traction with the contact surface. These factors also apply to the serrated slide, with six vertical serrations along the backside of the slide this allows for improved manipulation & increased grip regardless as to whether your hands are wet or sweaty. Fully Licensed by UMAREX with official GLOCK trademarks along the slide and frame making it a must have addition to your CTSFO Loadout.
---
The Gear
Uniform & Clothing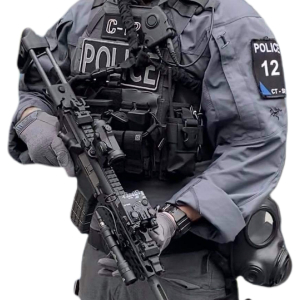 The CTSFO are renown for their Low Visibility Urban Grey Uniform, not only is it highly effective within urban settings and darker environments, it also looks tacticool AF, after all looking cool is what's important here right? We've compiled together a selection of products that we feel best represents the gear worn by the guys in grey so you can rock that Counter Terror Loadout at your next Sunday Skirmish.
---
Further Accessories such as Eye Protection and Face Protection would of course be entirely subjective as it depends what you like the look and feel of, you can browse our EYE PRO Buying Guide HERE! But now you've got a good idea as to what gear you need to achieve your dream SCO19 Metropolitan Counter Terrorist loadout, so be sure to stock up on Ammo for your MCX and get ready for your next Airsoft Skirmish, Law Enforcement style.
The M4 platform; The bread and butter of the Airsoft Skirmisher. Following on from our Live Stream on the 16th of September, this article will take you all through the M4 platform in the real world, Airsoft, and the selected M4 AEGs Stu showed off on the stream. Join us as we give you the low down on the most adaptable and modular platform available in the Airsoft world!

So you're new to Airsoft! You want to get stuck in but you're not sure were to begin? Not to worry! From your first rifle to your first Skirmish, we got you covered!

The SMG-5 is a Tactical Sub Machine Gun platform that is widely favoured by many Airsoft Players due to it's simplicity, versatility and modularity. Whether you're a Close Quarter Combat Crazy Runner n' Gunner or a slow paced, Covert style Operator the SMG-5 can be designed to suit your playstyle by customising it to your liking with our wide array of attachments, from Foregrips to Handguards and Stocks to Sight Mounts, the SMG5 is here to ensure you're battle ready.

Looking for some extra fire power on your primary weapon? Have you been stuck in the middle of a reload, no time to get to your sidearm and spent the long, lonely walk back to respawn wondering what could have possibly saved you in your time of need? We have the solution! With a few minor adjustments, you can turn a regular gun into a swarm of angry BBs!

0.20s, 0.25s, Tracers!.. BIOs!? We get it, there's a big mix of BB's and ammo types, but we're here to help you identify The types of BB's, the purpose they serve and decide which ammunition works best for you.

Red Dots, Holographic Sights, Magnified, Short Dots! Flip to side magnifier!? Plenty to take in we know, but we're here to help clarify the different optics available to help you choose what suits your play style and setup.

RIS, M-LOK, KEYMOD, URX!? We get it, there's a big mix of rail systems and attachment interfaces, but we're here to help you identify what each rail system is and decide which rail system works best for you.

NiMH, LiPo, LiFe? It's all about power when it comes to batteries, but with different types of batteries, how do you know what is what when it comes to voltage? This guide will give you an insight into what keeps your gears spinning!

Green, Red, Black, White, all the colours of the rainbow! Such is the variety available in Gas to power your Airsoft replicas. Here, you will find detailed information on different gasses and when their use will benefit you the most.

Hi-Cap, Mid-Cap, Flash Mag!.. Sound Control!? We get it, there's a HUGE amount of Magazines out there, but we're here to help identify the types of Mags, the purpose they serve so you can decide which Magazine works best for you.

7.4v LiPo, 9.9v LiFe? 11.v LiPo!? Stick? Crane!? We get it, there's a lot of uncertainty around which battery to use in your EVO, but we're here to help you obtain the answer to the famous question once and for all.

Gearbox, Motor, Piston, Cylinder!? We get it, there's a whole bunch of jargon surrounding Electric Airsoft Guns, but we're here to help you understand what an AEG is and how to choose one that best suits you and your playstyle.

In the market for something to store your spare magazines, bbs, personal effects, hydration, and tactical snacks whilst you are on the skirmish field? This article should leave you well equipped to set yourself up with a basic, functional rig suited to the role of an Airsoft rifleman.

Just invested in a nice Gas-powered replica? If you want to keep it running for a lifetime, check out this article. With minimum effort and time, you can avoid many of the costly beginner mistakes and keep that box-fresh performance!

Crane, PDW, Stabilising, CTR! A.X.E!? We get it, there's quite an array of Stock types, but we're here to help you identify The types of Stocks, the purpose they serve and decide which Stock works best for you.

What even is a flash hider? What does a sound amplifier actually do? Inside we will enlighten you on these and the various other things you can screw onto the end of your AEG or GBBR to style it up!

Deciding which Airsoft Gun is right for you? Not sure if you need an LMG or an SMG? Check out our post on the different types of Airsoft Guns.

The video features Patrol Base Pete, and Patrol Base Mike, and this is the first video in a long series of episodes which are targeted at dealing with issues that pertain to beginners in Airsoft.

Welcome to the latest video in the Patrol Base Airsoft Beginners Guide collection, this time featuring Patrol Base Stu who is here to talk to us about a subject which will affect every single Airsoft player: Eye Protection.

When you've got to choose between Airsoft Assault Rifles, Airsoft Pistols, Airsoft Shotguns and more then what do you go for?

Tired of all the disinformation and Airsoft 'experts' out there who chat pure rubbish? Been put off buying an AEG because someone said airsoft snipers shoot further? Allow us to set the record straight.

In Airsoft terms, a 'specific defence' for purchasing Realistic Imitation Firearms (RIF) is essentially a way of proving that you have a valid reason for purchase and that the law has been complied with.

Are you sneaking? Maybe you want your glowing BBs to light up the night? In this Buying guide we will go through the different options and roles for Airsoft suppressors and tracers, what they do and how they can help you win!

First skirmish booked? Feeling that excitement and adrenaline already? Maybe you're nervous about what to expect? Have a quick skim through our guide to alleviate any concerns and remind you not to forget anything!