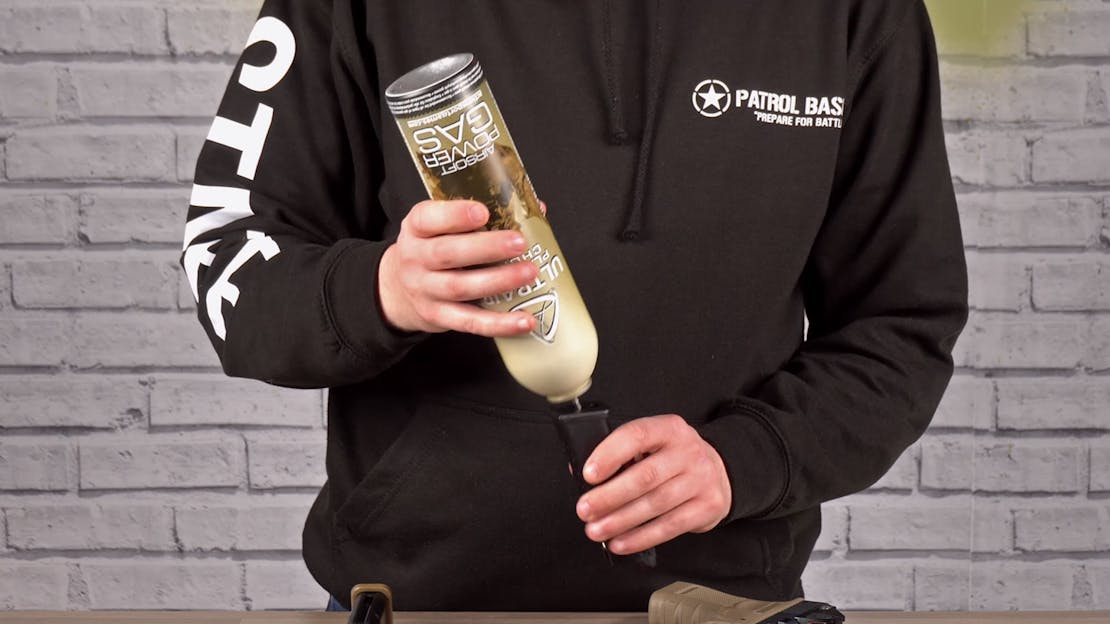 Airsoft Gas Types and Maintenance
Gas is used to power Airsoft Gas Blowback and None-Blowback Gas Guns, and comes in various forms. Airsoft Gas is usually a popular choice because of the blowback feature, adding an extra level of realism for the player. Gas comes in three main types, Green Gas, CO2 and Propane.
Gas Types
Green Gas
Green gas is the most popular type of airsoft gas used. This gas usually comes in tins, and magazines can quickly be refilled via a valve in the bottom. Green gas is essentially Propane, but with different mixture levels of other gasses and lubrication. Typically, with Green Gas power and the effects of cooldown vary from Brand to Brand. This is the most common type of gas in airsoft, as it is the easiest and quickest to fill the magazines, and requires the least amount of maintenance.
CO2
CO2 is commonly used in airsoft pistols due to its low cooldown rate. CO2 is most commonly supplied in 12g Bulb format, and are placed directly into the magazine. Once a CO2 bulb is spent, it must be replaced. CO2 has the benefit of a slower cooldown rate and higher power when compared to green gas, but is the slowest to re-fill due to having to unscrew the bulb for replacement.
Propane
As an alternative to green gas, Propane can be used to fill Airsoft Pistol Magazines. Propane bottles can be used to fill magazines when an adaptor is purchased. Propane is essentially Green Gas but without all the lubricant and other gasses mixed in. This is usually seen as the highest power of Green Gas available, with the lowest cool down, and the cheapest, with the trade off being an increased wear on guns and extra maintenance. Commercial Propane has no odour additive and naturally has no smell.
Maintenance
Each different type of airsoft gas requires different levels of maintenance, which are detailed beneath.
General Maintenance across all types
Generally, most airsoft maintenance you will have to do will be to ensure that the seals in the magazine (which keep the gas in) are lubricated. When choosing a lubricant, ensure it is 100% silicon oil, as others may cause swelling or failure.
It is important to make sure dirt and dust does not get into the top of the magazine, as this is where the valve is which releases the gas it housed. If dirt and grit gets into this part of the magazine the valve will not be able to close, resulting in gas leaking or venting. This can be remedied by removing the valve using a special tool and cleaning it. If you need any help with this you can call us on 01484 644709.
Green Gas
Typically green gas comes with an amount of silicon lubricant inside in order to keep airsoft gun & magazine seals lubricated. Generally, the lower the power of the gas, the more lubricant it has inside. However, if you decide to use a more powerful gas it may be worth purchasing some airsoft maintenance gas, which has a high level of silicon in it, and run it through the gun every so often.
It is recommended that when storing green gas airsoft magazines for periods of time that you leave a little bit of gas in the magazine, in order to keep the seals lubricated and prevent dust and dirt from getting inside the magazine.
CO2
CO2 comes with no lubricants inside, and will dry out the seals in an airsoft magazine with use. Magazines of this type usually require maintenance to the valves clean from dirt and dust.
When leaving the magazines over long periods of time, the seals can naturally dry out over time, and will sometimes leak gas on the first magazine. This can usually be remedied by simply firing off a few shots. If the problem continues it could require further maintenance. If you need help with this you can call us on: 01484 644709.
Propane
Propane comes with no lubricants inside, and will dry out the seals in an airsoft magazine with use. When using propane in green gas magazines it is important to also purchase maintenance gas, which should be run through the magazine after every game day and when stored.
Some propane bottle adaptors come with lubricant supplied, that is applied to the adaptor before it is placed on the bottle. This helps with airsoft seals drying out during use, but it is still recommended that maintenance gas is regularly used.
Common Questions
How often should I maintain my Airsoft Magazine?
Airsoft Magazines should usually maintained after an Airsoft Game Day, or before Storage.
Can I use Propane in Green Gas Magazines?
Yes, Green gas and Propane are essentially the same thing, and the magazines are filled the same way. You have to be aware however that as Propane can be more powerful it may decrease the lifespan of the airsoft gun, and magazines will require increased maintenance.
Can I use CO2 in Green Gas Guns?
Typically, the magazine which comes with an airsoft gun will define what kind of gas you can use in a pistol. There are however some exceptions, where you can buy both Green Gas magazines and CO2 Magazine for WE EU-Series Pistols.
You can buy CO2 Adaptors which allow you to fill airsoft gas magazine/grenades with CO2 if specified by the manufacturer. Green gas magazines are more likely to become damaged and leak if filled with CO2. Green Gas / Propane usually sits at around 120psi, whereas room temperature gas can reach 800psi. Trying to use CO2 in Green gas equipment can become dangerous.
What is the difference between CO2 and Green Gas Magazine?
CO2 is typically more powerful, so less is required than compared to green gas, this means that CO2 valves will release less gas than Green Gas magazines.
Should I use CO2 or Green Gas in my Pistol?
Check the magazine which comes with your airsoft gun. If it takes a bulb you will use CO2, if it has a fill valve you will have to use Green Gas.
Looking To Maintain Your Gun? Checkout the blog post on AEG maintenance here.