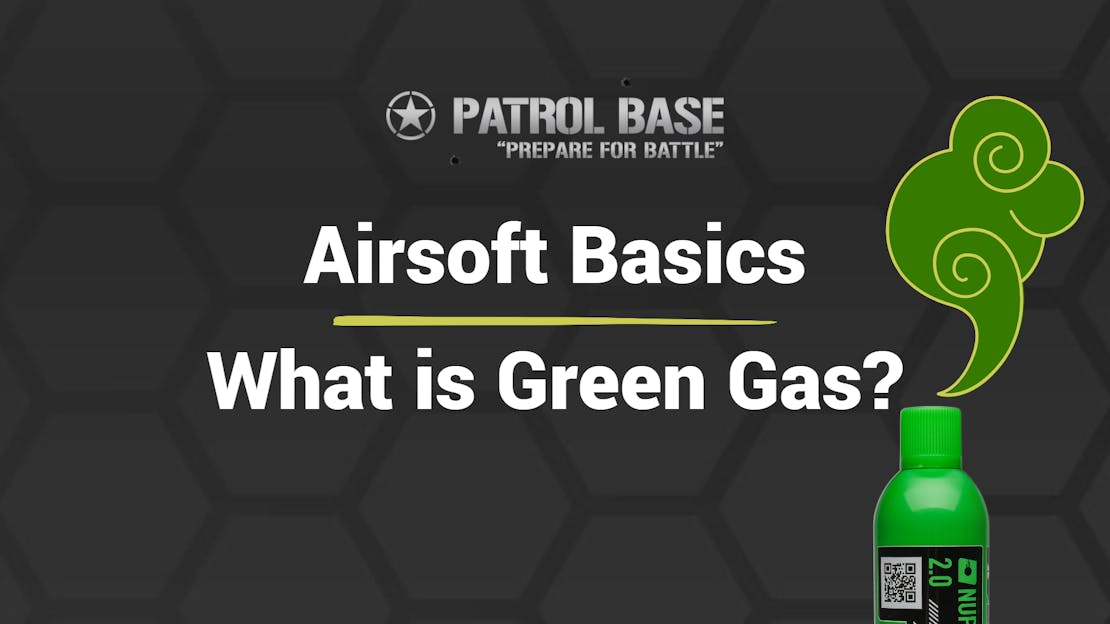 Airsoft Basics: What is Green Gas?
What is Green Gas?
Generally speaking, the term "Green Gas" refers to medium-power Airsoft gas which is intended for GBB pistols with a metal slide. Green gas is usually formulated with around 90% propane and between 8 and 10 % butane, with silicone lubricant making up the remainder.
Airsoft gas types are often referred to by a colour system, though this is entirely unofficial Airsofter slang. Each colour in the colour system denotes a different power bracket and often also a different use.
White gas is also known as blue gas, and is the lowest power gas on the market, being ideally suited to GBB pistols with polymer slides, and for use in the high temperatures of summer. This gas is also often referred to as "summer gas", and its lower pressure helps prevent damage from occurring during regular use in temperatures above 20°C.
Green Gas is the middle power level and is usually recommended for metal slide pistols and for pistols with polymer slides during the colder winter months. Green gas can be used for most of the year and performs well, and although performance may fall during colder weather, this is the gas most Airsofters choose to power their pistols with.
Red gas is slightly more powerful than green gas and is intended for use with gas blowback rifles and SMGs, and pistols with a metal slide during winter skirmishes. Red gas is a good call for low temperatures, and can allow your pistol to carry on shooting in relatively cold weather with decent accuracy and range, but should be avoided during summer as its high pressure may cause damage.
Black gas is the most powerful of the bunch and is designed for GBBRs and GBB pistols with heavy steel slides and bolt carriers. This gas is also often used in gas-powered sniper rifles and other high power applications. Use of this gas in a standard pistol will almost definitely cause premature failure, and during summer black gas will cause most Airsoft guns to fail chronograph due to the FPS being above site limits.
All of these Airsoft gasses are based on a formula with a majority of Propane with various additives and often a silicone lubricant which will feed through your gun as you fire it and keep the internal seals and o-rings fresh.
---
Green Gas Types
VORSK V6/V8/V12 Series
What is VORSK Gas?
The VORSK gasses are a recent arrival and offer various power levels to suit various different gas powered platforms. VORSK gas generally has a lower proportion of lubricant which results in better accuracy and consistency, at the small price of having to carry out maintenance more often.
VORSK V6 is VORSKs green gas analogue, and provides similar power output with a similar amount of silicone lubricant content as NUPROL 2.0. This gas is great for metal slide pistols, and polymer slide pistols during the winter months. During summer V6 may be a bit too powerful for polymer slide pistols, in which case NUPROL 1.0 or Abbey 144a would be ideal.
V8 is a step up from V6 and sits in between NUPROL 2.0 and NUPROL 3.0 in power. This gas is great for metal slide pistols during winter, or GBBR, GBB SMG and heavy slide pistols during summer. V8 has less lubricant in its formula than NUPROL 2.0 and 3.0, and is useful for getting a bit more accuracy, but of course, this comes at the cost of having to be johnny on the spot with your maintenance procedure to preserve those o-rings.
V12 is VORSKs maximum power gas and is specifically formulated to contain less lubricant, making it ideal for GBBR and GBB SMGs, and otherwise for high performance GBB pistols like the Bolster Armouries Hi-capa series or heavy steel slide pistols like the Umarex/GHK Glock 17 Ultimate Edition.
What is NUPROL Gas?
The NURPOL gas series offers a range of different power levels, all of which have a healthy proportion of silicone oil within to keep your pistol working as long as you do your bit.
1.0, Aka "blue gas" is NUPROLs summer gas, offering lower pressure to ensure the high temperatures do not cause parts failures when the weather gets spicy.
2.0 is NUPROLs standard green gas, offering medium pressure with silicone lubricant within its formula. 2.0 can be used for most of the year with superb performance and is suitable for most GBB and NBB pistols.
3.0 is NUPROLs red gas which is of a slightly higher power than standard green gas to help metal slide pistols cope with colder temperatures. This gas is not really suitable for polymer slide pistols as it will likely cause premature wear to develop, and potentially even cracks in the slide.
4.0 is the most powerful gas in NUPROLs range, and should only be used with gas blowback rifles, and some GBB SMGs and pistols which make use of a heavy steel slide or bolt carrier which would struggle to cycle on lower pressure gas.
What is ASG Ultrair?
ASG Ultrair is a green gas with no silicone lubricant in its formula, giving it slightly higher FPS than other green gasses while requiring more maintenance to ensure your seals stay lubricated and your magazine doesn't develop a leak.
This gas is great for those who need extra accuracy and consistency in their setup, but if you decide to use Ultrair you will need to be on the ball with maintenance, and regularly apply silicone lubricant to the contact surfaces inside your pistol as well as the gas route bucking and valve o-rings on your magazine.
What is Abbey Gas?
Abbey is one of the oldest names in Airsoft maintenance products, and their gas has quite the following due to its respectable pedigree. Many Airsofters are creatures of habit, and if it ain't broke there is no need to fix it, thus the continued popularity of Abbey Airsoft gas!
144a is the lowest power gas in the Abbey gas range and is a great summer gas, being approximately equal to NUPROL 1.0 in power. This gas is also great for polymer slide pistols and can be useful to bring your pistol down below velocity limits if it is a bit too hot on stronger gasses.
144a Maintenance gas is a specialist gas type with extra added lubricant and is intended to help repair damaged o-rings and cure slow leaks. This gas isn't always capable of bringing your o-rings back to life, but it works more often than it fails, and many of us have saved quite a bit of money by using maintenance gas before buying replacement parts.
A handy tool to have in the kitbag, for certain! This gas won't be any good for shooting, however, due to its excessive lubricant content. We recommend using maintenance gas when storing your GBB magazines for extended durations, and otherwise using it every 10 or so fills to ensure the o-rings stay healthy.
Finally, Abbeys Predator Ultra Gas is very similar in composition to ASG Ultraair, being slightly more powerful than green gas but not quite as hot as red gas, and offering better accuracy and consistency due to its reduced lubricant volume. As with Ultraair, this gas requires more regular maintenance, though after each skirmish will likely be sufficient to keep your pistol shooting nicely.
---
So, now you know a bit more about Green gas you should be in a good position to decide what gas is right for your Airsoft gun and what time of the year it is suitable for.
If you're looking for more specific info on how each gas affects FPS, check out our guide on Green gasses wherein Stu carries out tests to see how the new VORSK gasses stack up against the rest.
If you are ready to go gas shopping, click the button below!