Smart Battery Charger
For NiMh / LiPo / LiFe
LiHv / Li-Ion / NiCd / PB
Built by NUPROL as part of their Power range this is a high quality charger designed to charge LiPo, NiMh, LiFe, LiHv, LiLo, NiCd and PB batteries, all of the most common types of battery used in Airsoft replicas.
Fast Delivery
Here at Patrol Base we ship all around world, with delivery not only to the UK, but to most of the EU and select Worldwide locations as well. We provide a working day by road service via our handpicked courier services, simply buy your Airsoft guns with us and we'll have them delivered directly to your door.
For more information and to see the country we deliver please check out our Delivery Information Page.
Below are some rough postage prices for orders. Please note these are subject to change, and are only a rough guide. For more accurate postage estimate please use the Postage Calculator at the basket.
UK Standard
£4.95
Approx.
UK Next Day
£6.95
Approx.
Highlands / Islands
£12.99*
Approx.
* Please note that Scottish Highlands, Islands and EU post prices can vary wildly. Prices range from £8.99, up to £29.99, so please ensure you refer to the Postage Calculator at the basket for the lowest possible price.
---
We want you to be absolutely happy with our products and services, so we provide the simple Patrol Base guarantee: if on receiving your item you are unhappy with your item for any reason then simply send it back to us. We will replace or refund the item.
You can return any item for any reason whatsoever, even if you have just changed your mind, within 14 days of receipt of the order. This is in addition to your rights under the Consumer Protection (Distance Selling) Regulations 2000.
For more information on returning products, and how to do it please visit our Returns Policy Page.
Description


The charger itself is a smart charger, meaning that the charger automatically charges and cuts off when the battery is full. Some cheaper low-end chargers do not support this meaning you have to work out how long to charge for, with this charger you can plug it in and not have to worry about when the battery is full, as the charger will cut off the power supply when it is full to prevent any damage to the batteries.
The charger features an LCD display screen which allows you to configure the charger to your perfect settings, as well as see information about the battery as it charges and any errors which may occur. The charger itself has many high end features, with the ability to charge a wide range of battery and support many operations required to maintain them as well.
The charger features an internal lithium battery balancer which allows the charger to detect individual cell voltage so there is no need to connect an external balancer before charging, and automatically stops balance charging each individual cell when they are full or if an abnormal cell voltage is detected. The charger has the ability to detect the delta-peaks of the battery whilst they are being charged, meaning that the charger will automatically stop once the battery is full, or the charge limit is exceeded for that battery type. A time limit can also be set to prevent the charger infinitely charging.
The charger has an internal memory meaning that settings and options can be stored on the unit to save time entering information next time you come to charge your battery. Data for up to five battery can be stored inside the units internal memory and can be recalled easily without the use of any specialist program.
The charger comes with an EU style power plug to plug into any standard UK Shaving socket, along with charging cables to convert the XT60 charging output to Deans and mini-Tamiya, the two most common battery connector types. There is also a front port allowing the connection of balance cables for LiPo and LiFe battery which supports battery with up four cells. Additionally there is another port for attaching temperature monitors which can be used as an extra level of safety which can be purchased separately.
This charger is perfect for any Airsoft skirmisher who is looking for a charger which charges all the common types of Airsoft battery on the market today, with high levels of customisation for the perfect charge.
Features
Built by NUPROL as part of their POWER Range
High quality smart charger system
Charges LiPo / LiFe / LiHV / Li-Ion / NiMh / NiCd and Pb batteries
Charges almost every single battery type you'll requrie for Airsoft
Internal lithium battery balancer
Individual cell balancing and monitoring
Delta-peak sensitivity to protect the battery and charger
Automatic current charging limit
Capacity limiter
Optional temperature threshold detection
Charge time limiter
Input power monitoring
Data storage / load thanks to on-board memory
Cyclic charging and discharging
Allows the connection of batteries with an XT60, Deans or Mini-Tamiya connector
Supports LiPo, LiFe, and LiHv with up to 4 cells
Built in internal cooling fan
Internal power supply system with no need for an external power brick
Large, tactile and easy to use buttons
Visual LCD display screen
Supports 100-240 AC input
Charge power of 60W
Max discharge power of 10 watt
0.1A - 6.0A charge current range
Suppots PB battery betwen 6v - 12v
Detailed warning and error display
Package Includes
60W Smart Charger
Plug Power Lead
XT60 to Deans Cable
Deans to Mini-Tamiya Adaptor
Special Instructions
Please ensure that when charging battery you always do so in a fire safe environment, such as in a battery charging back.
Do not charge any damaged batteries, as this can lead to further damage. Examples of this are: Swollen / puffy batteries, damaged wires, or fully discharged batteries.
When charging batteries with a balance cable always ensure they are connected to both the balance port and the power output.
Please ensure you read ALL documentation before using this charger.
---
Instructions
For usage instructions please refer to the manual included with the charger, as this covers every type of battery which can be used with the charger.
Screen Error Status Meanings
| Error | Meaning |
| --- | --- |
| REVERSE POLARITY | Incorrect polarity connected. |
| CONNECTION BREAK | The battery's wires are disconnected or damaged. |
| SHORT ERR | There has been a short circuit, check for damaged wires or touching contacts. |
| VOL SELECT ERROR | The wrong voltage has been selected for the attached battery. |
| BREAK DOWN | The charger has malfunctioned. Please get in touch with us for further assistance. |
| BATTERY CHECK LOW VOLTAGE | The battery's voltage is lower than the option selected. This can either mean the incorrect voltage has been selected or the battery is dead. |
| BATTERY CHECK HIGH VOLTAGE | The voltage is higher than which is set, check the number of cells in the battery pack. |
| BATTERY CHECK CELL LOW VOL | Voltage of a single cell in the battery pack is too low. This usually means the battery is damaged. |
| BATTERY CHECK CELL HIGH VOL | Voltage of a single cell in the battery pack is too high. This usually means the battery is damaged. |
| BATTERY VOLERR CELL CONNET | A connection cannot be made to one of the cells. Please check the battery and the connecting cables. |
| TEMP OVER ERR | The temperature of the charger is too high, and will need to be cooler before it can begin again. |
| CONTROL FAILURE | The charger has malfunctioned. Please get in touch with us for further assistance. |
---
Specification
General
Parts & Accessories Type

Over 18

Warnings

Li-Po - Never Leave Charging Unattended

Li-Po - Charge in a Fire Safe Area
Weight and Dimension
| | |
| --- | --- |
| Weight (KG) | |
| Product Height | |
| Product Length | |
| Product Width | |
Construction
| | |
| --- | --- |
| Item Colour | |
| Construction | Polymer Shell with LCD screen |
| Material | |
Charger Specific
Battery Type

Ni-Mh

Li-Po

Li-Fe

Ni-cd

LiHV

Pb

Li-Ion
Size guide
MAKE SURE YOU USE THE CORRECT CHARGER TYPE FOR THE CORRECT BATTERY
NiMh battery should only be charged with NiMh compatible battery chargers.
LiPo battery should only be charged with LiPo compatible chargers.
Always read all supplied instruction manuals on how to safely use your charging device.
Airsoft Battery should only be charged with the chargers as they are specifically designed to work with the specific voltages required by the battery.
Different battery types have different chemical configurations, and require certain chargers to charge them. Charging a battery with the wrong charger can cause damage to the battery and charger, and can cause fires and further damage. Please ensure that before charging you double check that you are using the correct charger.
If your charger supports multiple battery types always ensure that it is on the correct settings before starting the charge.
If you are unsure of what battery or charger you have please get in touch with us via the Contact Us Page.
---
Using a LiPo?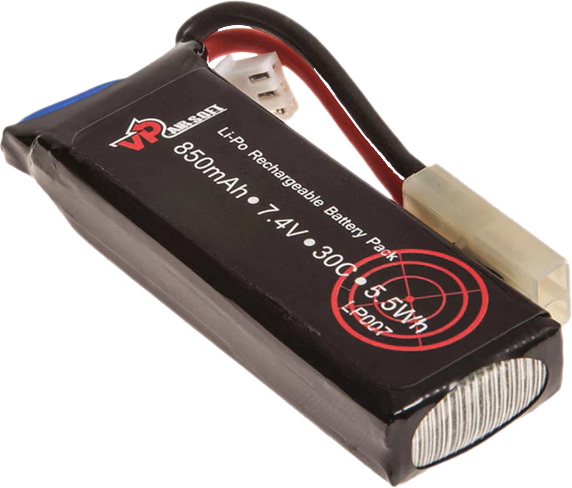 If you're using a Li-Po battery only use a Li-Po charger!
Failure to do so can cause damage to the battery and charger!
Using a NiMh?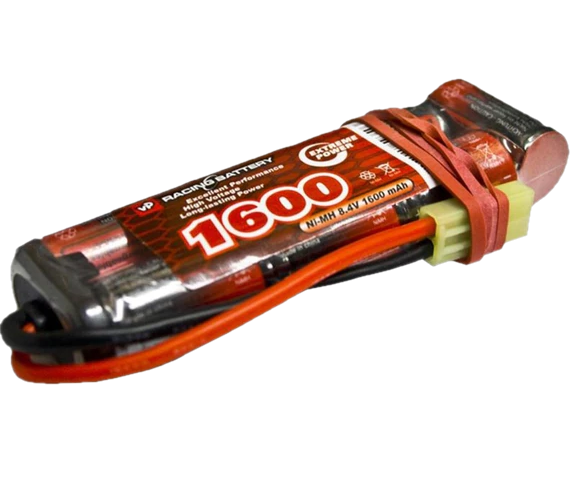 If you're using a Ni-Mh battery only use a Ni-Mh charger!
Failure to do so can cause damage to the battery and charger!
Need something to charge your LiPo?