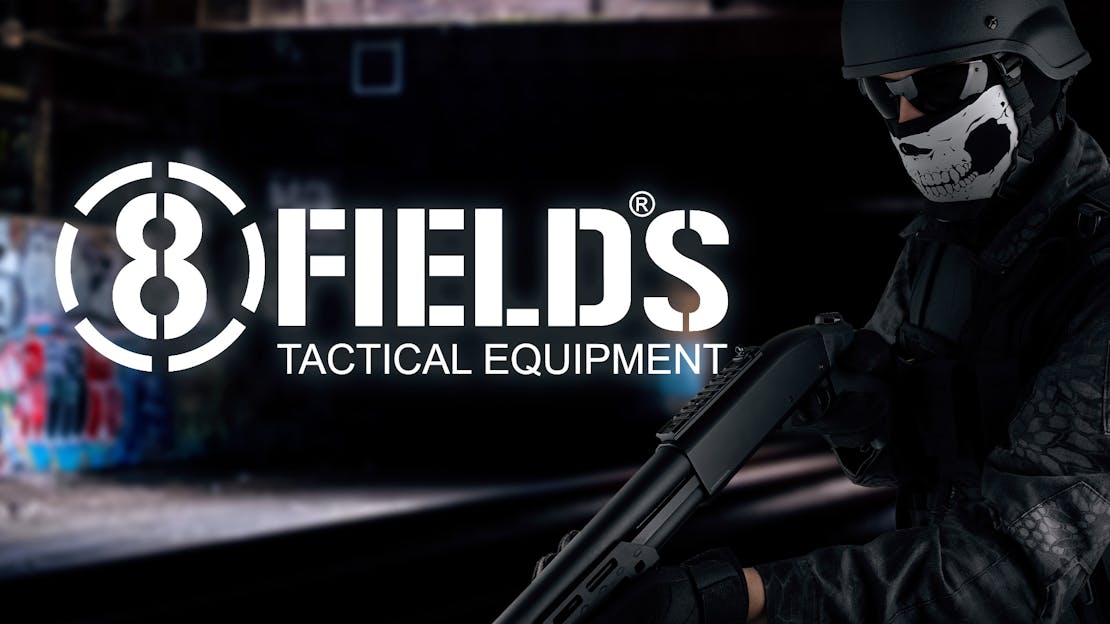 Airsoft Brands: Who is 8-Fields Tactical?
About 8-Fields Tactical
8-Fields Tactical provide a wide range of replica tactical gear, clothing, backpacks and accessories primarily aimed at Airsoft skirmishing, film making and Live Action Role Play (LARP). 8-Fields kit is widely known as having one of the best combinations of affordability and quality and has become incredibly popular with casual skirmishers and Milsim skirmishers alike, allowing Airsofters to dress to impress for a hither-to unheard-of price.
Under the 8Fields brand name you will find replicas of some of the most cutting-edge real steel kit out there, from the lightweight and agile JPC special forces style plate carrier to more substantial body armour vests with more coverage, and even lightweight sniper style micro chest rigs and belt rigs.
Country of Origin
8-Fields Tactical was founded in Poland, and this is the current location of their showroom. 8-Fields equipment is manufactured in China from designs specified by experienced individuals who are in the know about what Airsofters want, and it shows in what 8-Fields produces!
Speciality
8-Fields specialises in tactical gear, with their main emphasis being on load-bearing equipment such as plate carriers, chest rigs and assault vests. 8-Fields also manufacture gun bags, combat uniforms and PVC morale patches, and has recently expanded into Airsoft LiPo batteries.
Most 8-Fields equipment is heavily based on real-world tactical gear designs, meaning you can enjoy the realistic looks and effectiveness of well-designed kit without paying the premium price real tactical gear commands. Never before has looking like a real operator been so affordable!
Range of Products
When it comes to tactical gear, 8-Fields has practically everything covered, from Kydex and fabric holsters for your sidearms to replica combat helmets, plate carriers and a wide range of both MOLLE pouches and "buckle-up" front panels.
8-Fields Tactical Plate carriers
8-Fields' range of plate carriers offers both protection from close-range fire and loadbearing capacity depending on which you choose. Options range from low-profile body armour vests to fully-fledged plate carriers with dummy ballistic plates, and MOLLE webbing so you can attach your choice of pouches.
8-Fields Tactical Chest Rigs
For those who like to run fast and light, 8-Fields also offers a range of chest rigs to suit practically any playstyle and operations of any duration. From lightweight and simple chest rigs for CQB skirmishes or use by Snipers to recon rigs which can carry a full complement of magazines for full-day firefights and everything in between!
8-Fields Tactical "Buckle-up" Range
The "Buckle-up" range offers unrivalled flexibility, allowing you to change load-outs and primary weapons in a flash. Buckle up panels have a velcro backing and polymer buckles on either side, allowing you to switch rigs mid-game, or switch primary weapons when you fancy a change, all without messing around with MOLLE!
Buckle-up allows you to use a plate carrier for close-range skirmishes, and to switch your front magazine panel onto a chest rig for outdoors skirmishing where protection is less important, and mobility is a priority.
8-Fields Tactical Backpacks and Gun Bags
Not being content with just equipping you for battle, 8-Fields also offer a range of backpacks and gun bags so you can safely transport your Airsoft gear to the skirmish site, and store it discreetly around the home. 8-Fields gun bags are available in a wide variety of colours and sizes, with something to suit any gun and gear combination.
8-Fields backpacks, such as the 40L Sniper Carry Pack pictured above can also be used for camping and hiking, so if your outdoorsman-ship extends beyond just Airsofting, an 8-Fields backpack can do double duty!
8-Fields Tactical Accessories
Whether it is a morale patch to personalise your kit, or a sling to keep your primary weapon under control, the 8-Fields accessory range has you covered, whatever the objective. Offering both single and two-point slings in a variety of configurations, and even shotgun back scabbards, the 8-Fields accessory range has something to suit practically any play style.
8-Fields Tactical MOLLE Pouches
What use is a rig without pouches? While many 8-Fields Tactical MOLLE rigs come with pouches pre-installed, they also offer a variety of extra pouches which can be mounted to any MOLLE surface, including those on tactical vests and backpacks. MOLLE allows you to configure your rig exactly the way you want it, placing the pouches where you find them easiest to reach under pressure, and building out your rig to suit your mission objectives.
---
So, now you are up to date on 8-Fields Tactical. Hopefully, this article has equipped you to equip yourself with exactly what you need to dominate the battlefield! If you are ready to check out some 8-Fields kit, click the button below!

8Fields Tactical Combat Gear
Multiple carry handles
Designed to carry one large and one medium size gun
Two side zipped pockets
This 8Fields gun bag is designed to accommodate one full size Airsoft rifle, and one smaller SMG type gun in the smaller compartment, and space for tools and accessories in the two side sections. With its 1000D Polyester construction and water proofing, this is the perfect case for those with multiple AEGs looking for a robust case to transport them.
Buckle-up compatible
Compact, low profile rig
Room for 6 M4 mags, 4 Pistol mags
Whether you are a sniper, stalking the woodlands, or you prefer to bomb it around a CQB sight in your Dye mask, a compact chest rig is a must have to increase your mobility on the field. The Patrol Chest Rig from 8 Fields Tactical provides a lightweight, compact rig which can be worn with its included shoulder harness or attached to a buckle-up plate carrier, providing room for up to 6 M4/AR15 magazines and 4 pistol magazines!