Advanced Replica
GATE TITAN Inside
Aluminium/Zinc/Steel
A seriously tough replica of the traditional M4A1 platform which offers amazing build quality, coupled with the legendary GATE TITAN MOSFET inside for total control over your replica like never before.
Fast Delivery
Here at Patrol Base we ship all around world, with delivery not only to the UK, but to most of the EU and select Worldwide locations as well. We provide a working day by road service via our handpicked courier services, simply buy your Airsoft guns with us and we'll have them delivered directly to your door.
For more information and to see the country we deliver please check out our Delivery Information Page.
Below are some rough postage prices for orders. Please note these are subject to change, and are only a rough guide. For more accurate postage estimate please use the Postage Calculator at the basket.
UK Standard
£4.95
Approx.
UK Next Day
£6.95
Approx.
Highlands / Islands
£12.99*
Approx.
* Please note that Scottish Highlands, Islands and EU post prices can vary wildly. Prices range from £8.99, up to £29.99, so please ensure you refer to the Postage Calculator at the basket for the lowest possible price.
---
We want you to be absolutely happy with our products and services, so we provide the simple Patrol Base guarantee: if on receiving your item you are unhappy with your item for any reason then simply send it back to us. We will replace or refund the item.
You can return any item for any reason whatsoever, even if you have just changed your mind, within 14 days of receipt of the order. This is in addition to your rights under the Consumer Protection (Distance Selling) Regulations 2000.
For more information on returning products, and how to do it please visit our Returns Policy Page.
Description
The Edge series are the top tier of AEGs from Specna Arms. They make use of the Orion upgraded gearbox with an ESA quick change spring system and come fitted with a Gate TITAN Advanced unit straight from the factory, giving the gun top of the line performance, along with remarkable external fit and finish thanks to the licensed River Rock Arms Receiver.
The Gate TITAN unit fitted to the Edge series is the premier trigger unit available today. It has no mechanical sensors, and relies on optical gates to identify a number of parameters, such as trigger position, sector gear position. Using this information the TITAN unit can work out exactly how far through the gearbox cycle it is and determine exactly what the gearbox is doing. This gives TITAN users access to features such as pre-cocking, allowing the TITAN to provide lightening fast trigger response, even on low power or mostly drained batteries. The kit also detects whether the gearbox has completed a complete cycle and get work out if there are any faults for every shot fired. This is a fantastic bit of in-built gearbox protection, where the TITAN will shut down if an error is detected, protecting both the TITAN unit and the mechanical components inside the gearbox too. Thanks to 5 trigger sensors, you can choose an exact point where your trigger activates, giving fine control over your shot release. This also allows you to set up a 2 stage trigger, similar to an AUG, but in an AR platform. The TITAN also has features, such as an adjustable sniper delay, preventing a follow up shot within a set time period between .5 and 3 seconds. Thanks to all of this technology the TITAN removes finicky trigger contacts and allows all of this adjustability from you PC, tablet, laptop or Android device, meaning even on-site fiddling is possible.
The externals are made from a mix of Aluminium and Zinc Alloy which undergo a rigorous course of Sand Blasting, Powder Coating and then Anodising to achieve a world-class finish on their metal-work. This finish is then protected by a 'Nano Coating' finish that reduces scratches. The external trim parts of the rifle such as structural screws and supports are made from Steel to ensure a long-life performance. The Polymers used throughout are an exceptional quality and feel really good in the hands, the Pistol Grip being textured to promote grip in all conditions. The pistol grip has a neat design which allows you quick access to the motor without the need for tools.
At the muzzle end of the replica, the flash hider can be screwed off to reveal a 14mm CCW thread underneath. This lets you attach Suppressors, Tracer Units, Muzzle Brakes or any compatible muzzle device to further enhance the looks or performance of your AEG. The top of the receiver features a 20mm rail which is ready to take any RIS compatible sights or scopes once the carry handle is removed. Adaptor rails are available to mount an optic on the carry handle as a throwback to the days of old. The six position sliding stock at the rear is where the battery is housed, and connects to a Deans connector, and you will also notice an ambidextrous sling plate for left and right handed sling users.
The quality continues internally with a wealth of parts which would be considered an 'upgrade' on any other AEG. A rotary HOP unit gives you fine and precise control over flight path, and being coupled with a precision 6.03mm barrel makes for a very pleasant firing experience. The 'ORION Gearbox' featured inside has a reinforced frame to handle high power springs and is designed around their quick change spring system. Other perks of the ORION Gearbox are: Reinforced Polymer Piston with Steel rack, Aluminium sealed Nozzle, Aluminium double sealed Cylinder Head, Aluminium double sealed Piston Head w/ bearings, Steel Gears and 8mm Bearings. All of this comes together to seal the perfect package for those who want the best of external and internal quality.
Included in the box are two mid-cap 125rnd magazines of P-Mag design, which has tiny Specna Arms logos used as a stippling pattern which looks absolutely fantastic! Also included is a Mini Tamiya to Deans adaptor, ID lanyard, an instruction manual and a certificate of testing from the manufacturer.
Features:
Part of the Specna Arms Edge Series
Branded by Rock River Arms, and built based on their designs
Electric battery powered Airsoft AEG
Safe, semi, and fully automatic fire modes
Pre-upgraded with a MOSFET and updated Gearbox
Pre-installed Specna Arms ORION Gearbox
Legendary GATE TITAN MOSFET installed
Two 125rnd mid-cap spring fed 'S-MAG' magazines included in the box
Unique serial number for each replica
Rotary Hop-Up chamber for improved range and accuracy
Easy to adjust Hop-Up unit thanks to the rotary adjustment wheel
Upgrade 6.03mm Inner Barrel for improved accuracy over standard barrel
QD Pistol Grip design
Removable birdcage flash hider
Removable carry handle
14mm CCW threaded outer barrel
20mm RIS / RAS railed receiver for sight and scope setups
Classic A1 style Polymer handguard
Integrated & adjustable iron sights
Flat trigger guard
Six position adjustable crane stock
Battery stored in the weapons stock
QD sling loop points on the stock
Rubberised butt plate to prevent slippage
ESA™ quick change spring system
Rear ambidextrous sling plate for single point sling setups
Sand Blasted, Powder Coated, Anodised and Nano Coated
Rear wired V2 Orion upgraded gearbox
Reinforced piston with full steel teeth
Aluminium seal nozzle
Aluminium double seal cylinder head
Aluminium double seal piston head
Spring guide with bearing
Steel gears for performance and reliability
8mm ball bearing
Quick change spring system
Mock charging handle which reveals the hop-up unit
Mock forward assist
Branded:

'Rock River Arms'
'COLONA, IL'
'CAL. 5.56MM'
'LAR-15'
'P1TR0LB5E'
'AIRSOFT REPLICA'
'LICENSED TRADEMARKS'
'OF ROCK RIVER ARMS'
'SPECNA ARMS INDUSTRIES'
Package Includes:
Rock River Arms SA-E01 EDGE - TITAN Custom
2 x 125rnd Mid Cap Magazines
Instruction Manual
Testing Certificate
ID Lanyard
Special Instructions:
The externals of the replica are metal where they would be on the real world gun. This includes things like the outer barrel, handguard, and receiver. If a real world gun has polymer parts then the gun will still be marked as full metal externals, examples of this would be an M4, where the Stock and Pistol grip are always made from Polymer.
Specification
General
Weapon Type

Over 18

Defence / UKARA Required

FPS (Feet Per Second), using 0.20g BB

Approx. 310fps ± 10%, using 0.20g BB

Site Legal, using 0.20g BB

Included Items

Instruction Manual

Magazine x 2

Stickers

Titan Kit - Connector

User Skill Level
Weight and Dimension
| | |
| --- | --- |
| Weight (KG) | |
| Length (Collapsed) | |
| Length (Extended) | |
Construction
| | |
| --- | --- |
| Primary Colour | |
| Secondary Colour | |
| Construction | Zinc/Aluminium Alloy, Steel & Polymer |
| External Construction | |
| Internal Construction | |
Weapon Specific
Powered By

Blowback

Weapon Platform

AR Platform

,

M4 / AR15 / M16

,

Magazine Style

Fire Selector

Safe

Semi Automatic

Full Automatic

Safety Features

Shooter Configuration

Weapon Configuration

Weapon Scale

Suggested BB Weight
Hop-Up
| | |
| --- | --- |
| Hop-Up Unit | |
| Hop-Up Adjuster | |
| Hop-Up Location | Adjustable behind dust cover |
Furniture
Furniture

Railed Receiver

Sliding Stock

Threaded Outer Barrel

Rail System

Stock Setting

Stock Positions

Sight Type

Sling Options

Buffer Plate

,

Stock

,

Handguard

,
Barrel
| | |
| --- | --- |
| Outer Barrel Thread Type | |
| Outer Barrel Thread Direction | |
| Outer Barrel Thread Size | |
| Inner Barrel Diameter | |
Magazine Specific
| | |
| --- | --- |
| Magazine Type | |
| Magazine BB Capacity | |
| Magazine BB Fill Method | |
| Magazine BB Fill Location | |
Electric Gun Specific Information
Gearbox
| | |
| --- | --- |
| Gearbox Version | |
| Gearbox Wiring | |
| Gearbox Quick Change Spring | |
Battery Specific
| | |
| --- | --- |
| Battery Connector | |
Suggested Battery
| | |
| --- | --- |
| Suggested Battery Type | |
| Suggested Battery Configuration | |
| Suggested Battery Voltage | |
Product Testing Data
| | |
| --- | --- |
| Test Description | |
| Tested Using | |
| Test Date | |
Detailed Power Tests
FPS
| | |
| --- | --- |
| FPS, using 0.20g BB | Approx. 310fps, using 0.20g BB |
Further Information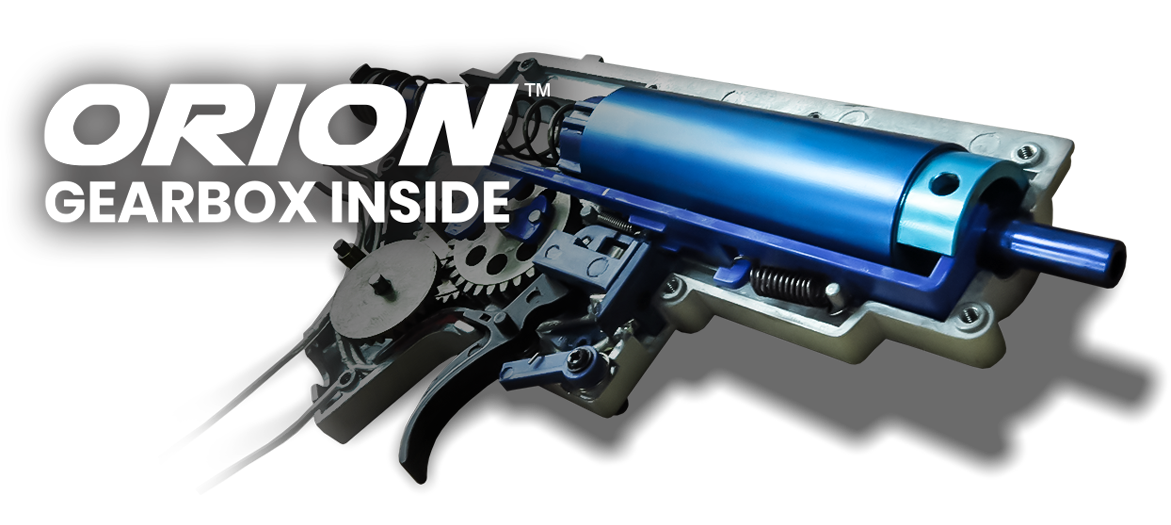 Pre-upgraded right out of the box to meet the highest of standards set by modern Airsoft Skirmishers. Featuring a reinforced design made possible by high quality Aluminium and Steel internal parts for optimum performance. With a pre-upgraded Piston, Nozzle, Cylinder Head, Spring Guide and Gears.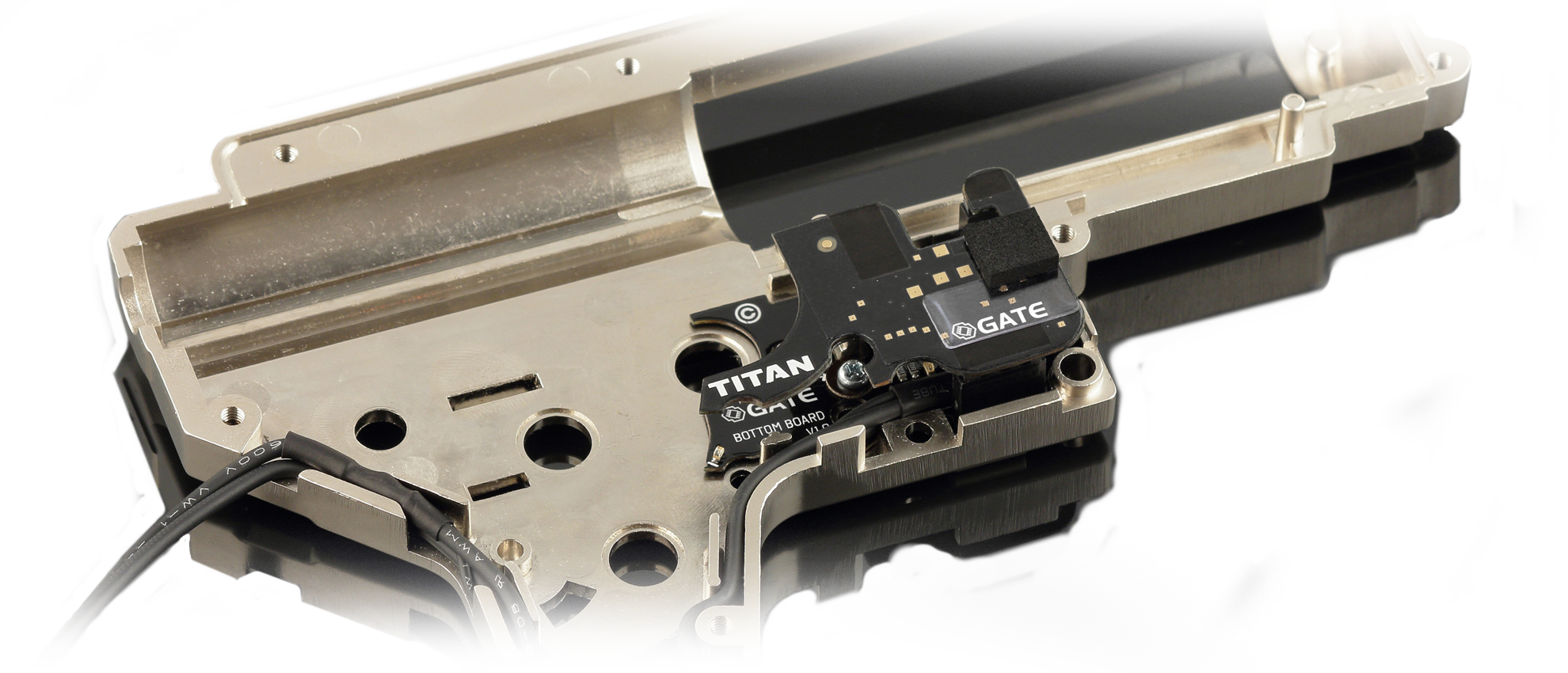 GATE TITAN technology inside; giving you complete control over Rate of Fire, Pre-cocking, Trigger sensitivity & delay, as well as protecting your electrical components and requiring very little power to operate. This is the MOSFET for those who can't stop tinkering with their AEG.
---
Need ideas for something extra?
Like this Airsoft Gun? Check out these awesome Products!