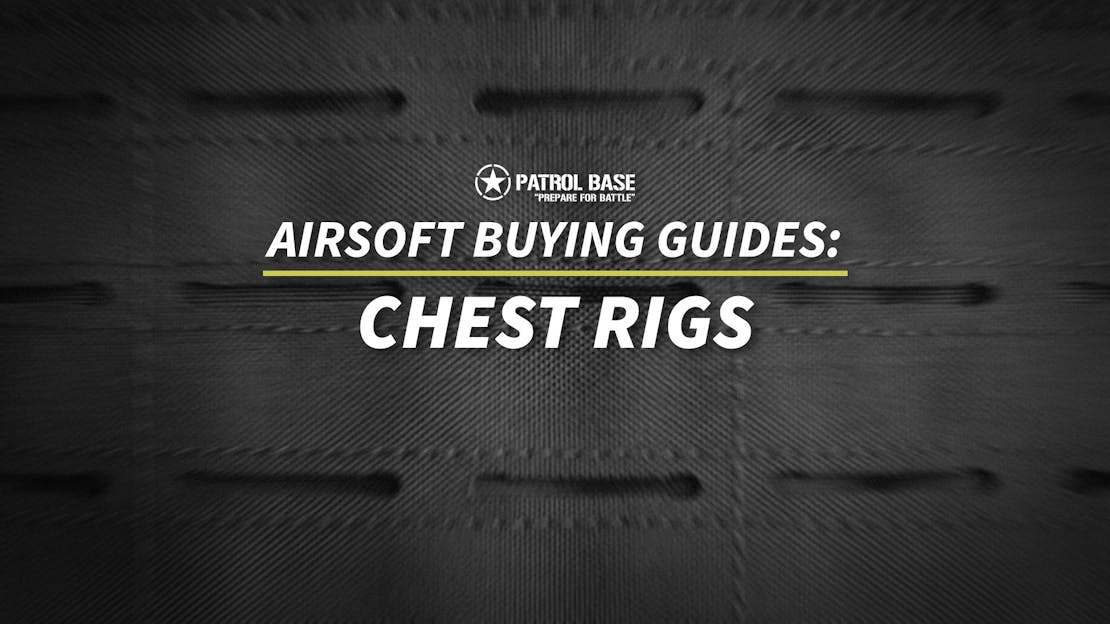 Buying guide: Assault vests, Chest rigs, and Plate carriers
We will begin by outlining the different types of Airsoft Rig and their features. Different rigs suit different roles and different skirmishers. Make sure you make an informed choice that enables you to kick rears and take names, and look damn good whilst doing it!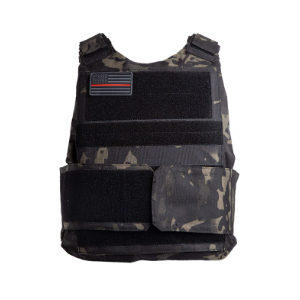 A simple vest, often featuring velcro on the outside for patches and pockets for soft armour and plates. These rigs are not load-bearing equipment alone but are usually worn with a belt, chest rig or assault vest. The utility of these vests in airsoft is to provide a little bit of extra protection against bb hits, particularly on the lower torso, as plate carriers rarely protect this area as they are optimised for protecting vital organs. These are great for a PMC look, Punishing man or a Law enforcement style loadout. Body armour vests, such as the 8Fields PT Body Armour are also useful to keep the skirmisher warm in winter whilst keeping the loadout looking tacticool.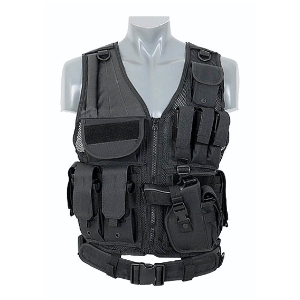 Worn across the body and generally providing coverage similar to a waistcoat, the assault vest is the classic rig present in all those top-tier 90s action movies, often worn by US SWAT and FBI HRT at the time. This style of vest is issued by the british army, in the form of a fully MOLLE compatible Assault vest which is capable of being worn over an Osprey body armour. These are great if you want a rig that covers more of your torso to take the sting out of those close-range hits, as plate carriers tend to leave the belly exposed and hits there are not pleasant. A good example of a classic assault vest is the 8Fields Tactical Assault vest with holster. This represents great value for money as it comes equipped with mag pouches and a cross-draw holster, provides good coverage against hits and is also light weight and thin, allowing you to use maximum effort whilst staying cool.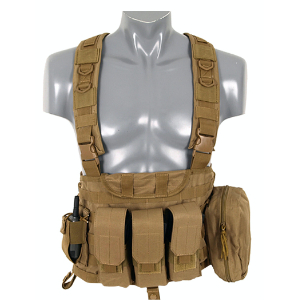 This is the general term for the type of rig worn on the upper chest. These are usually small and lightweight compared to plate carriers and are designed with CQB, recon and other light infantry roles in mind. They are easy to run in and are an excellent magazine carriage solution, especially when operating from the prone position. They can also be worn in conjunction with other rigs, such as webbing/belts and plate carriers, offering an additional rig you can throw on to supplement the equipment on your belt/webbing. A great example of a chest rig design is the 8Fields Tactical Fully Loaded Recon Lightweight Chest Harness which uses the MOLLE attachment system to mount its pouches and can be configured for recon or direct action with its extended chest panel.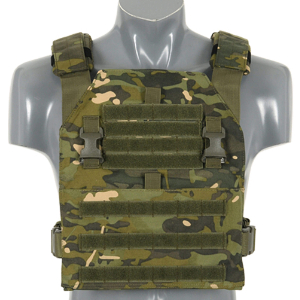 A plate carrier is a rig that is designed primarily to hold armour plates, be they SAPI type or others. These rigs are much larger and heavier than the average chest rig, even without dummy or real plates inside. For Airsoft purposes these rigs offer the advantage of protection from BBs and additional MOLLE space, not to mention that they look cool as all hell. If you want your Airsoft loadout to give off a special forces or COD vibe, this is the rig you will need. There are dummy plates available that are hollow, meaning your plate carrier doesn't have to be too heavy, and these offer the advantage of protecting you from close range pain whilst still allowing you to hear the BB impact, and as such call your hit. Whilst carriers without a pouch attachment system are available for specific loadouts (under a chest rig), most plate carriers come covered with MOLLE loops, allowing it to double as protection and load-bearing equipment. Plate carriers tend to cover only the vital organs, meaning you do have a decent level of protection when airsofting but it generally won't cover much of the stomach area. A good plate carrier to start off with is the NUPROL RTG tactical vest. It comes with plenty of pouches included and being equipped with the MOLLE system it is modular enough to adapt to any changes in playstyle you may make in the future.
---
POUCH CONFIGURATION

This type of rig is what you will often find at an army surplus store. The pouches are fixed in position and usually consist of several magazine pouches and one or two utility pouches and an admin pocket, depending on the size of the rig. Many new players immediately go for the more advanced and cool looking MOLLE setups, which is fine as they do look ultra-cool and are much more fitting for a modern loadout. The traditional rig is not without its advantages though, with the fixed pouches reducing the number of possible failure points, and whilst they take away from the flexibility of the set up they also provide optimally set up pouches out of the box, meaning you will have the most all-around efficient set up without having to mess around testing out different configurations. These are great for pre-2005 Milsim setups, post-apocalypse setups and mercenary loadouts. The inclusion of fixed pouches also means you won't have to spend any extra money on pouches on top of the cost of the vest!



The MOLLE system of rigs and pouches are ubiquitous. Used by practically every 1st world military and special forces unit, MOLLE is the equivalent of RIS Picatinny rails but for rigs. The use of a MOLLE rig offers some serious flexibility in how you mount your pouches and allowing you to use any MOLLE compatible pouch. There are literally hundreds of pouches available paving the way for an infinite number of unique configurations. The advantages of the MOLLE system are obvious, enabling the operator to mission-configure a single rig for any role or weapon system combination. This not only allows you to carry what you want (there will be a MOLLE pouch for it) but it saves you having a wardrobe full of different webbing, chest rigs and armour for when you decide to play a different role. MOLLE utilises straps with snap-buttons, known as 'hooks' on the rear of the pouches, which interlock with the loops on the rig, threading through and providing a solid connection between rig and pouch. MOLLE loops can be found in two forms: the original loop, and the more modern laser cut negative space attachment variant. The latter of which follows the theory of M-LOK and Keymod, by using laser-cut holes in the carriers material, rather than adding loops, which serves to reduce the weight and production cost of the rig.


A more recent innovation, BUCKLE-UP is a way in which manufacturers have added additional modularity to your skirmish set-up. The idea behind BUCKLE-UP systems is to provide a magazine carrier rig that can easily be exchanged for another rig for a different weapon loadout. Some Buckle-up rigs can often be worn either clipped to a plate carrier or alone, depending on the mission profile and necessity of wearing armour. This is not a new concept, many SF units have been using carriers with simple chest rigs thrown over the top for decades. The convenience of this being designed into one modular LBE and armour system is where BUCKLE-UP takes a leap into the future. The main advantage of BUCKLE up over the old methods is that you don't have to wrestle with tangled straps going over your carrier, you can now just clip the magazine rig to the front of your plate carrier with 4 fastex clips.
---
RIG CHOICE AND PLAY STYLE

When choosing a rig it is often more important to consider your play style and environment than just what you like the look of. If you play in a role that could see you using certain shooting positions more than others it is worth carefully thinking about the actions you will be required to perform whilst wearing your rig and how you will access your equipment from the shooting positions you are most likely to use. A good example is if you often find yourself crawling or shooting from a prone position. In this case, it is wise to make sure that the kit you may need is accessible from a prone position and that nothing gets in the way when crawling. A plate carrier with pouches mounted on the stomach area is not the best choice for this, as you will have to at minimum rotate your body to access your spare magazines. In this instance a chest rig combined with a belt would be the ideal set-up, giving you access to your magazines with as little movement as possible from a prone position. A larger plate carrier can also be set up well for this style, with pouches mounted to the sides of the cummerbund leaving the centre free. If you play CQB and are mostly shooting from standing or kneeling a belt and/or plate carrier would work great, allowing you to be mobile in the ways you need with the added protection of a carrier should you need. Also worth considering is your own bodies ability to regulate heat, how much you intend to run and how much you intend to get shot. For example, if it is a particularly hot day and you don't do so well in the heat I would not recommend using a filled plate carrier or body armour of any sort as you will warm up very quickly. If you play in somewhat of a juggernaut style, you will probably want a large plate carrier so taking those hits is a little less painful. If you are a highly mobile player or a bit of a sniper, you will probably want to stick to belt kits and small chest rigs to avoid anything getting in the way and inhibiting your gazelle-like movement.
And there you have it! All you should need to make an informed choice when choosing and setting up your loadbearing equipment for Airsoft Skirmishing. Keep an eye out for future articles on pouches, holsters, belts and other tactical gear for the whole picture, but this should get you into a game and performing your best with your chosen equipment!
Assault vests, Chest rigs and Plate Carriers
MOLLE Webbing
Mock Polymer Plates
Triple Button Magazine Panel
A Heavy Duty Plate Carrier System designed to protect the wearer whilst maintaining efficiency and maximising accessibility. The vest is constructed from 600D Polyester and features Mock Ballistic Plate Inserts, MOLLE webbing and Hook & Loop admin space.