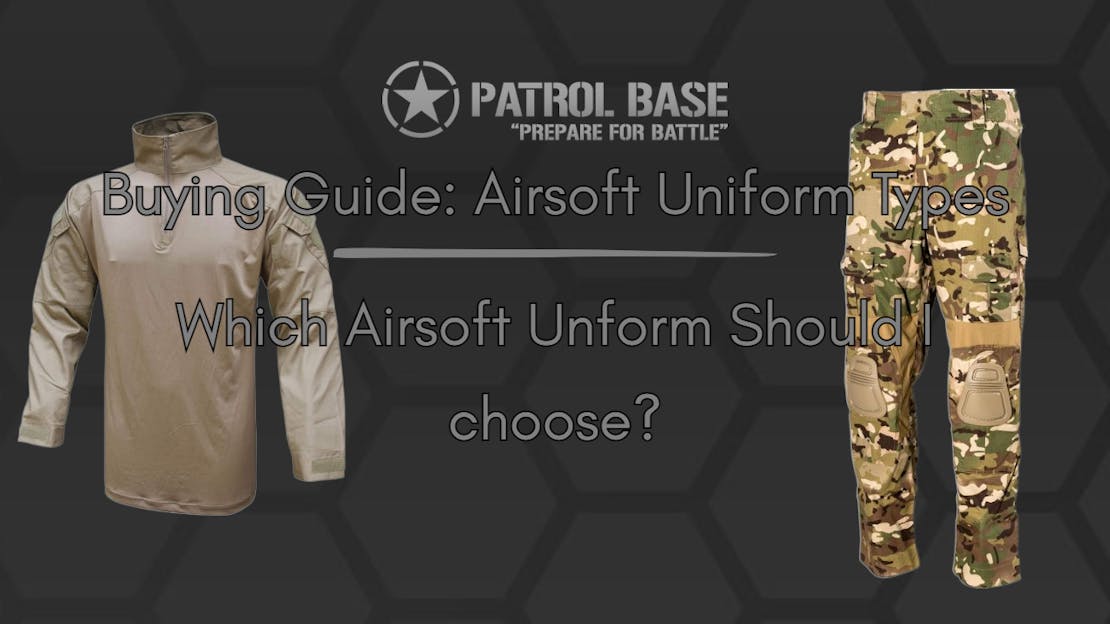 Buying Guide: Airsoft Uniform Types - Which Airsoft Uniform should I choose?
Airsoft Uniform Types
Field Shirt/Solider 95 Shirt/BDU Shirt
The Field Shirt is your basic combat shirt, designed to be worn either with webbing, a chest rig, or without any load bearing gear. The Field shirt usually incorporates large cargo pockets, and often breast pockets too, which can be used to store your skirmish spares such as magazines if you do not have any load baring equipment. Field shirts are not as popular as they once were, due to falling out of use with Western Militaries as they transitioned to larger body armour with more coverage and UBACS style shirts. The field shirt is still very useful for Airsofting, and can provide a lightweight but comfortable garment for those who don't wear a plate carrier and instead run a minimalist loadout, or opt for a low profile chest rig or belt kit over bulkier solutions. If you are looking for a Field shirt, the best place to look is your local Army surplus supplier, they will likely have plenty in various different camouflage patterns of many different nations militaries.
---
Soldier 95 Trousers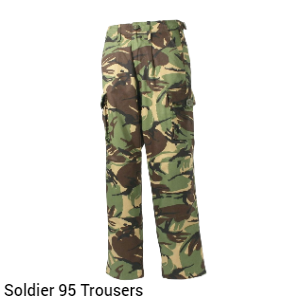 Issued to the British Army until very recently, Soldier 95 trousers are available as military surplus or in reproduction form. Soldier 95 trousers feature large cargo pockets on the thighs with Canadian button closure, an adjustable waist and high quality zip fly. Soldier 95 trousers are well loved by Airsofters, and whilst they may not have the most modern, operator look they are one of the best trousers out there for fast drying, light weight and comfort. Soldier 95 trousers are available in Disruptive Pattern Material (DPM), which is without a doubt the most effective camoflage pattern for UK woodland (it was designed with that in mind!) and Desert DPM.
---
MoD Police Trousers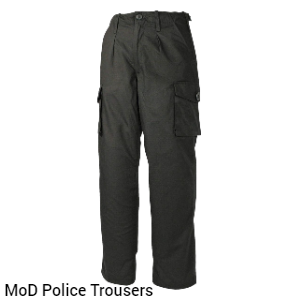 Similar trousers are available in black, worn by the MoD Police. These trousers are a which are are a modified Soldier 95 cut, with reinforcements and a baton pocket. The cargo pockets on the MoD Police pattern have been reduced in size, to allow for drop leg holsters to be worn comfortably. Being very available, good quality and robust, Soldier 95 Trousers are one of the best options for someone new to the sport looking for something cheap that they can use exclusively for Airsoft skirmishing.

---
MIL-COM Heavy Duty Combat Trousers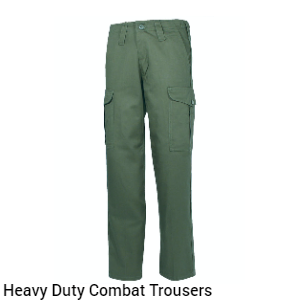 The Heavy Duty Combat Trousers from MIL-COM are a similar design to the Soldier 95 cut trousers. Made from durable Ripstop cotton, these trousers are ideal for both Airsoft Skirmishing and outdoor persuits. Due to their discrete look, these trousers can also double as trousers for work or everyday wear, and being available in black and olive green, can suit a wide variety of loadouts on the Skirmish field. The Heavy Duty Combat Trousers are also very competitively priced, so if you are new to the sport and looking for cost-effective kit and don't fancy DPM pattern trousers, these could be just the trick!

---
UBACS
The UBACS, also known as the Under Body Armour Combat Shirt gives away its role in its name. These shirts combine ripstop arms, shoulders and collar with a sweat wicking material for the torso, to facilitate more comfort when wearing body armour. The only pockets present on these garments are generally bladed arm pockets, used for small items such as pens, glow sticks and hypodermics.
The UBACS is the perfect shirt for a body armour user, and makes wearing a large vest with plates(fake or otherwise) much more comfortable. This comes at a price, however, as if you do not wear body armour you will probably find a UBACS to be a bit cold to wear outside, being thinner and cooler than a t-shirt, and it does nothing to take the sting out of those torso hits.
---
ACU Cut Shirt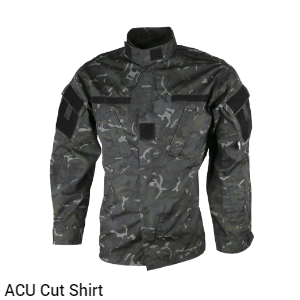 ACU cut combat shirts were designed in the years prior to the arrival of the UBACS, and are cut to allow more comfortable wearing of body armour. The ACU (Army Combat Uniform) cut replaced the BDU (Battle Dress Uniform) cut in the early 2000s and feature several improvements which bring the field shirt into the 21st century. ACU cut combat shirts have the cargo pockets raised and mounted on the chest at an angle, to allow access to the pockets even when a vest is worn on top. ACU cut shirts have fallen out of fashion due to the advent of the UBACS, and its prevalence in the middle eastern conflicts of the last two decades which required an improved ability to dissipate heat. The ACU cut shirt is still a good choice for UK weather conditions if you are skirmishing outdoors, or as a thicker and more protective alternative to a UBACS if you use a chest rig or belt kit.
ACU Cut Trousers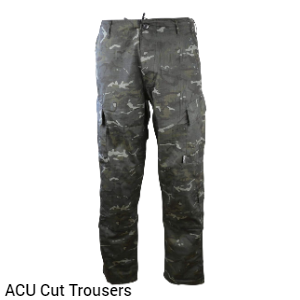 ACU cut trousers are a modern design, dating from the same era as the shirt of the same cut. These trousers feature angled cargo pockets, reinforcements in the knees and crotch, and widened belt loops for heavier duty belts. ACU trousers also feature angled calve pockets for medical supplies (or mid skirmish snacks!), velcro pockets for knee pads which will fit many brands of household knee pads designed for workwear as well as custom cut inserts. Whilst the shirt of the same cut has largely been replaced by the UBACS for combat use, the trousers of this cut are still going strong and are standard issue to the US Army, now being issued in Multicam rather than the original UCP camouflage. ACU trousers for Airsoft are available in many different patterns and brands, and if you have seen some enhanced combat trousers out there they are most likely based on the ACU Cut design.
---
Highlander Delta Trousers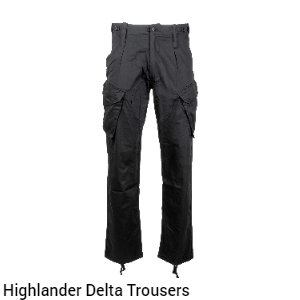 The Highlander Delta Trousers are an enhanced trouser similar to ACU cut with additional reinforcement at the crotch, and even wider belt loops for use with larger belts, including webbing belts. The Delta trousers feature many enhancements found in Solider 95 uniforms, such as Canadian buttons and an adjustable waist. The Delta trousers also have raised and angled cargo pockets which are lifted above the knees, preventing them from getting in the way when the wearer is running with full pockets. The knee pad pouches in these trousers have been omitted, allowing for standard knee pads to be more effectively used. These trousers are equally at home on the Airsoft skirmish field as they are on a hike or pottering around the shops, and have a discrete look which means you won't stand out a mile going shopping in these. Perfect double duty trousers!
---
CP Gen.1/Gen.2/Gen.3 Trousers
CP generation 1 trousers were amongst the first combat trousers designed to incorporate integrated knee pads into the design. Whilst this cut of trousers has been altered and optimised in subsequent generations, the Generation 1 trousers are still common amongst Airsoft manufacturers. These trousers feature angled cargo pockets which serve as excellent dump pouches, small thigh pockets for admin related items and knee pads pockets, allowing proprietary knee pads to be installed. The CP style of trousers also has pockets on the calves, used for medical supplies but equally at home containing snacks or other small items.
Generation 2 of the same cut of trouser introduces stretch material above the knees, at the crotch and at the lower back, ensuring a good fit and minimising the chances of a tear or rip when moving dynamically. These trousers are also known as "AC" cut, or "Army Custom" cut. This allows more movement than you would think is possible whilst wearing full length trousers, and is a significant improvement over the previous generation.
Generation 3 features a revised knee pad design, allowing the pads to be placed directly on the knee rather than below, providing a more reliable pad that won't slip out of place at the wrong time. There are also minor alterations to the cut, including a revised waist adjustment method and bungee cord tightening on the trousers amply sized cargo pockets. The knee pads on the Gen.3 cut can also be raised and lowered, guaranteeing a good fit regardless of your bodies dimensions.
CP style trousers, and others with integrated knee pads can be a godsend in an Airsoft skirmish, as nothing hurts quite as much as kneeling on a BB or thorn! These trousers are fantastic for both CQB and woodland, though it is worth noting that with the integral knee pads you will not be able to do any cool stunts like knee slides, and they won't be quite as effective in the situation where you drop to your knees quickly with all your weight; this will likely still hurt a bit unless you are wearing separate knee pads with thick padding.
---
The variety in combat uniforms available for Airsoft Skirmishing doesn't end here, with the options being almost endless when you consider Military surplus kit. This guide should give you an idea of what kind of uniform suits your environment and will function with your chosen load bearing equipment, and hopefully will help you make some well informed purchasing decisions and avoid buying twice!
Airsoft Uniforms and Clothing
Unique MAPA Camo
RIP-STOP Construction
50% Cotton & 50% Polyester
A Heavy duty combat shirt constructed from 50% Cotton, 50% Polyester with a RIPSTOP weave, this shirt will see you through whatever mission you're set out on, be it a 3 day mountain hike or a fast paced Airsoft Skirmish, you can rest assured this shirt will provide you with comfort and convenience.
Stretchy Material
Rip-Stop Polycotton
Removable Knee Pads
A pair of tough, comfortable trousers made from a rip-stop material which has all the same features of a very popular real-world set, at a fraction of the price.