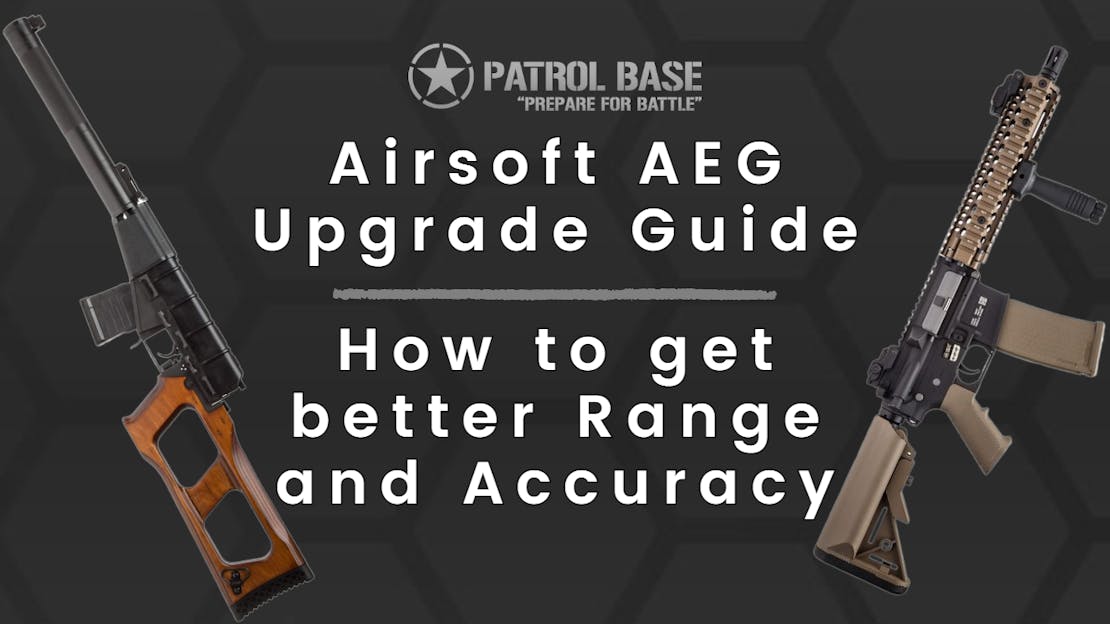 Airsoft AEG Upgrade Guide : How to get better range and accuracy
Improving range and accuracy - AEG Upgrades
If it is more range and accuracy you seek from your Airsoft AEG, this guide will give you the low-down on what parts you will need to give your electric Airsoft gun a boost in range. The wealth of AEG internal upgrades available to the modern Airsofter can leave newer players unsure of the best combination of parts to get the effect they need. This guide will discuss the parts of the AEG system you will need to pay attention to in order to improve your accuracy and range and outline our favourite aftermarket parts with which we have had great results.
---
HOP-up Bucking and Nub - Help your AEG shoot straight and true!
Some of the key components to increase accuracy, if not THE key components in the AEG internal system is the HOP-up bucking and the HOP-up nub. These parts help extend the range of your AEG, keep it consistent and provide adjustability for different BB weights, and are the first port of call when it comes to improving your AEG's range and accuracy in the field.

One of our new arrivals which has a lot of potential is the Maple Leaf Super Macaron HOP-up bucking, one of Maple Leaf's latest and greatest designs. The Macaron is based on the R-hop principle and uses a widened contact patch with stabilising protrusions at either side of the contact patch to ensure that the BB hits the same spot every time, enhancing range and keeping the BB consistent and accurate. The silicone variation of the Macaron is the latest produced by Maple Leaf, and whilst some of us have been using Macaron HOP-up buckings to great effect for some time now, we can't wait to see what the latest variant is capable of!
The Maple Leaf Omega Nub has gained a reputation as one of the best HOP-up nubs on the market, providing exceptional performance and allowing for heavier BBs to be used. The Omega nub has found home in many of our personal setups, and has also made the cut for the phenomenal Bolster Armouries Onyx AEG. The Omega nub is designed to work best with a Maple Leaf bucking, either the Super Macaron or the new and improved MR HOP-up bucking for the best results, but works superbly on its own to increase the HOP effect and extend your range.
---
Inner barrel - Improve your AEG's air seal, velocity and accuracy!
The inner barrel of an AEG is largely responsible for its accuracy, as the inner barrel is the last part of the AEG the BB touches before it goes on its merry journey to the target. Tightbore inner barrels are becoming increasingly popular, often being added by manufacturers such as Lancer Tactical and Specna Arms as a pre-installed upgrade.
Whilst a tighter bore will improve air seal and efficiency, the most important characteristics for accuracy in an Airsoft barrel are the quality of the internal finish and the rigidity of the barrel itself, and its ability to maintain a perfectly straight profile.
For this reason, we recommend a stainless steel inner barrel to get the pinnacle of inner barrel performance. Whilst a brass tightbore barrel will improve performance over a standard 6.08mm inner barrel, the real performance gains begin with an upgrade to a stainless steel inner barrel, thanks to their stiff structure and ultra-smooth internal finish.
Laylax is one of the oldest, and most recognisable names in the Airsoft aftermarket parts industry. Laylax is responsible for many innovations which Airsofters take for granted in the modern age, and also produce parts under the name First Factory, Prometheus and Nine Ball.
The Laylax EG tightbore inner barrel is constructed from steel for extra rigidity, and for ultra fine machining tolerances. This gives the Laylax tightbore an absolutely perfect internal finish, with a high polish applied and a beautifully machined barrel crown which guarantees your BBs will leave the barrel smoothly with every shot. Adding a Laylax tightbore to your setup will cause a slight increase in FPS in most cases, and will improve accuracy considerably.
---
So, there you have it! Our new favourite parts for upgrading your Airsoft AEGs range and accuracy. Hopefully, you now know the principle behind these parts, and what to buy if you want to reach out and touch the enemy team! Or, if you are more of a speed demon, and want the best rate of fire possible, check out our guide on how to upgrade your AEG for a faster rate of fire here!
Stay tuned for future blogs discussing how these parts are installed, and if you get impatient and want to get to work straight away, have a look for guides on youtube and feel free to get in touch with a member of our team if you are struggling!
AEG Accuracy Upgrade Parts
Stainless Steel
6.03mm Tight Bore
Increased Performance
An upgrade Airsoft 6mm BB Gun inner Barrel which is compatible with Airsoft AEG Barrel Compatible Hop-Up units.