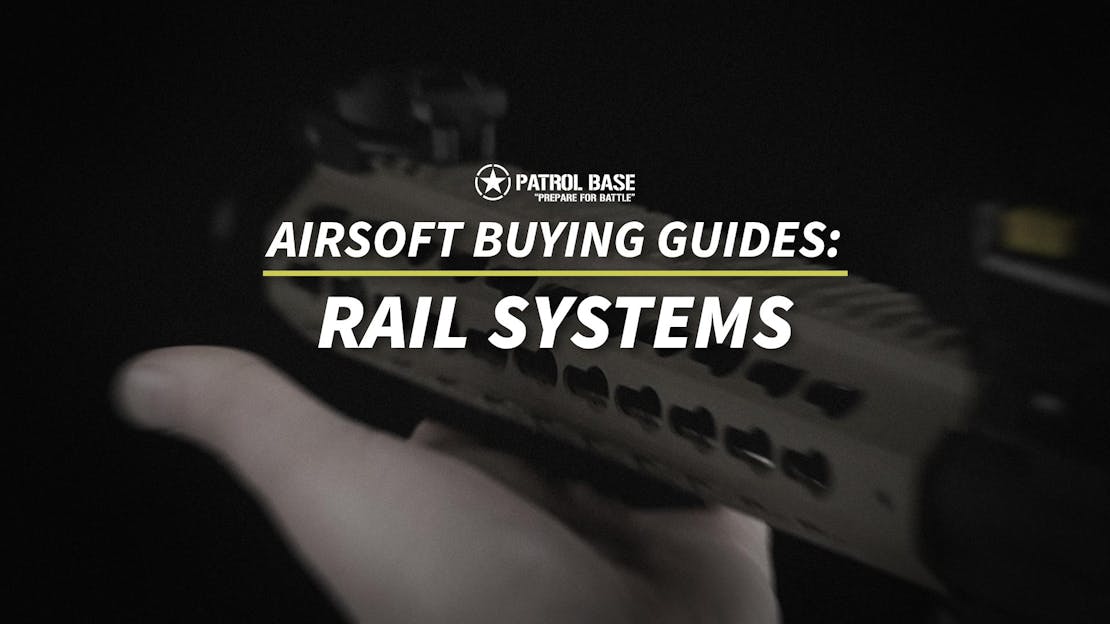 Buying Guide: Rail Systems
20mm RIS / RAS
20mm RIS, Rail Integration System / Also known as Rail Interface System is probably the most commonplace Rail System in both the Airsoft and Firearms Market, having seen multiple years of extensive military and law enforcement use 20mm RIS is one of the most reliable mounting interfaces in the world.
20mm RIS provides a unique mounting system which consists of slim rectangular style brackets that follow on from one another, which act as a brace when mounting accessories and prevents them from moving up and down the rail by holding them in place. RIS also features a collar style outward edge on both sides, which acts as a mounting lip when an attachment is fastened to it, allowing the attachments mount to clamp onto both sides and secure it to the rail, much like a vice in comparison.
Almost every and any Airsoft Gun will have some form of RIS mounting system, typically found along the top of the gun in order to mount Sights, Scopes and Optical Devices and due to it's popularity the accessory market for RIS has also grown along with it, so rest assured you'll have plenty of choice when it comes to customisation of your gun.
---
M-LOK
M-LOK, otherwise known as Modular Lock is a rail interface system designed to allow for direct accessory and tactical device attachment onto the negative space / hollow slots within the rail which act as mounting points. M-LOK looks like rectangular hollow slats that pattern along a handguard.
The mounting interface works via a screw and bolt system however no parts needs to be fully removed from the mount, just loosened. M-LOK Features a rectangular shaped nut which threads onto the screw that sits in your attachment, angle this nut to match the shape of the M-LOK slot on your rail and insert it, then you can begin to tighten up your bolt and slowly but surely the nut will clamp against the inside of your rail and secure the attachment.
M-LOK has rapidly become a modern day shooters widely preferred method of mounting attachments to their rifles, it allows them to not only have a clutter free and clean set up, but provides a much more brace-able platform when it comes to overall weapon handling and gun control, which is favoured massively when it comes to CQB and quick target resets.
The great thing about M-LOK is that it completely gets rid of all unnecessary rail sections that might get in the way, and leaves you with a sleek and comfortable rail space that sits flush with the handguard, so not only is it incredibly space freeing, it's also weight saving and increases your overall ergonomics massively, providing you with a modular yet incredibly efficient rail system.
---
KEYMOD
KeyMod is a universal interface Rail System for Firearm accessories and components much like M-LOK, it features a mounting interface via the negative space within the frame of the handguard. The name of KeyMod derives simply from it's aesthetics and function. Key, comes from the keyhole shaped space which the accessories mount onto, and Mod simply means Modular, essentially KeyMod is a suffix for Keyhole Modular.
The mounting system of KeyMod is very similar to M-LOK in the sense that your accessory will feature a nut and bolt system, that remains loose until fitted. The accessory will feature a bolt on the end of a screw that needs to be loose before fitting, all you need to do is place the bolt end on the underside of your attachment into the circular section of the keyhole, then slide the attachment sideways towards the linear part of the keyhole, then begin to tighten your accessory to the handguard, and much like M-LOK it will brace against the frame of the handguard and secure itself via the nut.
---
Help! How do I fit a handguard to my M4?
There are a few different methods of fitting a handguard to your rifle, typically this consists of two methods for AR-15 / M4 platforms which is what we'll be looking at here. Some handguards have the ability to screw straight onto your receiver, whereas others will require securing on with a special mounting interface. So lets shove all the jargon and fancy pants terminology to the side for now and lets start off with an original attachment method called: Delta Ring or D-Ring for short.
---
Delta Ring

A Delta Ring is what you will find on most classic M4A1 Carbine style rifles, it has the appearance of a skirted ring that halo's over the receiver and is positioned in-between the handguard and the receiver. The Delta Ring is used to secure a two-part handguard together, which consists of a top and bottom half which fit together and then the Delta Ring secures over a lip and clamps the two halves together. If you have a Delta Ring fitted on your M4, you'll be able to pull the ring down / back if you position the rifle muzzle-up, pulling the ring down on your Airsoft M4 will release the rear side of your handguard and the two halves will come away from one another.
A Delta Ring is limited in regards to what type of handguards you can fit onto your M4, as you'll need to ensure that the handguard you buy is compatible with a Delta Ring such as the NUPROL BOCCA Series Three Rails.
---
Barrel Nut
A Barrel Nut is a small cylinder that screws onto the thread on the end of your receiver, the Nut has several small threaded screw holes around it, so once you've placed your handguard over the Barrel Nut you can then insert the screws and secure the Nut and the Handguard in place. Barrell Nut fitment is becoming more and more popular due to the availability of aftermarket parts and the simplicity / ease of use as well as the super secure stability.
You can tell whether your gun has a barrel nut or not, if your handguard secured to the gun with no Delta Ring then chances are it's secured on with a nut, so if you wanted to change your handguard you've got plenty to choose from, such as the NUPROL BOCCA Series One & N-LOK Series. Just remember to unscrew the bolts holding it in place before trying to unscrew the handguard!
---
If you're still feeling slightly unsure about something or perhaps your Airsoft related questions and Tactical queries haven't been answered, feel free to drop us a message on any of our Social Media platforms such as Facebook, Instagram or get in touch with our Customer Services team directly via Email: sales@patrolbase.co.uk or by Phone on 01484644709.

Rail Systems
3 x 20mm RIS
CNC Aluminium
Replica of Real Part
A CNC Aluminium Upper Handguard for select LCT LCK (AK) Airsoft Replicas. It offers stunning precision manufacture and three points of 20mm Rail for accessories, and is the perfect companion to any Custom Build / Modified AK.