Featured video
How to use the Turnigy Accucel 6
Tamiya/Deans/XT60
For All Airsoft Batteries
NiMh/NiCd/LiPo/LiFe/Pb
A performance built all around battery charger, designed to last and charge almost every type of battery used in Airsoft, Remote Control Cars / Planes / Helicopters and a range of other devices. The charger comes with everything you require, including a power brick and charging cables.

Fast Delivery
Here at Patrol Base we ship all around world, with delivery not only to the UK, but to most of the EU and select Worldwide locations as well. We provide a working day by road service via our handpicked courier services, simply buy your Airsoft guns with us and we'll have them delivered directly to your door.
For more information and to see the country we deliver please check out our Delivery Information Page.
Below are some rough postage prices for orders. Please note these are subject to change, and are only a rough guide. For more accurate postage estimate please use the Postage Calculator at the basket.
UK Standard
£4.95
Approx.
UK Next Day
£5.95
Approx.
Highlands / Islands
£12.99*
Approx.
* Please note that Scottish Highlands, Islands and EU post prices can vary wildly. Prices range from £8.99, up to £29.99, so please ensure you refer to the Postage Calculator at the basket for the lowest possible price.
---
We want you to be absolutely happy with our products and services, so we provide the simple Patrol Base guarantee: if on receiving your item you are unhappy with your item for any reason then simply send it back to us. We will replace or refund the item.
You can return any item for any reason whatsoever, even if you have just changed your mind, within 14 days of receipt of the order. This is in addition to your rights under the Consumer Protection (Distance Selling) Regulations 2000.
For more information on returning products, and how to do it please visit our Returns Policy Page.
Description
The charger itself is built with an Alloy shell, with an LCD display and comes in a kit with all the cables needed to charge all types of smart batteries, as well as the charging cable and power brick meaning your ready to go.
The charger has lots of features, allowing you Balance, Discharge, Cycle and ready Batteries for Storage (Battery Dependant).
The charger can be used in a standard charge mode which just charges batteries, however more importantly it also Balance charges. Balance charging LiPo and similar types of battery is the process of charging each cell of the battery individually to ensure a 'balanced' voltage across all of the cells to prevent one cell over discharging compared to the others. This process is highly recommended with each charge to keep your battery in tip-top shape.
If you're looking to store your LiPo batteries for any period of time then Storage mode is a must-have for any charger. Over time LiPo battery lose power due to their chemical makeup, and if left charged for long periods of time can cause damage. Before storage it is important to discharge each cell to their minimum safe storage voltage to improve the lifespan of the battery.
The charger has the ability to be powered by a portable power source, such as a car battery, allowing you to charge your batteries on the go. If you're a person who likes to rip through battery packs with your RC car or drone then you can attach this charger to any battery which supplies 11-18v DC at 5A or more such as Car Batteries or even other large battery.

This is the perfect charger for those who want a go-to one off charger, allowing them to charge any possible battery they may ever use for Airsoft. This charger is also great for those who are into RC cars, Planes and Drones, as you can charge the larger 4S 14v Packs, all the way up to the mega 6S packs.
Specification
General
| | |
| --- | --- |
| Parts & Accessories Type | |
| Over 18 | |
Construction
| | |
| --- | --- |
| Item Colour | |
| Construction | |
| Material | |
Charger Specific
Battery Type

Ni-Mh

,

Li-Po

,

Li-Fe

,

Ni-cd

,

Battery Connector

Large Tamiya
Mini Tamiya
Deans
XT60
3 Pin Balance Cable [7.4v]
4 Pin Balance Cable [11.1v]
5 Pin Balance Cable [14.8v]
6 Pin Balance Cable [18.5v]
Related video
How to use the Turnigy Accucel 6
Further Information
Features
Charges almost all types of batteries
Connector cables for the following connectors:

XT60 (Male)
XT60 (Female)
Crocodile Clips
Large Tamiya (Female)
Small Tamiya (Female)
Deans (Male)

Charges up to 6 Cell LiPo / LiFe batteries
Charges up to 15 Cell NiMh / NiCd batteries
Charges up to 20v Pb batteries
Charger can be plugged into other batteries to charge others (Eg. Car Batteries as Power Supply)
Can be used to Fast Charge, Balance, Discharge and prepare batteries for Storage
Can perform between 1 to 5 Charge / Discharge Cycles
Charging Amps can be manually defined or set to Automatic
Temperature Sensor
Internal fan to keep the charger cool whilst charging
Save program for Batteries for quick charging
Balances individual cells on LiPo / LiFe Batteries
Delta-peak sensitivity to protect the battery in case of a Voltage Spike
Package Includes
ACCUCEL 6 - NiMh/NiCd/LiPo/LiFe/Pb Battery Charger
Power Block
Connector Cables
Power Cable for Portable Power Source (Crocodile Clips)
Special Instructions
When charging batteries you can get the Ampage from the mAh rating by dividing the mAh Rating by 1000. Eg: 1300mAh / 1000 = 1.3A.
| Operating Voltage Range | 10.0V - 18.0V |
| --- | --- |
| Charge Current Range | 0.1A - 5.0A |
| Discharge Current Range | 0.1A - 1.0A |
| Current Drain for Balancing LiPo | 300mAh per Cell |
| NiCd/NiMH Cell Count | 1-15 Cells |
| LiPo / LiFe Cell Count | 1-6 Series |
| Pb Battery Voltage | 2V to 20V |
| Weight | 400g |
| Dimension | 13.5cm x 4cm x 10cm |
Size guide
MAKE SURE YOU USE THE CORRECT CHARGER TYPE FOR THE CORRECT BATTERY
NiMh battery should only be charged with NiMh compatible battery chargers.
LiPo battery should only be charged with LiPo compatible chargers.
Always read all supplied instruction manuals on how to safely use your charging device.
Airsoft Battery should only be charged with the chargers as they are specifically designed to work with the specific voltages required by the battery.
Different battery types have different chemical configurations, and require certain chargers to charge them. Charging a battery with the wrong charger can cause damage to the battery and charger, and can cause fires and further damage. Please ensure that before charging you double check that you are using the correct charger.
If your charger supports multiple battery types always ensure that it is on the correct settings before starting the charge.
If you are unsure of what battery or charger you have please get in touch with us via the Contact Us Page.
---
Using a LiPo?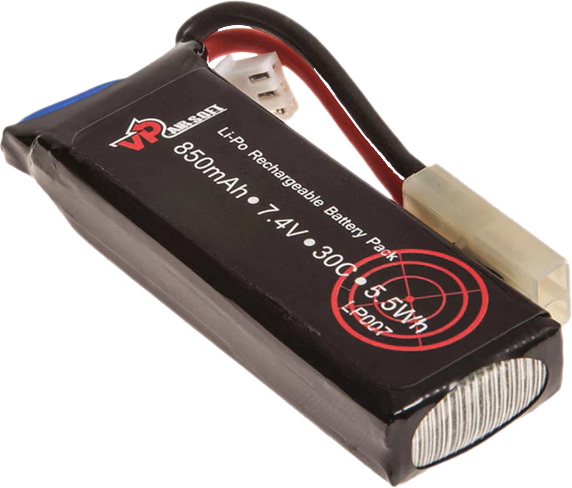 If you're using a Li-Po battery only use a Li-Po charger!
Failure to do so can cause damage to the battery and charger!
Using a NiMh?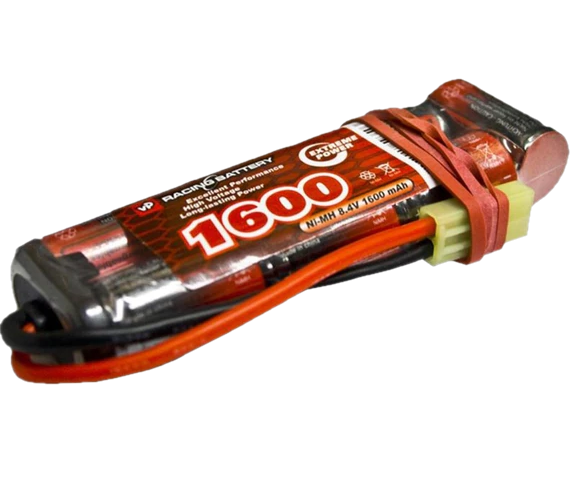 If you're using a Ni-Mh battery only use a Ni-Mh charger!
Failure to do so can cause damage to the battery and charger!