Pistol Sized AR
GATE X-ASR MOSFET
Quick Change Spring
This pistol-sized AR is the ultimate CQB package! Specna Arms have outdone themselves once more with this compact package offering robust externals, a wealth of internal upgrades and a GATE X-ASR MOSFET to top it all off.
Description


The Edge series are a new line of replicas from Specna Arms which combine their usual hardy build-quality on the externals with uprated internals, and a Gate MOSFET as standard to squeeze every drop of performance out of these rifles. The metal parts of the rifle are finished to an amazing standard, and have lovely engraved trademarks. The MOSFET is an X-ASR module from Gate which serves to protect your circuits and batteries, and allows basic troubleshooting on the board thanks to status indicator LEDs. The Edge series also feature an ESA™ quick change spring system which dramatically reduces the amount of time to change the output power of your rifle, allowing you to change the main spring via the rear of the receiver.
The externals are made from a mix of Aluminium and Zinc Alloy which undergo a rigorous course of Sand Blasting, Powder Coating and then Anodising to achieve a world-class finish on their metal-work. This finish is then protected by a 'Nano Coating' finish that reduces scratches. The external trim parts of the rifle such as structural screws and supports are made from Steel to ensure a long-life performance. The Polymers used throughout are an exceptional quality and feel really good in the hands, the Pistol Grip being textured to promote grip in all conditions. The pistol grip has a neat design which allows you quick access to the motor without the need for tools.
At the muzzle end of the replica is an agressive looking flash hider which can be screwed off to reveal a 14mm CCW thread underneath. This lets you attach Suppressors, Tracer Units, Muzzle Brakes or any compatible muzzle device to further enhance the looks or performance of your AEG. The handguard is built from Aluminium and Zinc Alloys which makes it very tough and durable, and features four points of 20mm rails for accessories. It comes included with a foregrip to send you on your way to customising this rifle to make it your own.
The entire assembly is secured to the receiver tightly and has absolutely no wobble, helping this rifle feel more like the real thing. The RIF is front wired and comes included with a dummy PEQ box for mounting your battery. You will also notice an ambidextrous sling plate for left and right handed sling users.
The quality continues internally with a wealth of parts which would be considered an 'upgrade' on any other AEG. A rotary HOP unit gives you fine and precise control over flight path, and being coupled with a precision 6.03mm barrel makes for a very pleasant firing experience. The 'ORION Gearbox' featured inside has a reinforced frame to handle high power springs and is designed around their quick change spring system. Other perks of the ORION Gearbox are: Reinforced Polymer Piston with Steel rack, Aluminium sealed Nozzle, Aluminium double sealed Cylinder Head, Aluminium double sealed Piston Head w/ bearings, Steel Gears and 8mm Bearings. All of this comes together to seal the perfect package for those who want the best of external and internal quality.
Included in the box are two mid-cap 125rnd magazines of a modern P-Mag design, which has tiny Specna Arms logos used as a stippling pattern which looks absolutely fantastic! Also included is an ID lanyard, an instruction manual and a certificate of testing from the manufacturer.
This compact beast can fill a number of roles from sniper backup to point-man entry tool. It's size makes it great for indoor use but it will be just at home on the outdoor fields too, especially if used as a backup to a longer RIF. No matter where you're playing or what role you choose to fill, the Specna Arms SA-E18 Edge is up to the task.
Features
Part of the Specna Arms Edge Series
Branded by Rock River Arms, and built based on their designs
Electric battery powered Airsoft AEG
Safe, semi, and fully automatic firemodes
Pre-upgraded with a MOSFET and updated Gearbox
Pre-installed Specna Arms ORION Gearbox
Pre-installed GATE X-ASR 4th Generation MOSFET
Two 125rnd mid-cap spring fed 'S-MAG' magazines included in the box
Uniqe serial number for each replica
Rotary Hop-Up chamber for improved range and accuracy
Easy to adjust Hop-Up unit thanks to the rotary adjustment wheel
Upgrade 6.03mm Inner Barrel for improved accuracy over standard barrel
QD Pistol Grip design
Removable birdcage flash hider
20mm railed handguard
14mm CCW threaded outer barrel
20mm RIS / RAS top rail for sight and scope setups
Flip up adjustable ironsights
Flat trigger guard
Stockless variant - ultra compact
PEQ Box supplied for battery placement
Easy access to main spring
ESA™ quick change spring system
Rear ambidextrous sling plate for single point sling setups
Sand Blasted, Powder Coated, Anodised and Nano Coated
Great for one-handed play
Included 20mm foregrip
Front wired V2 Orion upgraded gearbox
Reinforced piston with full steel teeth
Aluminium seal nozzle
Aluminium double seal cylinder head
Aluminium double seal piston head
Spring guide with bearing
Steel gears for performance and reliability
8mm ball bearing
Quick change spring system
Mock charging handle which reveals the hop-up unit
Mock forward assist
Branded:

'Rock River Arms logo'
'COLONA, IL'
'CAL. 5.56MM'
'LAR-15'
'PAT0001833'
Package Includes
Rock River Arms SA-E18 Edge
2 x 125rnd Mid Cap Magazines
Deans to Mini Tamiya Adaptor
Instruction Manual
Testing Certificate
Dummy PEQ Box
ID Lanyard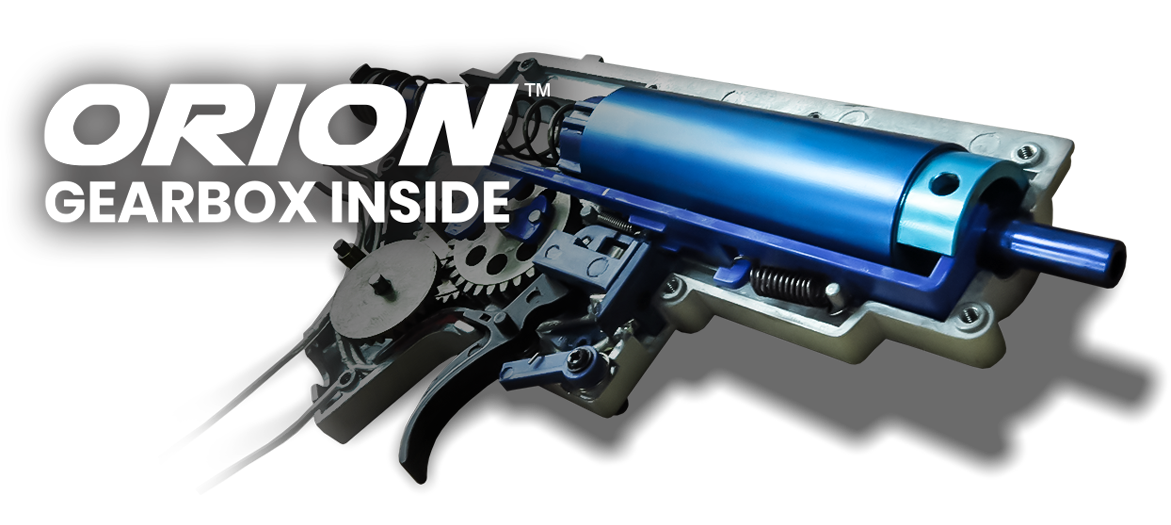 Pre-upgraded right out of the box to meet the highest of standards set by modern Airsoft Skirmishers. Featuring a reinforced design made possible by high quality Aluminium and Steel internal parts for optimum performance. With a pre-upgraded Piston, Nozzle, Cylinder Head, Spring Guide and Gears.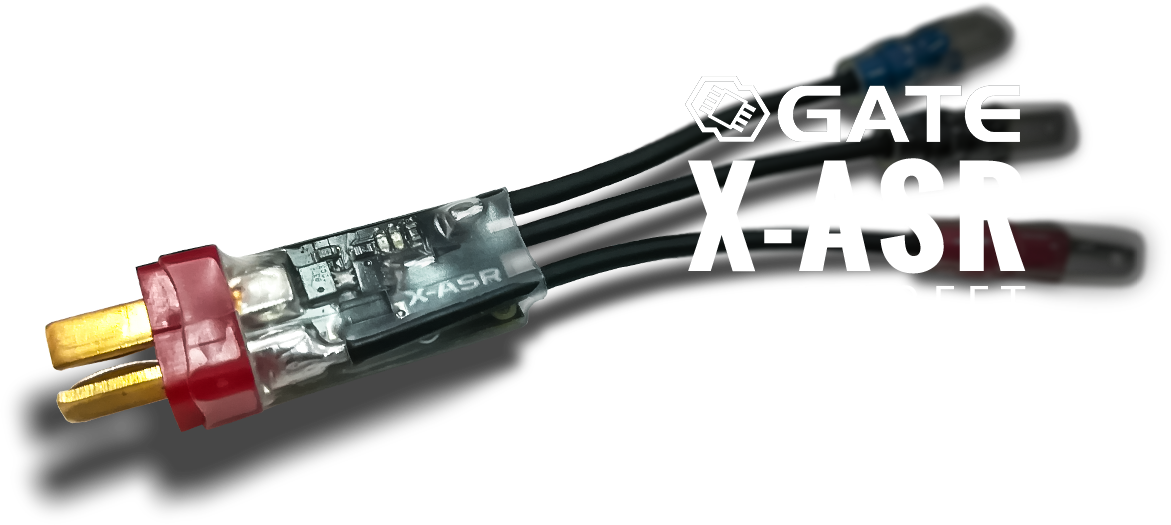 Pre-installed with the 4th generation GATE X-ASR Mosfet. A huge array of features including: Polarity Protection, a Smart Fuse system, built-in self testing capability and Trigger debouncing. This mosfet leaves you with a higher rate of fire, a faster trigger response, with a MOSFET less prone to overheating.
---
Videos
---
Specification
General
Weapon Type

Over 18

Defence / UKARA Required

FPS (Feet Per Second), using 0.20g BB

Approx. 310fps ± 10%, using 0.20g BB

Site Legal, using 0.20g BB

Pre-Built

Included Items

Instruction Manual

Foregrip

Ironsight Set

PEQ Box

Magazine x 2

Stickers

ID Lanyard

Deans to Mini-Tamiya Connector

User Skill Level
Weight and Dimension
| | |
| --- | --- |
| Weight (KG) | |
| Length (Collapsed) | |
| Length (Extended) | |
Construction
| | |
| --- | --- |
| Primary Colour | |
| Secondary Colour | |
| Pre Two-Toned | |
| Construction | Aluminium & Zinc Alloy, Steel & Polymer |
| External Construction | |
| Internal Construction | |
Weapon Specific
Powered By

Blowback

Weapon Platform

Magazine Style

Fire Selector

Safe

Semi Automatic

Full Automatic

Safety Features

Shooter Configuration

Weapon Configuration

Weapon Scale

Suggested BB Weight
Hop-Up
| | |
| --- | --- |
| Hop-Up Unit | |
| Hop-Up Adjuster | |
| Hop-Up Location | Behind mock bolt plate when charging handle to the rear |
Furniture
Furniture

Railed Handguard

Flip-Up Ironsights

Foregrip

Threaded Outer Barrel

Ambidextrous Sling Plate

Rail System

Stock Setting

Sight Type

Sling Options
Barrel
| | |
| --- | --- |
| Outer Barrel Thread Type | |
| Outer Barrel Thread Direction | |
| Outer Barrel Thread Size | |
Magazine Specific
| | |
| --- | --- |
| Magazine Type | |
| Magazine BB Capacity | |
| Magazine BB Fill Method | |
| Magazine BB Fill Location | |
Electric Gun Specific Information
Gearbox
| | |
| --- | --- |
| Gearbox Version | |
| Gearbox Wiring | |
| Gearbox Quick Change Spring | |
Battery Specific
Battery Connector

Deans

,

Deans To Mini Tamiya Adaptor

,
Suggested Battery
| | |
| --- | --- |
| Suggested Battery Type | |
| Suggested Battery Configuration | |
| Suggested Battery Voltage | |
Product Testing Data
| | |
| --- | --- |
| Test Description | |
| Tested Using | |
| Test Date | |
Delivery & returns
Below are some rough postage prices for orders. Please note these are subject to change, and are only a rough guide. For more accurate postage estimate please use the Postage Calculator at the basket.
* Please note that Scottish Highlands, Islands and EU post prices can vary wildly. Prices range from £8.99, up to £29.99, so please ensure you refer to the Postage Calculator at the basket for the lowest possible price.
---
---
---
You might also like
Cubic Foam Filled
Can Be Padlocked
Wheeled Hard Case