2200mAh
Crane Battery
11.1v 15C LiPo
An Airsoft Gun Battery designed and built by NUPROL specifically for Airsoft Skirmishers and are part of their POWER range of Batteries.
Fast Delivery
Here at Patrol Base we ship all around world, with delivery not only to the UK, but to most of the EU and select Worldwide locations as well. We provide a working day by road service via our handpicked courier services, simply buy your Airsoft guns with us and we'll have them delivered directly to your door.
For more information and to see the country we deliver please check out our Delivery Information Page.
Below are some rough postage prices for orders. Please note these are subject to change, and are only a rough guide. For more accurate postage estimate please use the Postage Calculator at the basket.
UK Standard
£4.95
Approx.
UK Next Day
£6.95
Approx.
Highlands / Islands
£12.99*
Approx.
* Please note that Scottish Highlands, Islands and EU post prices can vary wildly. Prices range from £8.99, up to £29.99, so please ensure you refer to the Postage Calculator at the basket for the lowest possible price.
---
We want you to be absolutely happy with our products and services, so we provide the simple Patrol Base guarantee: if on receiving your item you are unhappy with your item for any reason then simply send it back to us. We will replace or refund the item.
You can return any item for any reason whatsoever, even if you have just changed your mind, within 14 days of receipt of the order. This is in addition to your rights under the Consumer Protection (Distance Selling) Regulations 2000.
For more information on returning products, and how to do it please visit our Returns Policy Page.
Description
The battery is constructed from individual Lithium Polymer cells which are protected by durable shrink wrapping, and features a mini-tamiya connector to connect it to your weapon. This battery is a CRANE design, however each cell is quite large so would best suit larger battery compartments. It may fit in certain crane stocks or handguards, but be sure to measure your gun first to avoid disappointment. The battery is built using a high quality silicon wire, being a more flexible cable, which makes it easier to squeeze into tight spaces. These batteries are also perfect for Remote Control Cars, Boats and other RC vehicles. This battery is the perfect purchase for Advanced Airsoft Skirmishers with highly upgraded High Rate of Fire or Power Guns. Please ensure when purchasing this battery you are fully aware of the power of the battery. Using this battery in Standard or non-upgraded Airsoft Weapons can cause permanent damage. Should you need help in figuring out if this battery is for you, please call us on: 01484 644709 and ask for the workshop department.
Features:
Part of the Nuprol POWER range
Specifically designed for airsoft
High quality battery cell
Crane style cell configuration
3 x 3.7v cells
2200mAh capacity
15c discharge rating
11cm of cable
Flexible silicon wiring
Mini-Tamiya connector
Package Includes:
11.1v 2200mAh 15c Crane LiPo Battery
Instruction Manual
Special Instructions
Please note that we only recommend that this battery be used in Highly upgraded guns, and as such we cannot provide a warranty on any gun which has had an 11.1v battery used on it.
Please do not let the battery fully discharge before recharging, this will damage the battery, please use a LiPo Alarm to check the Charge of the Battery before use, and stop if the Rate of Fire Drops. To charge the battery you MUST use a Li-Po Battery Charger, as overcharging can cause damage to the unit.
Never leave Li-Po charging unattended - Always monitor the charging process of your Li-Po so that you can react immediately to any potential problems. If your batteries start to balloon or swell up discontinue charging / discharging. Before and after the use of your Li-Po batteries, inspect them to ensure there is no physical damage or swelling as those are signs of an imminent failure.
Only use approved Li-Po chargers. Do not pierce or disassemble the battery. The charging current should not be more than 1A as charging at a higher current may damage the cell or even lead to overheating or leakage. Stop charging immediately when temperature is over 45°C, and stop using the battery once the temperature is over 60°C.
We recommend that all LiPo batteries be charged in a fire resistant location, and inside a Fire Proof bag, such as the VP Racing Battery Giant Power LI-PO GUARD Charging Bag.
Specification
General
Product Length

Product Height

Product Width

Weight (KG)

Warnings

Li-Po - Never Leave Charging Unattended

Li-Po - Only Use Approved Chargers

Li-Po - Charge in a Fire Safe Area
Battery Specification
| | |
| --- | --- |
| Battery Type | |
| Battery Configuration | |
| Battery Connector | |
| Battery Voltage | |
| Battery Amperage | |
| Battery Discharge Rate | |
| Battery Cell Count | |
| Battery Cell Voltage | |
| Battery Cell Height | |
| Battery Wire Length | |
Size guide
MAKE SURE YOU USE THE CORRECT CHARGER TYPE FOR THE CORRECT BATTERY
NiMh battery should only be charged with NiMh compatible battery chargers.
LiPo battery should only be charged with LiPo compatible chargers.
Always read all supplied instruction manuals on how to safely use your charging device.
Airsoft Battery should only be charged with the chargers as they are specifically designed to work with the specific voltages required by the battery.
Different battery types have different chemical configurations, and require certain chargers to charge them. Charging a battery with the wrong charger can cause damage to the battery and charger, and can cause fires and further damage. Please ensure that before charging you double check that you are using the correct charger.
If your charger supports multiple battery types always ensure that it is on the correct settings before starting the charge.
If you are unsure of what battery or charger you have please get in touch with us via the Contact Us Page.
---
Using a LiPo?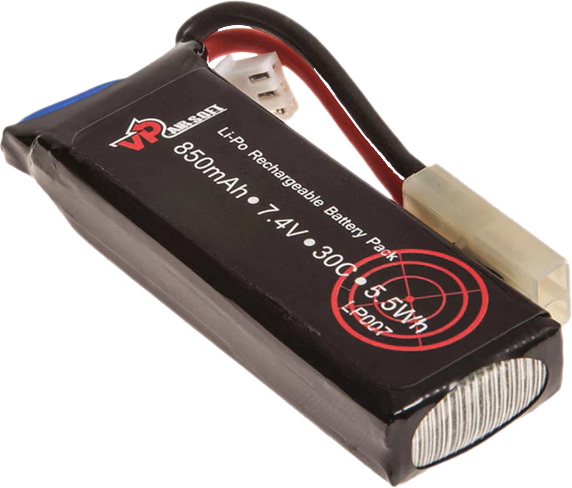 If you're using a Li-Po battery only use a Li-Po charger!
Failure to do so can cause damage to the battery and charger!
Using a NiMh?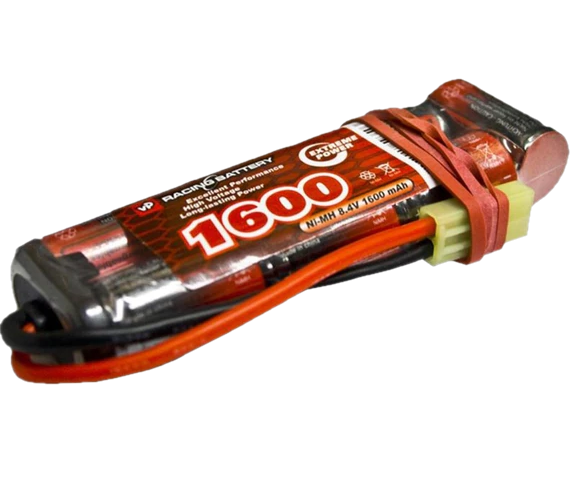 If you're using a Ni-Mh battery only use a Ni-Mh charger!
Failure to do so can cause damage to the battery and charger!
Need something to charge your LiPo?
LiPo Battery Charger
For 7.4v / 11.1v LiPo
Balance Charger
Built by NUPROL as part of their Power range this is a high quality Li-Po charger designed to charge both 7.4v Li-Po and more advanced 11.1v three cell LiPo battery.
Auto Balancing
1A - 3A Charge
For LiPo / LiFe
An intelligent auto-stop charger which allows you to charge all types of LiPo and LiFe battery used with Airsoft Guns. The battery features a Polymer Housing and charges batteries which house between Two and Four Cells. The charger supports both 7.4v, and 11.1v, the most common battery voltages for Airsoft LiPo.
This is the perfect charger for any Airsoft Skirmisher who wants a cheap charger which is of a high quality, rather than spending more money on a more high-tech charging unit. The charger is not unique to Airsoft, and can be used with any brand of LiPo and LiFe battery, and can also be used in RC Cars, Drones, Controllers, or anything with a removable LiPo battery.

Charges LiPo / LiFe / NiMh
Balance charges batteries
LED status indicators
Built by NUPROL as part of their Power range this is a high quality charger designed to charge LiPo, LiFe, and NiMh batteries, all of the most common types of battery used in Airsoft replicas.
The charger itself is a smart charger, meaning that the charger automatically charges and cuts off when the battery is full. Some cheaper low-end chargers do not support this meaning you have to work out how long to charge for, with this charger you can plug it in and not have to worry about when the battery is full, as the charger will cut off the power supply when it is full to prevent any damage to the batteries.