3V 1400mAh Power
Lithium Battery Tech
For Torches / Camera
CR123A batteries that are used to power most Airsoft accessories. The battery provides 3V of power, and 1400mAh of charge.
Fast Delivery
Here at Patrol Base we ship all around world, with delivery not only to the UK, but to most of the EU and select Worldwide locations as well. We provide a working day by road service via our handpicked courier services, simply buy your Airsoft guns with us and we'll have them delivered directly to your door.
For more information and to see the country we deliver please check out our Delivery Information Page.
Below are some rough postage prices for orders. Please note these are subject to change, and are only a rough guide. For more accurate postage estimate please use the Postage Calculator at the basket.
UK Standard
£4.95
Approx.
UK Next Day
£6.95
Approx.
Highlands / Islands
£12.99*
Approx.
* Please note that Scottish Highlands, Islands and EU post prices can vary wildly. Prices range from £8.99, up to £29.99, so please ensure you refer to the Postage Calculator at the basket for the lowest possible price.
---
We want you to be absolutely happy with our products and services, so we provide the simple Patrol Base guarantee: if on receiving your item you are unhappy with your item for any reason then simply send it back to us. We will replace or refund the item.
You can return any item for any reason whatsoever, even if you have just changed your mind, within 14 days of receipt of the order. This is in addition to your rights under the Consumer Protection (Distance Selling) Regulations 2000.
For more information on returning products, and how to do it please visit our Returns Policy Page.
Description
The batteries provide long life, high power output, making an excellent replacement to other high-profile brand batteries at a much cheaper price. The battery are perfect for Klarus and Surefire torches as well as for SLR, compact and other digital camera. This battery is perfect for those who go through a lot of CR123A batteries and a tired of paying over the top prices.
Features:
High quality long-life battery
Lithium photo quality batteries
Long shelf life
Used in torches and digital cameras
Perfect for Klarus torches
Perfect for SLR, compact and other digital camera
Replacement for:

Duracell DL123A
Energizer EL123AP
IEC CR17345
Kodak K123LA
Maxell CR123A
CR123A Philips
Sony CR123A
Varta CR123A
Package Includes:
CR123A 3V Lithium Battery
Specification
Battery Specification
| | |
| --- | --- |
| Battery Type | |
| Battery Configuration | |
| Battery Voltage | |
| Battery Amperage | |
Size guide
MAKE SURE YOU USE THE CORRECT CHARGER TYPE FOR THE CORRECT BATTERY
NiMh battery should only be charged with NiMh compatible battery chargers.
LiPo battery should only be charged with LiPo compatible chargers.
Always read all supplied instruction manuals on how to safely use your charging device.
Airsoft Battery should only be charged with the chargers as they are specifically designed to work with the specific voltages required by the battery.
Different battery types have different chemical configurations, and require certain chargers to charge them. Charging a battery with the wrong charger can cause damage to the battery and charger, and can cause fires and further damage. Please ensure that before charging you double check that you are using the correct charger.
If your charger supports multiple battery types always ensure that it is on the correct settings before starting the charge.
If you are unsure of what battery or charger you have please get in touch with us via the Contact Us Page.
---
Using a LiPo?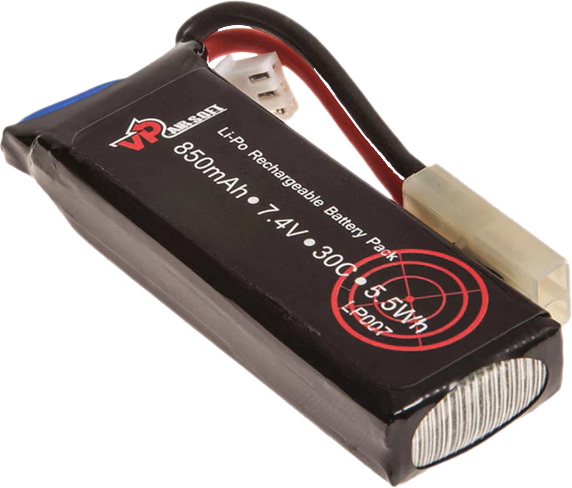 If you're using a Li-Po battery only use a Li-Po charger!
Failure to do so can cause damage to the battery and charger!
Using a NiMh?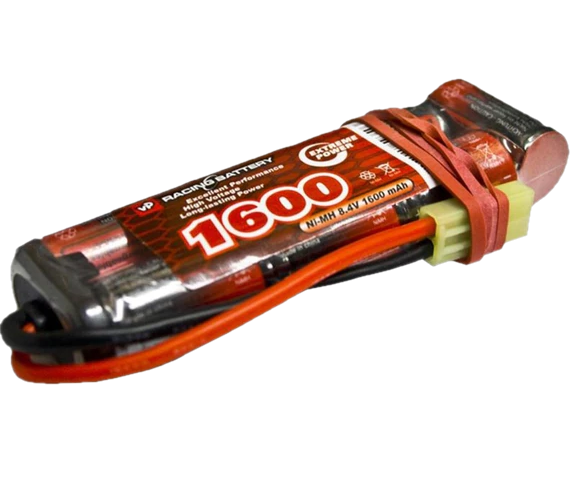 If you're using a Ni-Mh battery only use a Ni-Mh charger!
Failure to do so can cause damage to the battery and charger!