Fully Adjustable
Blocks Off Trigger
Allows Torches/Lasers
A multi-purpose holster designed for real G-Series G17 & G22 pistols, which allows you to cock the RIF before drawing it from the holster, dramatically reducing your time to target.
Fast Delivery
Here at Patrol Base we ship all around world, with delivery not only to the UK, but to most of the EU and select Worldwide locations as well. We provide a working day by road service via our handpicked courier services, simply buy your Airsoft guns with us and we'll have them delivered directly to your door.
For more information and to see the country we deliver please check out our Delivery Information Page.
Below are some rough postage prices for orders. Please note these are subject to change, and are only a rough guide. For more accurate postage estimate please use the Postage Calculator at the basket.
UK Standard
£4.95
Approx.
UK Next Day
£5.95
Approx.
Highlands / Islands
£12.99*
Approx.
* Please note that Scottish Highlands, Islands and EU post prices can vary wildly. Prices range from £8.99, up to £29.99, so please ensure you refer to the Postage Calculator at the basket for the lowest possible price.
---
We want you to be absolutely happy with our products and services, so we provide the simple Patrol Base guarantee: if on receiving your item you are unhappy with your item for any reason then simply send it back to us. We will replace or refund the item.
You can return any item for any reason whatsoever, even if you have just changed your mind, within 14 days of receipt of the order. This is in addition to your rights under the Consumer Protection (Distance Selling) Regulations 2000.
For more information on returning products, and how to do it please visit our Returns Policy Page.
Description
This holster is designed for real-steel application but works for Airsoft G-Series pistols with some slight modification (to get the most out of it). Tokyo Marui branded G-Series will fit and work without modification, however WE/NUPROL pistols will require the short and simple modification mentioned in the special instructions below.
The Quantum Mechanics holsters are mainly aimed at Concealed Carry and IPSC (Competition) shooters who need a choice of 'carry conditions' for their holster. Carry conditions are what 'stage' of being loaded the firearm is in, from round in the chamber and safety off to no round in the chamber and uncocked. The holster also allows you to use it with torches/lasers attached which is uncommon with G-Series holsters.
The holster grabs onto the trigger guard and blocks off any use of the trigger, making it incredibly safe. When the spring loaded button is activated the entire pistol will rotate to the side by 45 degrees, releasing the trigger safety and allowing you to either draw the RIF straight away or push down on it to charge a BB into the chamber. If you're a competition shooter or pride yourself on your speedy draw, this holster is an excellent way to save precious seconds when drawing.
It is very flexible for mounting options, as it can be adjusted to any angle or height you like. It gives you a choice of setting the height of the RIF in the holster, and also the angle at which it is mounted, letting you draw it upside down, to the side or from a traditional angle.
Features:
For G-Series G17/G22 replicas
Requires modification for WE/NUPROL
Works fine for Tokyo Marui G-Series
Cock/charge RIF in holster
Tough Polymer construction
Fully adjustable for height/angle
Can be mounted sideways
Blocks trigger off
Very safe holster
Tradition holster draw or charge RIF on release
Rotates sideways on release
Spring loaded design
Belt mountable
Supplied with angle mount adapter
QR code user manual
Package Includes:
Quantum Mechanics Quick Cocking G17/22 Holster
Angled Mount Adapter
QR Code Manual
Special Instructions:
This holster is designed for vanilla G-Series pistols; we can't guarantee fit on any pistol with any non-standard features including the WET Force series with the race trigger, as the trigger is wider than standard and a little tighter to fit.
This holster is made for real firearms and requires modification to fit an Airsoft G-Series pistol. The hole that the barrel should push through is out of alignment, and needs to be opened up with a file/dremel/other cutting tool so that the barrel has sufficient space to pass through, letting you cock the weapon in its' holster. We are more than happy to help with the modification if you visit us in-store.
Before and after images below: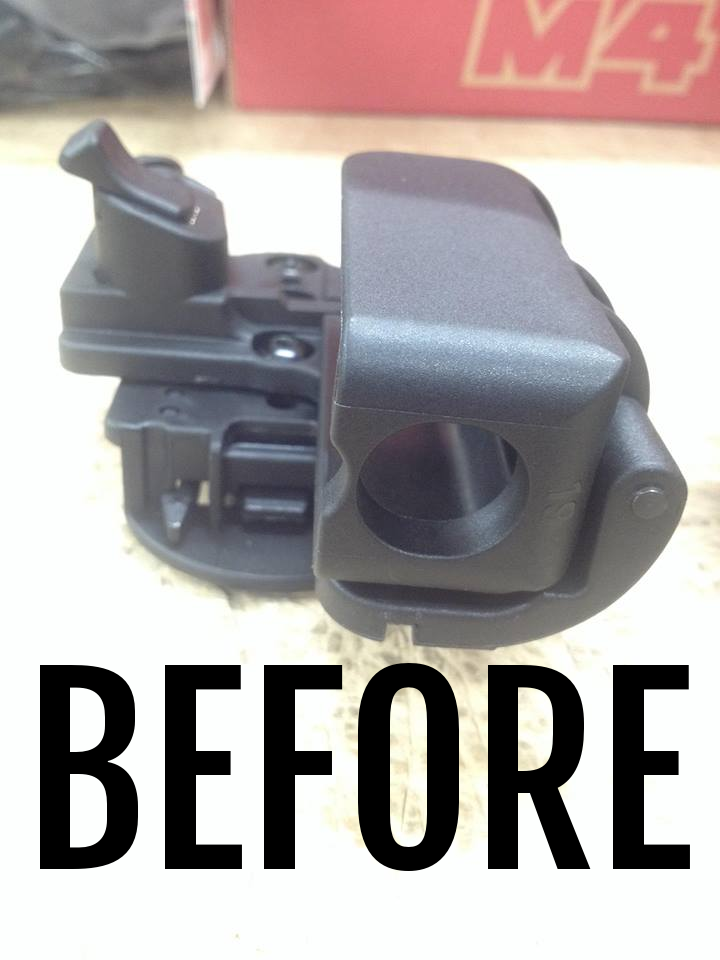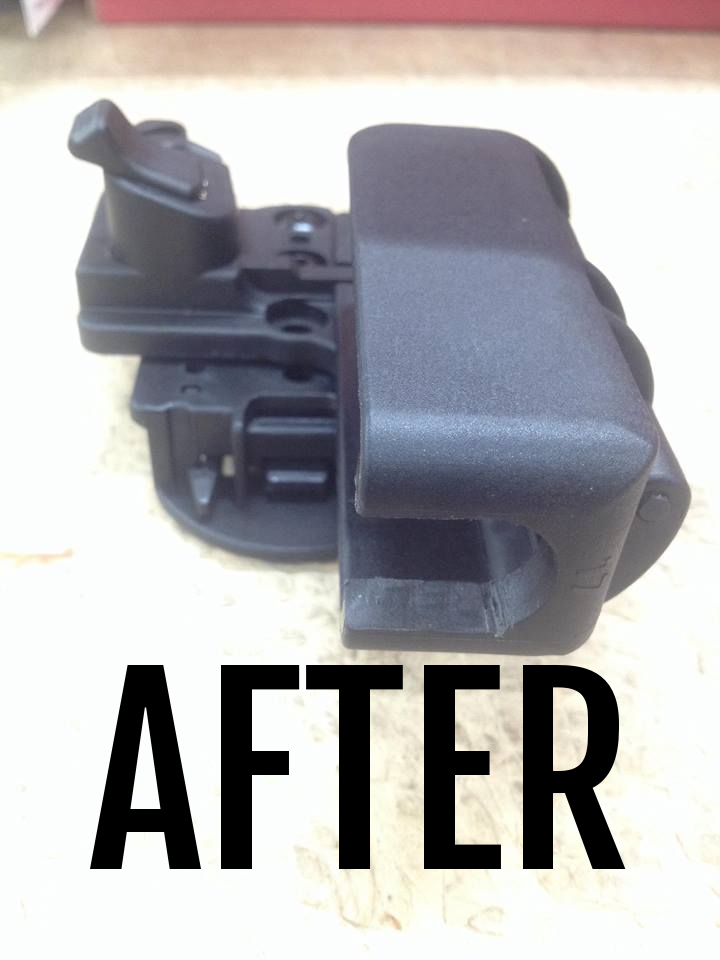 Specification
General
| | |
| --- | --- |
| Tactical Equipment Type | |
| Over 18 | |
Weight and Dimension
| | |
| --- | --- |
| Weight (KG) | |
Construction
| | |
| --- | --- |
| Item Colour | |
| Construction | |
| Material | |